Welcome to Boulder Fire-Rescue's Wildland page
On this page you'll find information on the following:
Our wildland firefighter's experience, training and roles.
Emergency preparedness links.
Ways you can improve your personal, home and community's wildfire safety.
Links to statewide and national wildfire mitigation and informational resources.
Information from us and our local partners on wildfire risk and regulations.
Image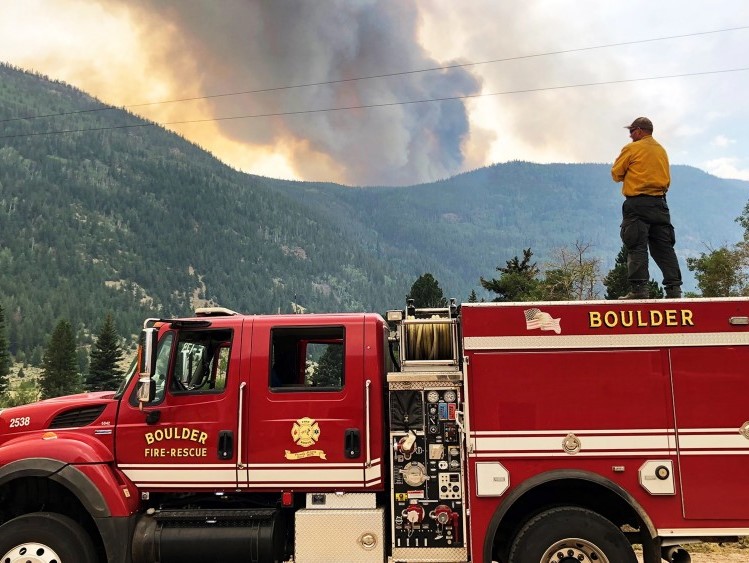 Wildland Call Data
For Boulder Fire-Rescue's call data (including wildland calls) follow the link below:
Boulder Fire-Rescue Department
Boulder Fire-Rescue's Wildland Team
Boulder Fire-Rescue's Wildland Division provides initial fire attack for wildland fires on city-owned and managed land throughout Boulder County, including Open Space, Public Works and Parks locations. Boulder Fire-Rescue also works closely in coordination of wildfire response with neighboring fire districts as well as with Boulder County.
While the primary expectation of the Wildland Division is to respond to and prepare for wildland fires, wildland firefighters also spend a considerable amount of time working with partner agencies on wildfire risk mitigation strategies. The division prepares and implements prescribed fire burns, assists with forest thinning and supports the community in pre-planning and improving safety.
For more information, please see the information we have gathered in the links below.
Wildland Training and Leadership
Our Wildland Division has over 150 years of combined experience as wildland firefighters, with a team of up to ten full-time firefighters. Our firefighters have worked on wildland fires across the county and are trained to serve as members of national Incident Management Teams. Their skills and qualifications include National Wildland Coordination Group (NWCG) taskbook certifications such as:
NWCG

Single Resource Boss: Engine, Crew, Helicopter and Heavy Equipment

NWCG

Command and General Staff: Operations Section Chief, Division Supervisor, Incident Commander
Our team supports and helps train with local and regional fire management partners. We serve as subject matter experts, board members, and instructors for several fire management entities such as:
Front Range Wildfire Cooperators

Colorado Wildfire Incident Management Academy

International Association of Fire Chiefs (wildland section)

Colorado Prescribed Fire Council
Our team also provides ongoing support and leadership with the City as we strive to reduce local wildfire risk and increase community awareness. We work closely with City of Boulder Open Space and Mountain Parks on wildland fire risk mitigation and management.
Improving Your Safety from Wildland Fire Risk
The City of Boulder's Fire-Rescue Wildland Department strives to protect lives and property, often working alongside local cooperating agencies such as the Sheriff's Office, USFS and local parks and open space agencies.
Wildfire preparedness is not something only fire departments do. Improvements in safety also require the participation and engagement of our community. Individuals can take personal action in order to decrease their risk and improve outcomes during wildfires. The work you can do to prepare your homes, families and neighborhoods for a wildfire event can make a significant difference during an emergency.
Boulder Fire-Rescue is here to support individual community members in their efforts to prepare for wildfire. Please explore the links below to see what you can learn, share and do to help keep yourselves, and your communities, safe.
State and National Wildland Mitigation and Informational Resources