UPDATE: GOOD NEWS! Mom and kids have been found and are uninjured!
BOULDER, Colo. – The Boulder Police Department is asking for the public's help to find a mother and her two young children who are missing.
At approximately 10 p.m. on Wednesday, Sept. 14, officers were called to a home in North Boulder after receiving a report that Laura A. McCall, 40, and her 7-year-old daughter and 9-year-old son had abruptly disappeared.
They were last heard from around 6 p.m. yesterday. McCall drives a black 2009 Toyota Rav4 with a Colorado license plate of SQN317. The family is pictured here along with a stock image of a Toyota Rav4.
Anyone who has seen this family or has any information about their whereabouts is asked to call 911 immediately.
Image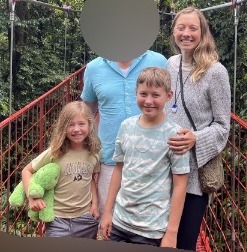 Image