[This release has been updated with new information. This page was last updated on Thursday, Dec. 22 at 10 a.m.]
East Boulder Community Center will be open Wednesday through Saturday to provide safe shelter for all community members who need a place to stay warm
The City of Boulder, in partnership with Boulder County and the Boulder Office of Emergency Management, will open a 24-hour emergency warming center at the East Boulder Community Center, located at 5660 Sioux Dr. Boulder CO, from 2 p.m. Wednesday, Dec. 21 through the morning of Saturday, Dec. 24. This center will be open to anyone in need of a space to get warm or spend the night. No donations are needed at this time.
Boulder County Public Health issued a public health advisory due to dangerously low temperatures forecast by the National Weather Service, which can threaten health, safety and life.
"During extreme weather events such as this, our unhoused community members face the greatest risk. We are opening this emergency warming center to protect as many lives as possible during this critical time," shared Kurt Firnhaber, director of Housing and Human Services. "I am grateful to the many volunteers, local partner organizations, and city and county colleagues who have worked together to bring this critical resource to our community."
Boulder Shelter for the Homeless (BSH), located at 4869 Broadway, will be open for critical weather nights on Wednesday, Dec. 21 and Thursday, Dec. 22. The shelter will also remain open all-day Thursday, Dec. 22 and Friday, Dec. 23 for those who stayed overnight. BSH will continue to monitor the forecast to determine if additional days or nights qualify as critical weather and will expand services as needed.
In response to the dangerous temperatures predicted this week, BSH and the City of Boulder have secured additional accommodations to bring the shelter's capacity for this weather event to 222 individuals. Partner organizations have been conducting direct outreach to people experiencing homelessness to ensure all individuals are aware of the upcoming cold weather and available services.
Additional sheltering options include:
The Lodge at Mother House for persons identifying as women, transgender or nonbinary. Learn more on Mother House's website or call 720-579-1637.

TGTHR's The Source for homeless youth. Learn more on TGTHR's website or call 303-447-1207.
Community members who cannot use BSH or other sheltering options are encouraged to access the 24-hour warming center at the East Boulder Community Center. Beds, blankets and food will be available at this center. During this emergency, well behaved pets will be welcomed at the warming center.
Due to extreme cold conditions and anticipated snow, the city has made the decision to close public-facing city facilities, including recreation centers and offices all day tomorrow, Thursday, Dec. 22, and Friday, Dec. 23. This does not apply to the East Boulder Community Center, which will remain open as a warming center for community members in need until Saturday morning. Activity at East Boulder will be limited to the emergency response.
City and county partners are working with Via Mobility Services to provide transportation for those who need assistance accessing the East Boulder Community Center.
Shuttles between Boulder Shelter for the Homeless and the East Boulder Community Center, with stops throughout Boulder, will begin at 2 p.m. and run through 10 p.m. on Wednesday, Dec. 21.

The map provided below shows all stops on this route. Each blue dot represents a shuttle stop/collection point. You can view a larger version of this map here.

The shuttles will be white Via-branded buses.

Estimated frequency is every 30-45 minutes.

Via will remain on standby if shuttles need to operate on additional days this week.

The Boulder Office of Emergency Management call center will be open from 9 a.m. to 5 p.m. for afterhours calls for transportation assistance. If you need transportation and cannot reach one of these collection points, please call 303-413-7730.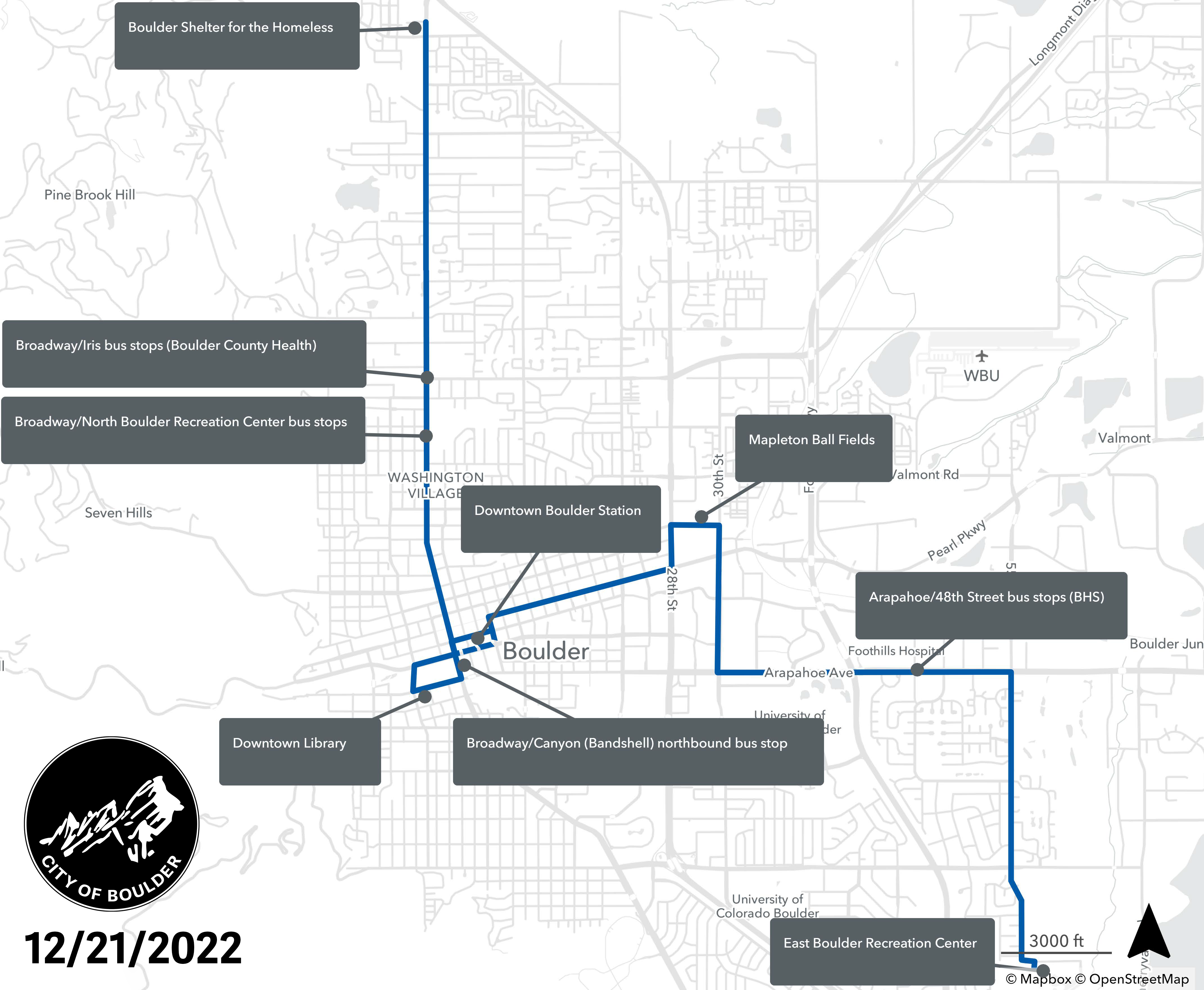 For more information about Homelessness Services in the City of Boulder, visit the city's website. For more information about the emergency warming center, visit the city's newsroom.