Phase Two of the Community Benefit Code Amendment Project
Updating the land use code to create regulations and incentives for obtaining community benefits when considering height modifications requests and/or additional floor area or density requests.
Plan

Community Engagement

Design

Complete
Current Phase
Community Engagement
Project Overview
A community benefits program is a tool to ensure that new growth and development contribute positively to the community's quality of life. While higher quality of development is often attained through the Site Review process, in recent years community sentiment has expressed that more specific community benefits should be required in exchange for additional building height, intensity or density.
The goal is to be consistent with Boulder Valley Comprehensive Plan (BVCP) policies and update the land use code to create regulations and incentives for obtaining certain community benefits when considering height modifications requests and/or additional floor area or density requests.
Staff is currently working on updating the Site Review criteria to make the criteria more prescriptive, clearer and more predictable. A summary of the proposed changes to the criteria can be found here.
What sections of the Land Use Code will change?
The project primarily considers updates to section 9-2-14, "Site Review," B.R.C. 1981 of the Land Use Code, and any ancillary sections as necessary.
9-2-14

(h) "Site Review," B.R.C. 1981.
Latest News
Feb. 16, 2023 - City Council adopted Ordinance 8515 to update the site review criteria as part of the Community Benefit project. The new criteria will go into effect on July 1, 2023.
Aug. 25, 2022 - City Council provided input on the Site Review criteria update project at a study session. Council agreed that the building design criteria should be modified to be somewhat less strict to allow buildings to look different throughout the city.
Council also agreed that the criteria requiring compliance with all Boulder Valley Comprehensive Plan (BVCP) guidelines should be updated to apply to all BVCP policies in a way that makes sense to development projects. They were also in agreement that the suggested greenhouse gas emission reductions requirements should be included. Council suggested that some requirements be incorporated into the Boulder Energy Code update in 2023 rather than in the Site Review criteria.
For more information on the discussion, view the staff memorandum here.
May 19, 2022 - Planning Board did not act on the proposed ordinance to update the Site Review criteria. The board provided detailed feedback on the proposed ordinance, requested specific changes and referred the criteria to the Design Advisory Board (DAB) for their input on the building design criteria. For more background on the project and to gain a better understanding of the project, the May 19 staff memorandum to Planning Board can be found at this link.
Project Improvements
Project Aims
Determine the type and amount of community benefits that would be provided to achieve increased intensity, building height or zone district changes.
Identify incentives to address the community economic, social and environmental objectives of the comprehensive plan.
Clearly specify the required triggers for community benefit and identify how (or if) the benefits would be maintained in perpetuity.
Determine additional design standards for projects requesting a height modification.
Identify other aspects of the Site Review criteria to further city goals and create more predictability in development review process.
Intended Outcomes
Code changes to Section 9-2-14, "Site Review", B.R.C. 1981 that:

Expand the Community Benefit program by adding new land use intensity modification criteria for community benefits beyond permanently affordable housing (e.g., below market rate commercial space, space for the arts, publicly accessible open space etc.).
Revise the criteria to be more prescriptive to increase the level of predictability in projects in terms of form, design and intensity and to better achieve BVCP goals in line with sustainability and resiliency.
Add design standards that address taller, larger buildings and avoid impacts to identified public view corridors.

Updates to or repeal of the Appendix J map.
Project Background
Oct. 29, 2019: City Council adopted Ordinance 8359 creating a new community benefits program in the form of new site review criteria related to height modifications. The criteria mandate additional permanently affordable housing requirements for proposals that request to build floor area above a zoning district height limit up to 55-feet in any fourth or fifth story. Such requests to build above the zoning district height limits will continue to require Planning Board review and decision at a public hearing. Appendix J , the map that specifies where height modifications may be requested will be kept in effect, but was updated by council to include the Alpine-Balsam Area Plan area and the Residential High – 3 (RH-3) zoning district.
This was a prioritized code change requested by City Council and termed the Phase I Community Benefit Project. Phase II will explore additional community benefit options beyond permanently affordable housing and revamped Site Review criteria into the 2020 timeframe.
The ordinance went into effect on Jan. 1, 2020.
The ordinance went into effect on Jan. 1, 2020, and the memo from Oct. 29 is available .
The Community Benefit project commenced in 2018 following specific Boulder Valley Comprehensive Plan (BVCP) implementation measures that were agreed upon by council in late 2017. Prior to focusing on permanently affordable housing as part of Phase 1 of the project in 2019, a study session was held with City Council on Aug. 28, 2018 (see page 227 of packet ) where council agreed with the stated purpose statement, goals and objectives and outreach approach for the broader project. City Council at that time requested staff move forward with the broader list of identified community benefits.
Frequently Asked Questions (FAQs)
What is the Community Benefit Project?
Community benefit programs typically include a suite of regulations and incentives that tie specific community benefits to requests for additional development rights (like building height, floor area and residential density). These programs identify the specific amount and type of community benefit required with specific development requests.
For example, some properties in Boulder are eligible to request a "Height Modification" to allow an additional one or two stories (up to 55 feet) when the zoning only allows three stories. Boulder's Community Benefit Project would provide a menu of options – like affordable housing, affordable commercial space, community gathering space and public art – to be provided as part of the project. The specific amount of required benefits would be proportional to the bonus amount requested.
Image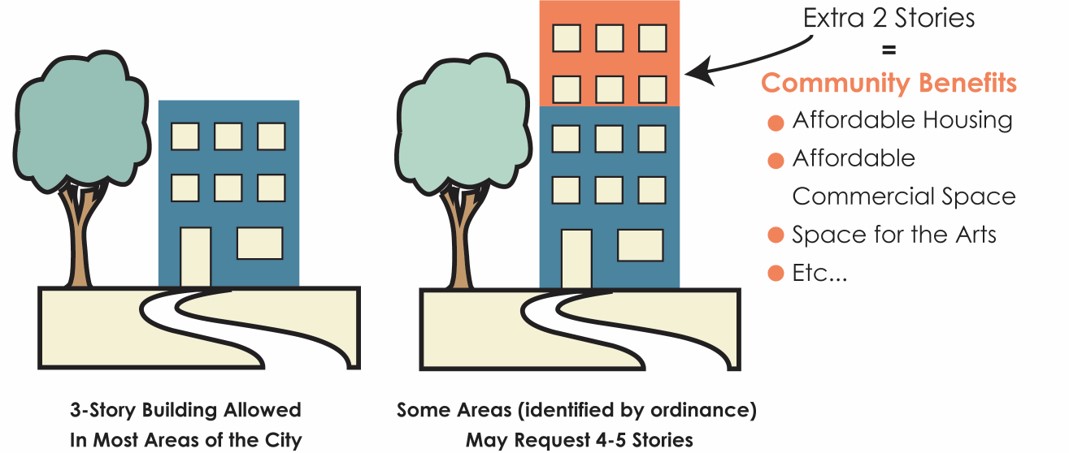 What are the BVCP Policies guiding this project?
1.11 Enhanced Community Benefit: For land use or zoning district changes that result in increases in the density or intensity of development beyond what is permitted by the underlying zoning or for added height that increases intensity, the city will develop regulations and incentives so that the new development provides benefits to the community beyond those otherwise required by the underlying zoning. Any incentives are intended to address the community economic, social and environmental objectives of the comprehensive plan. Community objectives include without limitation affordable housing, affordable commercial space, spaces for the arts, community gathering space, public art, land for parks, open space, environmental protection or restoration, outdoor spaces and other identified social needs and services. Community objectives also may be identified through other planning or policymaking efforts of the city.
2.35 Building Height: The city will review and update site review regulations to provide clear guidance on height and intensity of land uses and to address relationship of building height to aesthetics and view protection. The city will consider additional height (up to the City Charter 55 -foot height limit) as an incentive in exchange for community benefits that further other community objectives such as the provision of permanently affordable housing (as described in Policy 1.11).
7.11 Permanently Affordable Housing for Additional Intensity: The city will develop regulations and policies to ensure that when additional intensity is provided through changes to zoning, a larger proportion of the additional development potential for the residential use will be permanently affordable housing for low, moderate and middle-income households.
What are the Site Review Criteria and how does the Site Review Process work?
Under the current Land Use Code, projects over a certain size in terms of floor area and density (number of units) or upon lots of a certain size are required to be reviewed through the Site Review process. Proposals to build over the zoning district height limit (e.g., 35 feet in most zones, but 38 or 40 feet in others), termed height modifications, also require Site Review. Site Review projects are subject to a public review process (some of the larger projects automatically require Planning Board review, like height modifications for principal structures or requests for additional floor area, density or reduction in open space in a limited number of zones). All Site Review applications are subject to potential call up by Planning Board or citizen appeal. Any Planning Board decisions is subject to City Council call up within a 30-day period.
In order for a Site Review project to be approved the project must be found by the review body (e.g., staff, Planning Board or City Council) to be consistent with the Site Review criteria of Section 9-2-14(h), B.R.C. 1981 , which are lengthy criteria that require compliance with the Boulder Valley Comprehensive Plan (BVCP) policies (on balance) and higher quality development than by-right projects in terms of site design, open space, landscaping, building design and more efficient site layouts and parking configurations etc. The current stated purpose of Site Review is below:
Section 9-2-14(a), B.R.C. 1981- Purpose: The purpose of site review is to allow flexibility and encourage innovation in land use development. Review criteria are established to promote the most appropriate use of land, improve the character and quality of new development, to facilitate the adequate and economical provision of streets and utilities, to preserve the natural and scenic features of open space, to assure consistency with the purposes and policies of the Boulder Valley Comprehensive Plan and other adopted plans of the community, to ensure compatibility with existing structures and established districts, to assure that the height of new buildings is in general proportion to the height of existing, approved, and known to be planned or projected buildings in the immediate area, to assure that the project incorporates, through site design, elements which provide for the safety and convenience of the pedestrian, to assure that the project is designed in an environmentally sensitive manner, and to assure that the building is of a bulk appropriate to the area and the amenities provided and of a scale appropriate to pedestrians.
To encourage innovative design, the Site Review process permits modification to some code standards (see list in Section 9-2-14(c), B.R.C. 1981), which can be granted if the Site Review criteria are met. While Site Review projects enable the city a greater ability to achieve some benefits to the community (e.g., affordable housing, residential infill in appropriate locations), there has been a growing sentiment in the community that such projects are not providing benefits commensurate with the additional land use intensity granted through the review process.
How could this affect me or my property?
Potential changes have yet to be determined. While the community benefit portion of the program is voluntary, it is possible that a developer or property owner who intends to enter the Site Review process for a project will be subject to updated Site Review criteria and additional voluntary requirements for Community Benefit if a project is proposed over a zoning district height limit (typically 35 feet) in a fourth or fifth story.