Project Overview
Campaign to mobilize the community to regenerate soils, trees and habitats
Community-Led, Nature-Based Climate Action
Cool Boulder is a long-term campaign to create partnerships between the city, local organizations and people to advance natural climate solutions.
Visit the Official Cool Boulder Site to Get Involved
Three Action Areas
Image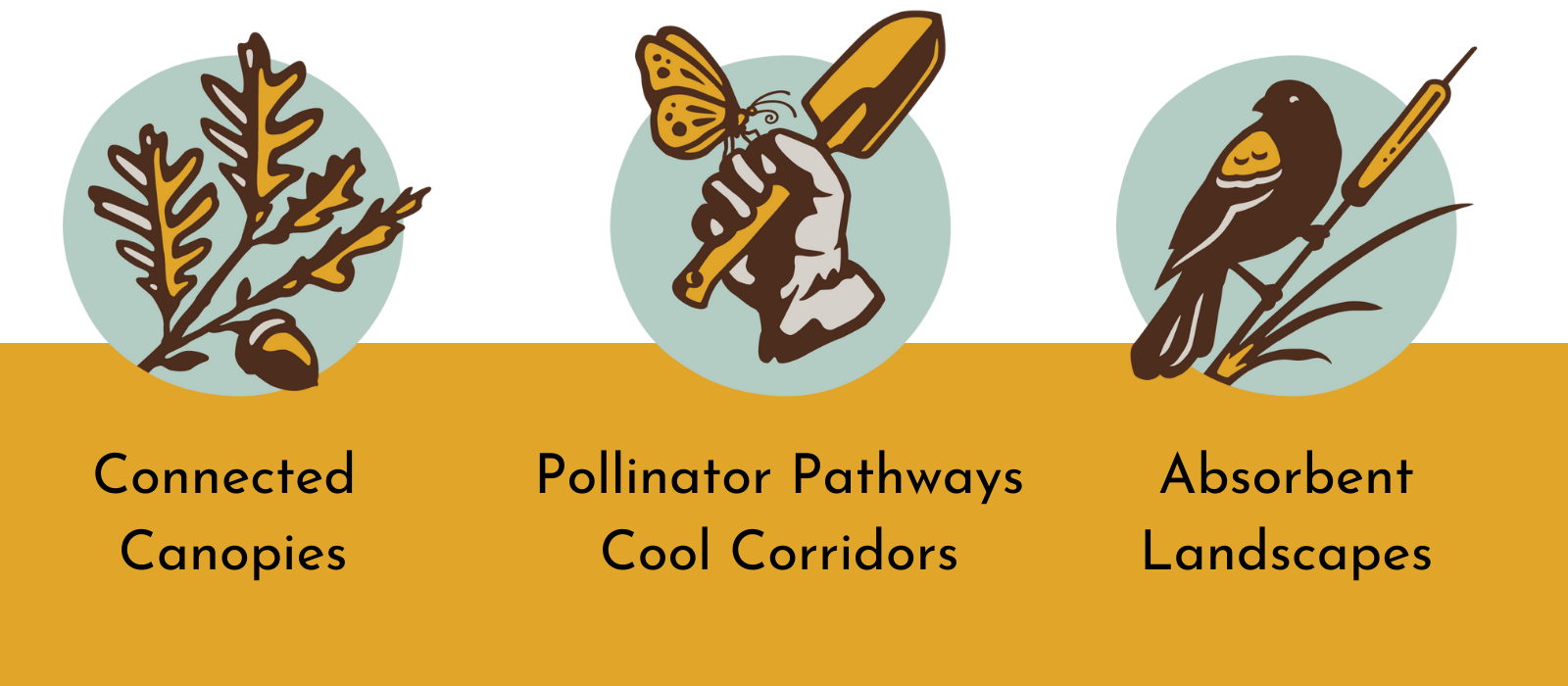 Connected Canopies
To help reduce temperatures and expand access to the benefits of urban trees, Boulder needs major investments to both maintain the health of the existing tree canopy and plant thousands of additional trees, most of which will need to be located on private land.
Pollinator Pathways
Pollinator Pathways are corridors of diverse plants that support cooling temperatures and foster biodiversity, especially for native pollinators. Creating and expanding an interconnected network of these corridors on both public and private land will provide important habitats and help manage carbon and water in ways that reduce the impacts of climate change.
Absorbent Landscapes
Absorbent Landscapes hold more carbon, more water, and more thermal energy, helping to cool our city as well as prevent dangerous flooding that Boulder is prone to. This collaborative effort is focused on improving carbon sequestration, soil health, and water retention/management through regenerative agriculture, sustainable grasslands and turf management, and other actions in the landscaped areas within our City as well as in the working lands surrounding Boulder.
Why Cool Boulder?
The launch of Cool Boulder is the latest step in the city's multi-departmental effort to expand the scope and scale of climate action. The city's climate action must encompass both emissions reduction and preparation for more fires, floods, extreme weather and poor air quality. Expanding natural climate solutions is a key strategy in addressing both mitigation and resilience.
We must fundamentally shift our relationship with the living world if we want to adequately address the climate emergency and its associated impacts on our society. The Cool Boulder campaign expands our efforts to protect and regenerate urban, agricultural and natural ecosystems. Through these actions, we will increase the natural world's ability to absorb carbon, heat and water, making our community cooler, healthier and better able to withstand a warmer and more volatile climate.
Natural climate solutions are also accessible to a much larger segment of the community. While efforts like energy efficiency upgrades, installing solar, or switching to electric cars remain essential, they can also be costly. Many of the actions called for in natural climate solutions —tree planting, installing shade-creating pollinator friendly gardens or building low-tech structures that retain water in our landscapes — can be accessible to most community members and create economic opportunities.
Community Partners
Many Boulder community groups have already been working with thousands of area residents in pioneering many climate actions—converting lawns to gardens, enhancing the ability of soil to hold carbon and water, and building community-based technical support capabilities to expand our urban canopy. Cool Boulder brings these organizations together to coordinate and collaborate. Partners include:
Boulder Housing Partners

Boulder JCC

Boulder Valley Rotary

Butterfly Pavilion

Classrooms for Climate Action

Community Fruit Rescue

CSU Extension

Davey Resource Group

Drylands Agro Ecology Research

Eco-Cycle

Eco-Warriors

Endangered Species Coalition

Goss-Grove Neighborhood Association/Pollinator Pathway

Growing Gardens

Harlequin Gardens

Left Hand Watershed Center

Neighborhood Christmas Tree Farms

People and Pollinators Action Network

Play Boulder/Tree Trust

Resource Central

We Love Trees/Tree Care Sector Partnership

Wildlands Restoration Volunteers