About the Historic Places Plan (HiPP)
Project Overview
The Parks and Recreation Department owns and manages twelve culturally relevant and historically designated resources. The Historic Places Plan (HiPP) will serve as a guide for the department in stewarding these resources to ensure their vibrant integrity and preservation within the community.
The plan will include background research and needs assessments, which will vary greatly for each due to their uniqueness. The research and assessments will provide a base of information that will be used to evaluate each resource with specific departmental strategies and initiatives required to make financially sustainable and data-informed decisions.
The HiPP will be a distinct and standalone plan developed alongside of and used to inform the department's current Master Plan Update. The aligned process will ensure efficiency and effectiveness in the process for research, community engagement, and staff resources. The aligned outcomes of the plans will be used in current and future departmental, city, county, and state planning initiatives.
The consulting team on the project, Mundus Bishop, is an award-winning landscape architecture firm based in Denver. The consulting team has intimate knowledge about Boulder's significant places, particularly those with historic value or with natural attributes.
Project Information and Updates
Click below to see more information and updates related to this project.
Planning work during this project will focus on select features, landscapes, buildings and structures within the following resources. Historic Places Map
Image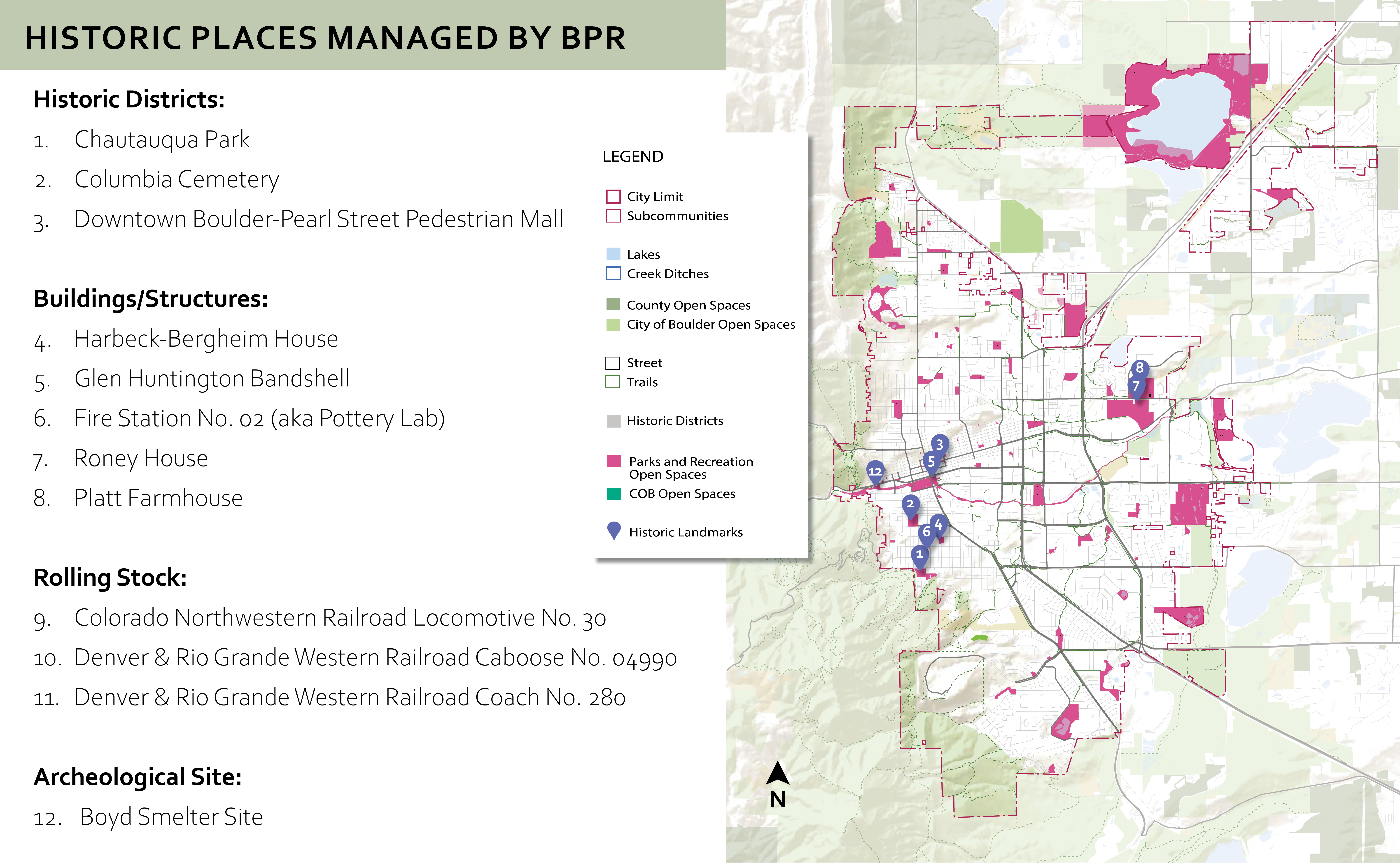 Historic Districts:
Buildings/Structures:
Harbeck-Bergheim House
Glen Huntington Bandshell
Fire Station No. 02 (aka Pottery Lab)
Roney House
Platt Farmhouse
Rolling Stock:
Denver & Rio Grande Western Railroad Caboose No. 04990
Denver & Rio Grande Western Railroad Coach No. 280
Archeological Site:
The process includes 5 phases with several upcoming opportunities for community discussions and feedback. Please use the box below to receive project updates and upcoming meeting notifications.
Phase 1 Background Research
Archival research of existing documentation and initial stie visits
Base mapping of resources
Phase 2 Needs Assessment
Record existing conditions and current uses
Assess opportunities and constraints
ADA assessment for accessibility
Phase 3 Resource Evaluation
Refine property histories
Assess integrity and identify character-defining features
Analyze spacial relationships with surrounding environments
Phase 4 Recommendation and Prioritization
Define management approaches
Determine preservation approaches
Future use recommendations
Explore funding strategies
Phase 5 Final Plan
Integrate and Illustrate the process and outcomes
Prepare the final plan
Project Process Diagram
Image

The department received a matching grant of $190,000 from History Colorado, State Historic Fund (HC-SHF) for the Historic Places Plan*. The grant provides a majority of the financial resources needed to develop a comprehensive plan for these 12 historic places.
*History Colorado, State Historic Fund Grant is titled Multiple Resources Preservation Plan.