About the Historic Places Plan (HiPP)
HiPP Project Overview
The Parks and Recreation Department owns and manages twelve culturally relevant and historically designated resources. The Historic Places Plan (HiPP) will serve as a guide for the department in stewarding these resources to ensure their vibrant integrity and preservation within the community.
The plan will include background research and needs assessments, which will vary greatly for each due to their uniqueness. The research and assessments will provide a base of information that will be used to evaluate each resource with specific departmental strategies and initiatives required to make financially sustainable and data-informed decisions.
The HiPP will be a distinct and standalone plan developed alongside of and used to inform the department's current Master Plan Update. The aligned process will ensure efficiency and effectiveness in the process for research, community engagement, and staff resources. The aligned outcomes of the plans will be used in current and future departmental, city, county, and state planning initiatives.
The consulting team on the project, Mundus Bishop, is an award-winning landscape architecture firm based in Denver. The consulting team has intimate knowledge about Boulder's significant places, particularly those with historic value or with natural attributes.
This project is paid for in part by a History Colorado State Historical Fund grant.
Project Information
In March of 2019, BPR applied for a survey and planning grant from History Colorado, State Historical Fund (HC-SHF), to develop this plan. In August of 2019, the department was awarded the full funding request of $190,000 from HC-SHF, with a cash match of $77,000 for a total project budget at $267,000. Following a competitive bidding process, staff selected Mundus Bishop (Landscape Architecture) as the lead consultant with additional contributions by Ratio/HP (Architectural) JVA, Inc., (Structural Engineering) and PaleoWest (Archeological). Each consulting team demonstrates an interdisciplinary approach to historic and cultural resource planning.

Goals of this project include:
Integrate all relevant plans and analyses completed prior to the grant award, and all survey and planning work funded as part of this project, into one concise planning document, including those done to inform capital decisions, programs, and operations.
Separate, define, and integrate Historical & Cultural resources across a variety of departmental practices to balance levels of service, operations and maintenance, financial sustainability, and program quality.
Begin with the end in mind to inform data-driven decision making.
Utilize the final plan to serve as a guiding document for departmental staff to rely on and revisit when engaging in decision making for work related to any of the twelve designated resources.
As outlined, the HiPP will dovetail with the BPR Master Plan update. In addition to this departmental guiding document, the HiPP also supports goals and objectives in two other plans: one city-wide plan and one countywide plan. Specifically, this project supports the objective listed in the City-wide Historic Preservation Plan to, "Ensure the City of Boulder remains a leader in historic preservation through the careful stewardship of its own historic resources and encouragement of the innovative and collaborative approaches to historic preservation." And it supports the county-wide goal within the Boulder Valley Comprehensive Plan to address, "Community Conservation & Preservation" through "Leadership in Preservation: City & County Owned Resources".
Planning work during this project will focus on select features, landscapes, buildings and structures within the following resources. Enlarged HiPP Map
Image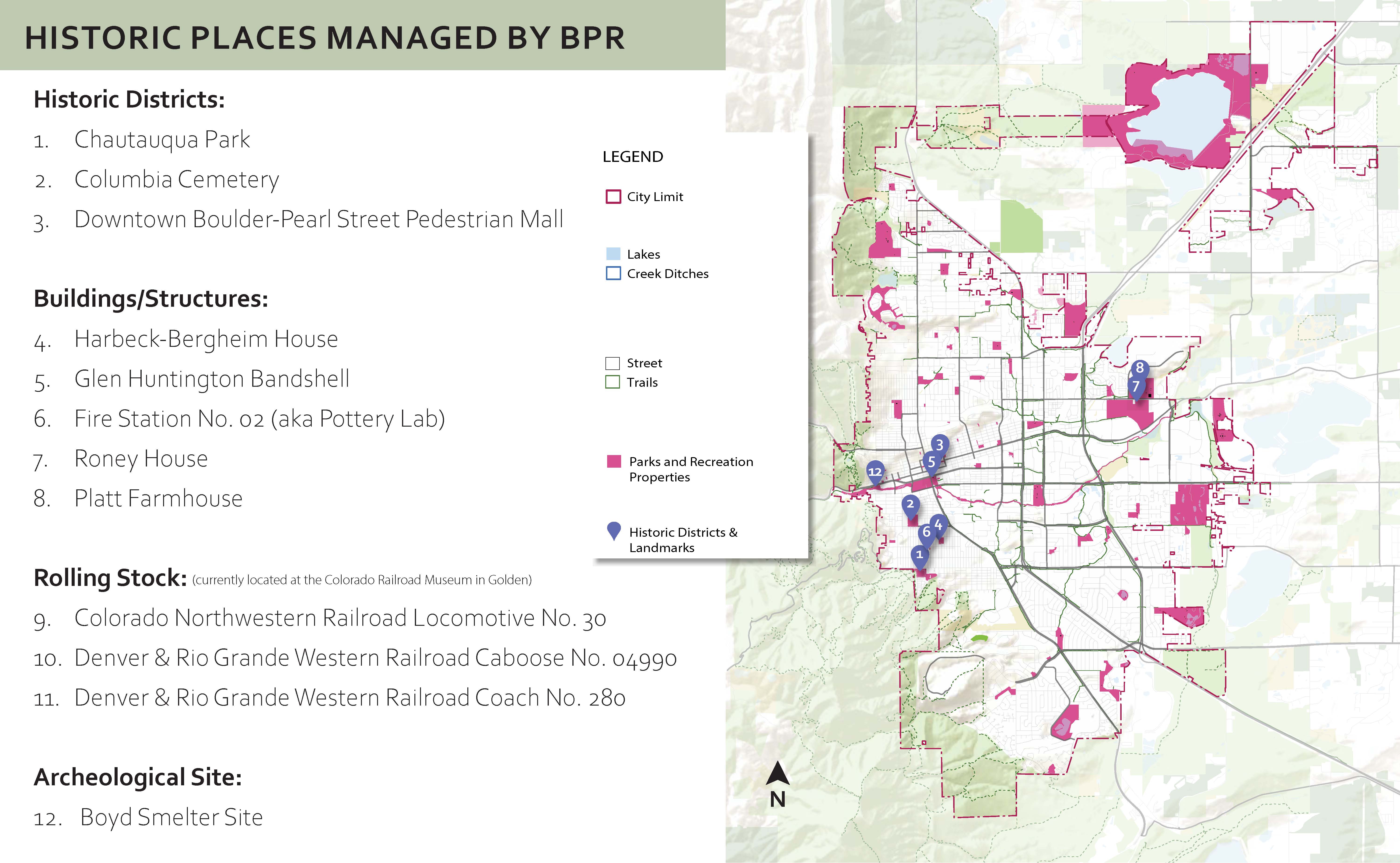 Historic Districts:
Buildings/Structures:
Harbeck-Bergheim House
Fire Station No. 02 (aka Pottery Lab)
Roney House
Platt Farmhouse
Rolling Stock:
Denver & Rio Grande Western Railroad Caboose No. 04990
Denver & Rio Grande Western Railroad Coach No. 280
Archeological Site:
The project will be developed over five main phases led by the consultant and core team, with stakeholder's providing feedback in phase one through three and subject matter recommendations for consideration through phase four and five. Each phase and the project timeline are informed by, and align with, the BPR master plan update. An overview of each phase is presented below.
Phase One: Project Kick Off & Background Research
Hold preliminary meetings with interdisciplinary consultant team and city staff and initial consultation with SHF

Conduct archival research and collect existing materials on each resource

Review goals and objectives for the Historic Places Plan

Complete initial site visit for each resource
Phase Two: Assessment and Inventory of Existing Conditions
Complete project base mapping for 6 resources

Conduct field reconnaissance to record existing conditions of 9 resources

Assess current and potential use of all resources

Prepare ADA assessment and identify safety/compliance for landscapes/buildings

Prepare Existing Condition Assessment Plan
Phase Three: Historic Context Development and Resource Evaluation
Develop property history for each resource

Assess integrity and identify character-defining features

Compile draft historic context statements for each resource

Analyze spatial relationship between the landscape, natural resources and built environment, finalize written descriptions for each, and finalize graphic representations with maps for select resources (illustrating significant features)
Phase Four: Treatment Recommendations, Prioritization + Implementation
Integrate historic integrity, significance, existing features, overall conditions, and current and future use in treatment recommendations

Identify management approaches and align with the city's Asset Management Program

Draft graphic illustrations and sketches detailing recommended treatments and priorities

Determine how preservation approaches within the plan align with applicable county, city, and departmental planning documents and initiatives

Explore funding strategies and estimate potential proposed costs

Develop options for community involvement, programming, and education
Phase Five: Complete Historic Places Plan
Compile, illustrate and integrate all resources into the final HiPP plan

Prepare final Management Report

Include tailored results from the maintenance Condition Assessment Reports, Cultural Landscape Reports, ADA assessments, list of prioritized resources and individual features for management decision making)

Prepare final Historic Places Plan
Throughout the HiPP planning process, the department continues to engage with city-wide staff, the Boulder community, stakeholders, and local decision-makers such as PRAB and Landmarks Board (LB) to gather their input on the plan's direction and focus. Due to the technical nature of the plan, the department will focus on informing and consulting with the general community while identifying stakeholders to be involved and collaborate with staff and consultants.
Engagement Window 1 - Project Kick-Off

In June of 2021, staff hosted a combined kick-off meeting for the BPR Master Plan and the HiPP. This window was focused on community awareness of the project, provided background information, and a collection of email addresses to keep interested community members up to date on the project. In addition, the information provided at the in-person meeting was available online.
Stakeholders were invited to participate in a project kick-off meeting in July of 2021 for background information and to request a commitment to the project from the stakeholder members.
Engagement Window 2 - Research, Evaluation, and Awareness

The community was updated on project progress via the project web page. In addition, staff will host an interactive walking tour and scavenger hunt in May to bring awareness of the 12 historic assets that the department owns and highlight the efforts going into the planning and management strategies that are being developed as part of the HiPP. There will be at least one in-person option to interact with staff about the project. The awareness will ensure that the community is aware of the project and can participate by providing feedback about BPR's 12 historic places.
Stakeholders met several times in 2021 to review and contribute technical information about specific properties.
August - Glen Huntington Bandshell

September - Chautauqua Park and Boyd Smelter

November - Fires Station No. 02, Harbeck-Bergheim House, Roney House, and Platt Farmhouse

To come in 2022 - Pearl Street Mall, Columbia Cemetery, and 3 Rolling Stock (trains)
Engagement Window 3 - Draft Plan Review

Community members and stakeholders will have the opportunity to review the draft plan online and provide feedback regarding the outcomes. Their feedback will be used to develop the final plan.
Project Updates
Thanks to all those who attended the HiPP public open house in January! Staff is also grateful for the dedicated stakeholders who provided detailed comments on each resource throughout this process. Thank you!
The final draft is now under review by staff and consultants. Comments from the community, stakeholders, staff, and the granting agency are being compiled and discussed for final revisions.
Final revisions will be complete in early March for a discussion item with the Parks and Recreation Advisory Board (PRAB) in April. Staff will also present to the Landmarks Board before requesting PRAB to accept the HiPP in May.
Upcoming Parks and Recreation Advisory Board (PRAB) Meetings:
All meetings are held Mondays at 6:00 p.m.
February 27 - Matter from the Department (Presentation from staff)
April 24 - Item for Information/Discussion (Presentation from staff)
May 22 - Action Item (PRAB votes to accept the HiPP)
The public is welcome to attend virtually and speak during public participation (February and April) or public hearing (May). To sign up to speak and for more information visit the PRAB webpage.
December 2022 Update
January 2023 public open house
Join us on Wednesday, January 25, 2023 from 4-6 p.m. to tell us what you think of our first-ever Historic Places Plan (HiPP).

At the meeting we'll review the draft plan and talk about the future of the 12 historic resources owned by the Boulder Parks and Recreation Department. Help us make history!
Upcoming Meeting
Historic Places Plan (HiPP) public open house
Wednesday, January 25, 2023
4-6 p.m. (Staff presentation 4:10 - 4:30 p.m., open house to follow)
Penfield Tate II Municipal Building, 1777 Broadway
Find more information on the HiPP Webpage.
Upcoming Meetings
Parks and Recreation Advisory Board Regular Meeting
Monday, September 26, 6 p.m.
Virtual Meeting: Find the link and more information on the PRAB website.
Community Participation: You can sign up to speak during general public comment by emailing PRABadmin@bouldercolorado.gov before the meeting.
Resource Updates
Boyd Smelter, Chautauqua Park, Glen Huntington Bandshell, Harbeck Bergheim House, Fire Station No. 2, Pearl Street Pedestrian Mall, Platt Farmhouse, and Roney House
Each of these 9 historic places was in the original contract for Mundus Bishop to complete. A draft of Phase 1: Condition Assessment and Phase 2: Historic Context deliverables are complete and posted on the project web page. The drafts were shared with the granting agency, State Historic Fund (SHF), for their comments. In addition, each historic place was presented to a group of staff and community stakeholders who have committed to support the project. Six stakeholder meetings have been held to give an overview of the draft condition assessment and context statement with a discussion about treatment recommendations. The most recent stakeholder meeting for Pearl Street Pedestrian Mall was held on August 25, 2022. SHF, staff, and stakeholder feedback will be reviewed and included in a final draft of each historic place. Phase 4: Treatment Recommendations are being refined and will be shared with PRAB and the community at upcoming engagement opportunities.
Columbia Cemetery and Railroad Resources (Locomotive No. 30, Caboose No. 04990, & Coach No. 280)
In August, the contract scope for Mundus Bishop was expanded to include these 4 historic places. Phase 1: Background Research is complete, with work beginning on Phase 2: Condition Assessment and Phase 3: Historic Context. Staff and stakeholder meetings will be scheduled in December 2022 or January 2023 with the same format as the previous meetings to collect and incorporate their feedback on Phases 1-3 with a discussion regarding Phase 4. After that, the resources should all be at a similar point in the process, and there will be an anticipated public meeting in January to present a rough draft of the information to the general community.
Public Engagement Update
Phases 1-3 of the HiPP are technical in nature covering aspects of cultural/historic significance, historic integrity as well as treatment recommendations. That means community engagement has focused on awareness and information sharing. Staff kicked the project off with the master plan at a public meeting in June 2021. A scavenger hunt provided a follow-up engagement for awareness in May 2022. Drafts of the nine historic places available during the scavenger hunt for community members interested in more information.
Once all of the historic places have a draft of Phase 4: Treatment Recommendations, a public meeting will be hosted to present the material to the community. Community engagement at this level will include a collaborative discussion regarding the Treatment Recommendations. This is similar to the successful process used for the Urban Forest Strategic Plan. Completion of Phase 4 will also include a review from the SHF granting agency.
PRAB and Landmarks Board (LB) are also essential to community engagement. The 75% draft and feedback from the community will be shared with PRAB and LB before the project moves to the final draft. The completion of the HiPP and the process to request acceptance and final approval from SHF are anticipated to extend through April 2023.
Staff has been working with consultants Mundus Bishop to expand their original scope of work to include several of the historical and cultural assets initially planned as an internal effort. A change in staffing and management of the project required this realignment to fulfill the obligations to the granting agency with each of the 12 resources. Complete and consistent documentation for each resource is key to its successful completion. Mundus Bishop will now include the Columbia Cemetery and the Railroad Resources in their scope of work. The contract amendment will be complete this week for the additional scope.
Each of the 12 resources will be reviewed by staff and stakeholders. Pearl Steet Mall is one of the 12 resources included in the HiPP. Staff and Stakeholder meetings are scheduled for August 25 to review the Context Statement, Condition Assessment, and Treatment Recommendations. Each invite-only meeting will include a 30-minute presentation and a walking review of the site. Pearl Street Mall is one of the more complicated sites based upon the high-profile and usage. Outcomes of the meetings will be shared with the community later in the year. Upcoming community engagement for the HiPP will include all 12 resources for review and comments.
Boulder's Parks and Recreation Department (BPR) hosted a scavenger hunt for the community to learn about the Historic Places Plan (HiPP) in May, which was also Historic Preservation Month. The self-guided scavenger hunt was developed as a fun and interactive way to inform community members about BPR's 12 historic places and the upcoming plan. The main goal was to develop and increase awareness of the HiPP.
Community members had access to the tour and scavenger hunt and could enter a drawing for some fun prizes. The scavenger hunt focused on active family participation via bicycle or on foot with three connecting loops for lots of options. The scavenger hunt was available online or participants could pick up paper copies available at each recreation center from May 9-23.
The scavenger hunt was shared widely on social media and was picked up by Fox31 News on May 9. In addition, eight large banners were placed at each of the sites along the scavenger hunt to identify the location along the route, creating more awareness and interest among the community.
Overall community members shared positive feedback on the scavenger hunt experience and support for the HiPP project with 464 unique visits to the HiPP webpage in April and May 2022 with a large increase in visits the week of May 9.
Staff also hosted a table focused on the HiPP at the Historic Boulder lecture event about Fredrick Law Olmstead Jr on May 18. This targeted outreach to the preservation community provided the opportunity to have in-person conversations with the public about the HiPP.
Additional Parks Recreation Advisory Board, staff, stakeholder, and community engagement are in the planning stages for late summer and fall of 2022. A recent change in staffing has caused a short delay in the planning process as work is re-aligned between staff and consultants.
The project is still anticipated to be completed by the end of 2022.
Phase One through Phase Three of the HiPP produced extensive documentation on existing conditions and historical contexts for resources. One condition of the grant requires staff to select a "sample" resource to address first, across each project phase. The sample staff selected was the Glen Huntington Bandshell. The charts and graphics provided below highlight work completed for the Bandshell during phase one through three, and how these inform BPR's current and next steps for this site and all other resources.


Recommendations proposed for each resource align treatments that inform physical alterations, regular operations and maintenance, community building and funding explorations. This project will not propose specific "options" or "designs" for physical alterations, rather the project documents alignment and acceptance of future planning, community building and operational work at each site. Specifically, for the Bandshell and Pearl Street Pedestrian Mall, work developed through the HiPP may assist in future decisions at each site, should park improvements be funded in November through the Community Culture & Safety tax/ballot measure. In addition to the charts and diagrams highlighted above, consultants are developing renderings to help visually showcase alignment of recommendations. A rendered sketch that highlights proposed treatments to the Bandshell is provided below.
Image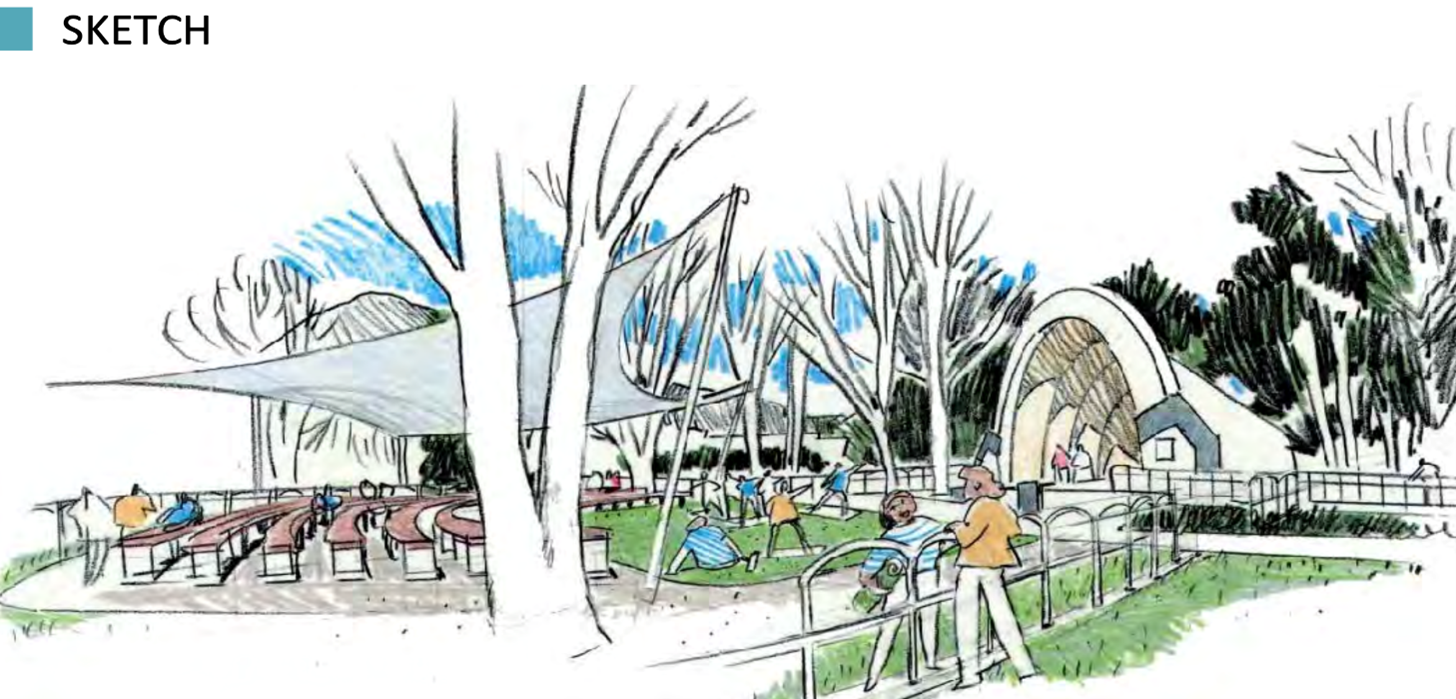 Currently staff and consultants continue phase four work on remaining resources, which utilize a similar approach as outlined above. Staff will continue to provide regular web updates.
Board Memos Related to the HiPP
DRAFT Condition Assessments, Context Statements and Treatment Recommendations