About the Historic Places Plan (HiPP)
Project Overview
The Parks and Recreation Department owns and manages twelve culturally relevant and historically designated resources. The Historic Places Plan (HiPP) will serve as a guide for the department in stewarding these resources to ensure their vibrant integrity and preservation within the community.
The plan will include background research and needs assessments, which will vary greatly for each due to their uniqueness. The research and assessments will provide a base of information that will be used to evaluate each resource with specific departmental strategies and initiatives required to make financially sustainable and data-informed decisions.
The HiPP will be a distinct and standalone plan developed alongside of and used to inform the department's current Master Plan Update. The aligned process will ensure efficiency and effectiveness in the process for research, community engagement, and staff resources. The aligned outcomes of the plans will be used in current and future departmental, city, county, and state planning initiatives.
The consulting team on the project, Mundus Bishop, is an award-winning landscape architecture firm based in Denver. The consulting team has intimate knowledge about Boulder's significant places, particularly those with historic value or with natural attributes.
Project Information and Updates
See below for more information and updates related to this project.
In March of 2019, BPR applied for a survey and planning grant from History Colorado, State Historical Fund (HC-SHF), to develop this plan. In August of 2019, the department was awarded the full funding request of $190,000 from HC-SHF, with a cash match of $77,000 for a total project budget at $267,000. Following a competitive bidding process, staff selected Mundus Bishop (Landscape Architecture) as the lead consultant with additional contributions by Ratio/HP (Architectural) JVA, Inc., (Structural Engineering) and PaleoWest (Archeological). Each consulting team demonstrates an interdisciplinary approach to historic and cultural resource planning.

Goals of this project include:
Integrate all relevant plans and analyses completed prior to the grant award, and all survey and planning work funded as part of this project, into one concise planning document, including those done to inform capital decisions, programs, and operations.
Separate, define, and integrate Historical & Cultural resources across a variety of departmental practices to balance levels of service, operations and maintenance, financial sustainability, and program quality.
Begin with the end in mind to inform data-driven decision making.
Utilize the final plan to serve as a guiding document for departmental staff to rely on and revisit when engaging in decision making for work related to any of the twelve designated resources.
As outlined, the HiPP will dovetail with the BPR Master Plan update. In addition to this departmental guiding document, the HiPP also supports goals and objectives in two other plans: one city-wide plan and one countywide plan. Specifically, this project supports the objective listed in the City-wide Historic Preservation Plan to, "Ensure the City of Boulder remains a leader in historic preservation through the careful stewardship of its own historic resources and encouragement of the innovative and collaborative approaches to historic preservation." And it supports the county-wide goal within the Boulder Valley Comprehensive Plan to address, "Community Conservation & Preservation" through "Leadership in Preservation: City & County Owned Resources".
Planning work during this project will focus on select features, landscapes, buildings and structures within the following resources. Historic Places Map
Image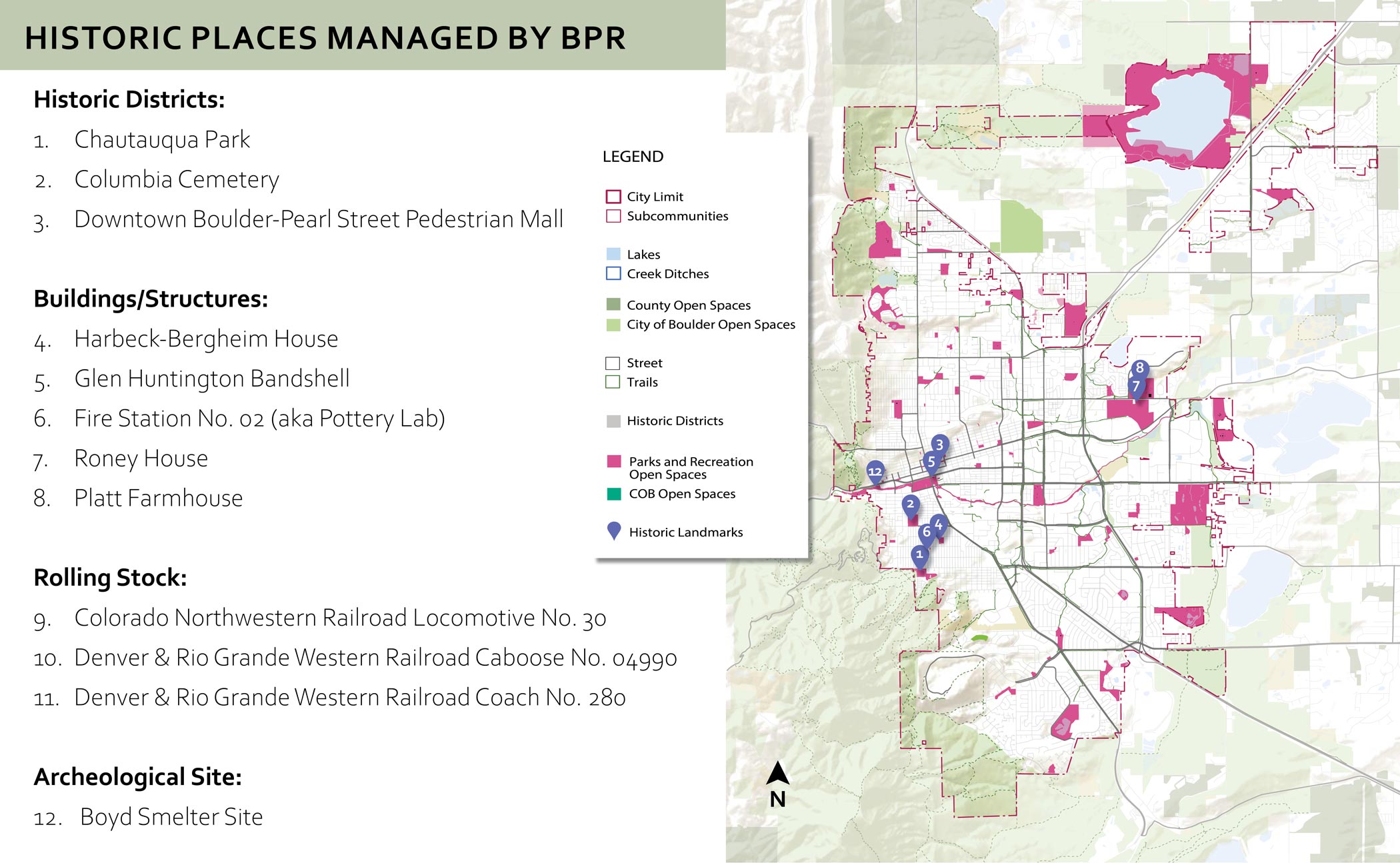 Historic Districts:
Buildings/Structures:
Harbeck-Bergheim House
Glen Huntington Bandshell
Fire Station No. 02 (aka Pottery Lab)
Roney House
Platt Farmhouse
Rolling Stock:
Denver & Rio Grande Western Railroad Caboose No. 04990
Denver & Rio Grande Western Railroad Coach No. 280
Archeological Site:
The project will be developed over five main phases led by the consultant and core team, with stakeholder's providing feedback in phase one through three and subject matter recommendations for consideration through phase four and five. Each phase and the project timeline are informed by, and align with, the BPR master plan update. Staff are partially complete with phase four with major key project deliverables for phase one through three presented in the draft 'Existing Conditions and Historical Contexts' document, which includes staff and grantor comments. An overview of each phase is presented below.
Phase One: Project Kick Off & Background Research (August 2020 –January 2021)
Hold preliminary meetings with interdisciplinary consultant team and city staff and initial consultation with SHF

Conduct archival research and collect existing materials on each resource

Review goals and objectives for the Historic Places Plan

Complete initial site visit for each resource
Phase Two: Assessment and Inventory of Existing Conditions (October 2020 – June 2021)
Complete project base mapping for 6 resources

Conduct field reconnaissance to record existing conditions of 9 resources

Assess current and potential use of all resources

Prepare ADA assessment and identify safety/compliance for landscapes/buildings

Prepare Existing Condition Assessment Plan
Phase Three: Historic Context Development and Resource Evaluation (October 2020 – June 2021)
Develop property history for each resource

Assess integrity and identify character-defining features

Compile draft historic context statements for each resource

Analyze spatial relationship between the landscape, natural resources and built environment, finalize written descriptions for each, and finalize graphic representations with maps for select resources (illustrating significant features)
Phase Four: Treatment Recommendations, Prioritization + Implementation (June 2021 – February 2022)
Integrate historic integrity, significance, existing features, overall conditions, and current and future use in treatment recommendations

Identify management approaches and align with the city's Asset Management Program

Draft graphic illustrations and sketches detailing recommended treatments and priorities

Determine how preservation approaches within the plan align with applicable county, city, and departmental planning documents and initiatives

Explore funding strategies and estimate potential proposed costs

Develop options for community involvement, programming, and education
Phase Five: Complete Historic Places Plan (February 2022 – May 2022)
Compile, illustrate and integrate all resources into the final HiPP plan

Prepare final Management Report

Include tailored results from the maintenance Condition Assessment Reports, Cultural Landscape Reports, ADA assessments, list of prioritized resources and individual features for management decision making)

Prepare final Historic Places Plan
Throughout the HiPP planning process, the department continues to engage with city-wide staff, the Boulder community, a targeted stakeholder group and local decision makers PRAB and Landmarks Board (LB) to gather their input on the plan's direction and focus. Additional information on engagement structures may be found in the Project Charter, and accessed here. Three core engagement goals with underlying objectives will be addressed across three engagement windows and span the city's engagement spectrum from input to collaboration. Each goal is being explored at key touch points with major milestones for the following engagement participants in the HiPP's planning and decision-making process :
Broader Public – the HiPP is utilizing opportunities to connect with a wide-range of community members through Master Plan Update engagement touch points including open houses, awareness at public park openings and in person/digital surveys.

Subject Matter Stakeholders – a

group of eight stakeholders are participating in targeted engagement, which is a key component of public outreach for the HiPP. The group is comprised of community members with technical and subject matter expertise.

City Staff – in addition to the BPR project core team, staff across BPR's Urban Parks and Community Building divisions provide input and feedback on their respective fields. Additional city staff from Planning & Development Services Historic Preservation division and the Public Works Facilitates division provide valuable contributions to this project.

State Staff – the grantor (HC-SHF) provides two staff members that lead review of this projects work products and provide financial oversight for project budgeting. All draft project deliverables are reviewed for final grantor approval following city staff and stakeholder review.

City Boards & Commissions – two city boards provide administrative review procedures for the HiPP. PRAB will r

eview regular milestones and key planning developments, while discussing and considering support of the draft plan and approval of the final plan. Landmarks board will receive a consolidated update on milestones and project developments while informally considering support of the plan.
Engagement Window 1 (October 2020 – July 2021)

Secure technical community experts as project stakeholders following gathering of background and assessment data in phase one through phase three. Solicit expert feedback and records from a Stakeholder Group of industry experts, to close these information management gaps. Integrate all relevant plans and analyses completed prior to the grant award, and all survey and planning work funded as part of this project, into one concise planning document, including those done to inform capital decisions, programs and operations.
Engagement Window 2 (August 2021 - December 2021)

Utilize feedback from the community, aligning outcomes of the public engagement process for both the HIPP and the Master Plan update to help separate, define, and integrate Historical & Cultural resources across a variety of departmental practices to balance levels of service, operations and maintenance, financial sustainability, service excellence, and program quality.
Engagement Window 3 (January 2021 – May 2022)

Integrate all public input to form the draft plan and informed, data-driven decision making.
The department received a matching grant of $190,000 from History Colorado, State Historic Fund (HC-SHF) for the Historic Places Plan*. The grant provides a majority of the financial resources needed to develop a comprehensive plan for these 12 historic places.
*History Colorado, State Historic Fund Grant is titled Multiple Resources Preservation Plan.
Phase One through Phase Three of the HiPP produced extensive documentation on existing conditions and historical contexts for resources. One condition of the grant requires staff to select a "sample" resource to address first, across each project phase. The sample staff selected was the Glen Huntington Bandshell. The charts and graphics provided below highlight work completed for the Bandshell during phase one through three, and how these inform BPR's current and next steps for this site and all other resources.


Recommendations proposed for each resource align treatments that inform physical alterations, regular operations and maintenance, community building and funding explorations. This project will not propose specific "options" or "designs" for physical alterations, rather the project documents alignment and acceptance of future planning, community building and operational work at each site. Specifically, for the Bandshell and Pearl Street Pedestrian Mall, work developed through the HiPP may assist in future decisions at each site, should park improvements be funded in November through the Community Culture & Safety tax/ballot measure. In addition to the charts and diagrams highlighted above, consultants are developing renderings to help visually showcase alignment of recommendations. A rendered sketch that highlights proposed treatments to the Bandshell is provided below.
Image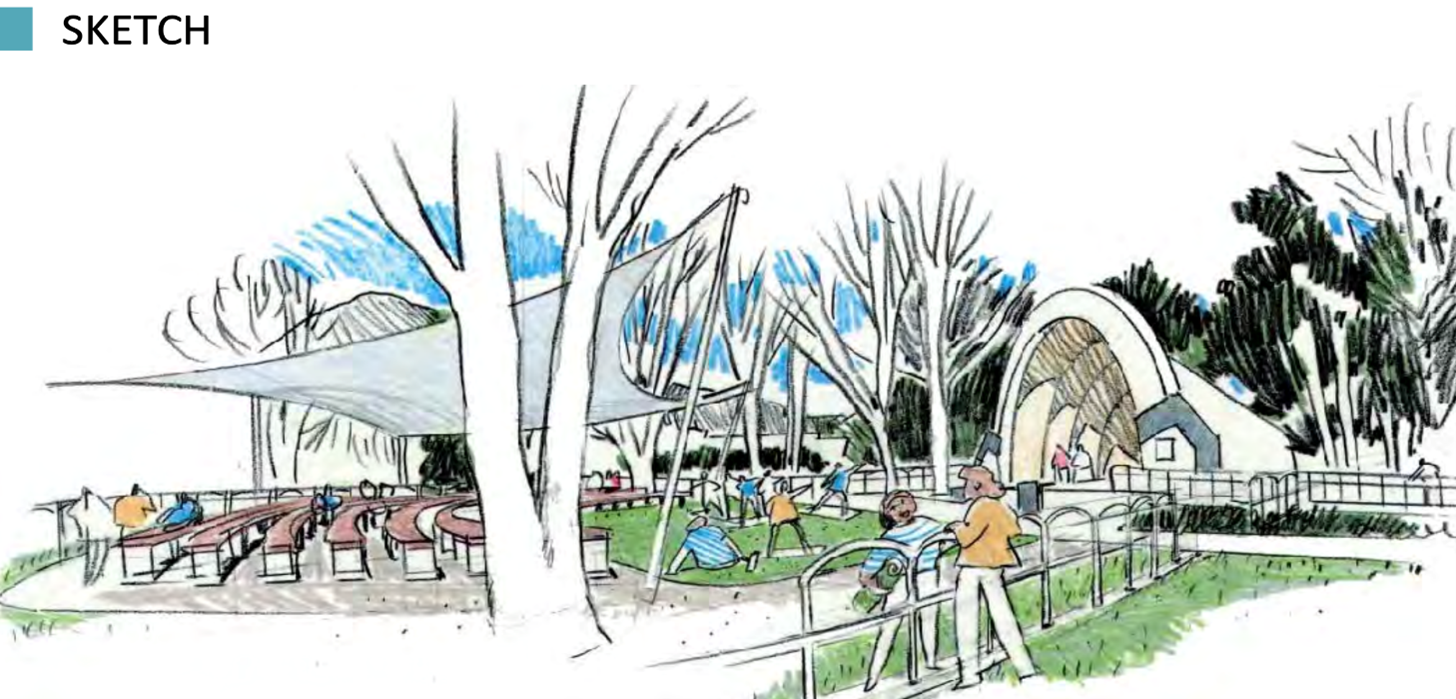 Currently staff and consultants continue phase four work on remaining resources, which utilize a similar approach as outlined above. Staff will continue to provide regular web updates.