Community Engagement

Design

Build

Complete
Project Overview
The North Broadway Reconstruction Project will provide long-term pavement maintenance and improve safety and comfort for people using all modes of travel through this section of roadway from Violet Avenue to US 36.
Background
Project planning and design happened from 2016 to 2020. Construction began in spring 2021 and is anticipated to be complete in spring 2023. While not part of this project, Xcel Energy converted existing overhead distribution lines to new underground distribution lines alongside North Broadway. Find details on the Xcel Energy project webpage.
Project Updates
Additions in Spring 2023 include:
The underpass and multiuse path opening for everyone to walk, bike and roll
Completing final striping of the bicycle lane
Prohibiting overnight parking to allow for an improved snow and ice response
Stepping up parking enforcement to ensure that people are parking as close to the curb as possible
Posting additional parking signage to educate drivers that this is shared space
Completing the southbound raised bike lane from Yarmouth to Violet, which had been paused due to winter conditions and resource constraints.

The project construction, including these measures, will continue through April with the expected full project completion to occur in early May.
Sign Up for Project Updates
Upcoming Work
The city is working to complete the project as weather allows.
April 2023 Update
On April 19-20, there will be paving operations that will shift lanes and cause short term delays at driveways and intersections.
Travel Impacts
Visit Cone Zones for all current construction and traffic impacts.
Vehicles: Additional work on eastbound US 36 to southbound Broadway will take place in spring 2023.
Parking: Street parking on the east side of Broadway is open.
Bicycles: The northbound and southbound bicycle lanes are open. Additional work that requires longer periods of warm weather is on pause for the winter, including bike lane striping to help delineate the use of space between bikes and parked cars.
The map below shows construction-free alternative routes for people walking and biking.
Image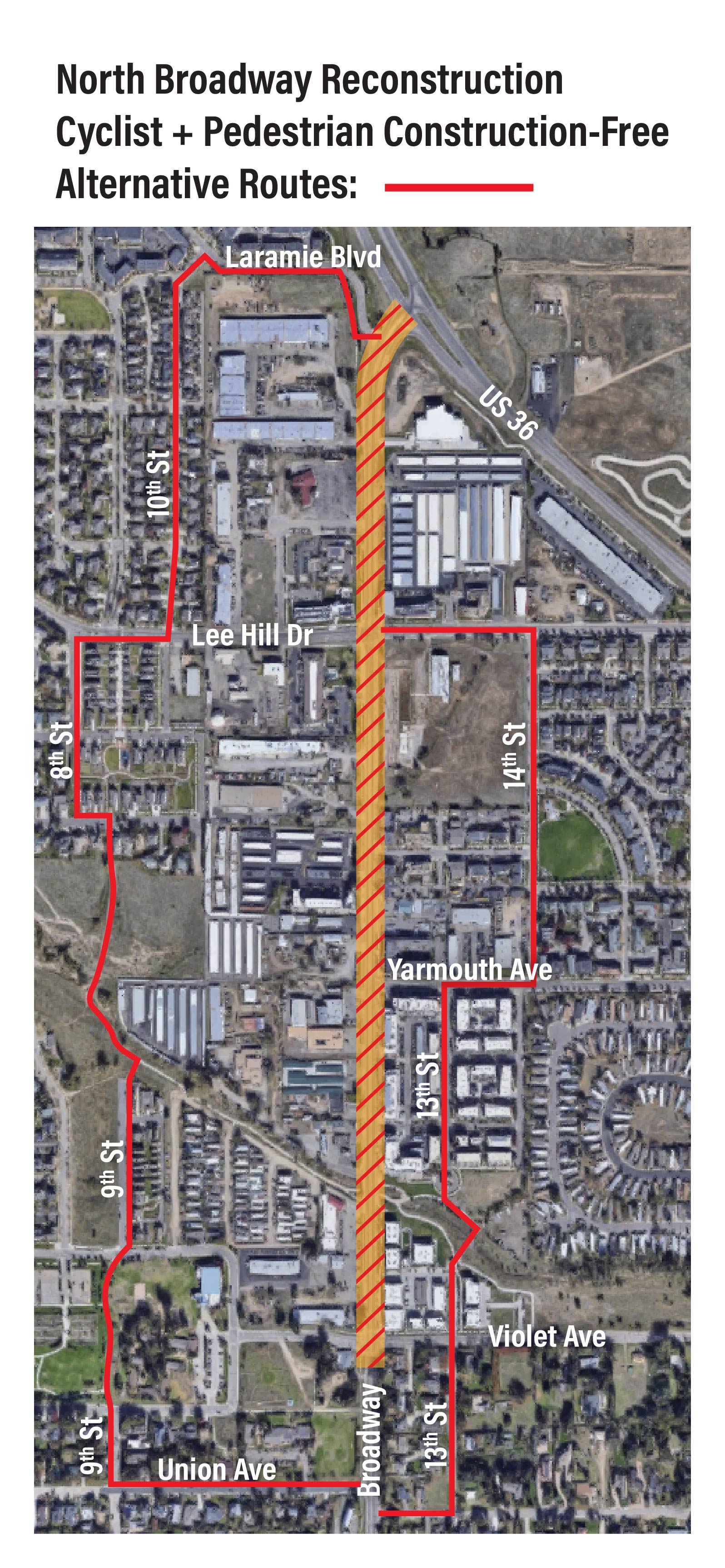 Project Design
While the North Broadway Reconstruction project's primary goal is to provide long-term pavement maintenance, safe, low-stress travel options are a key consideration and the city incorporates multimodal improvements into transportation projects whenever possible.
Community engagement on this project reflected a strong desire for a multi-use path for all ages and abilities. Although protected bike lanes were also considered, the final raised, buffered bike lane design ensures that the project has space for this multi-use path on the west side while also balancing the trade-offs associated with limited roadway space.
This design aligns with the North Boulder Subcommunity Plan and the Low-Stress Walk and Bike Network to support infrastructure for safe and comfortable transportation options across the city.
Image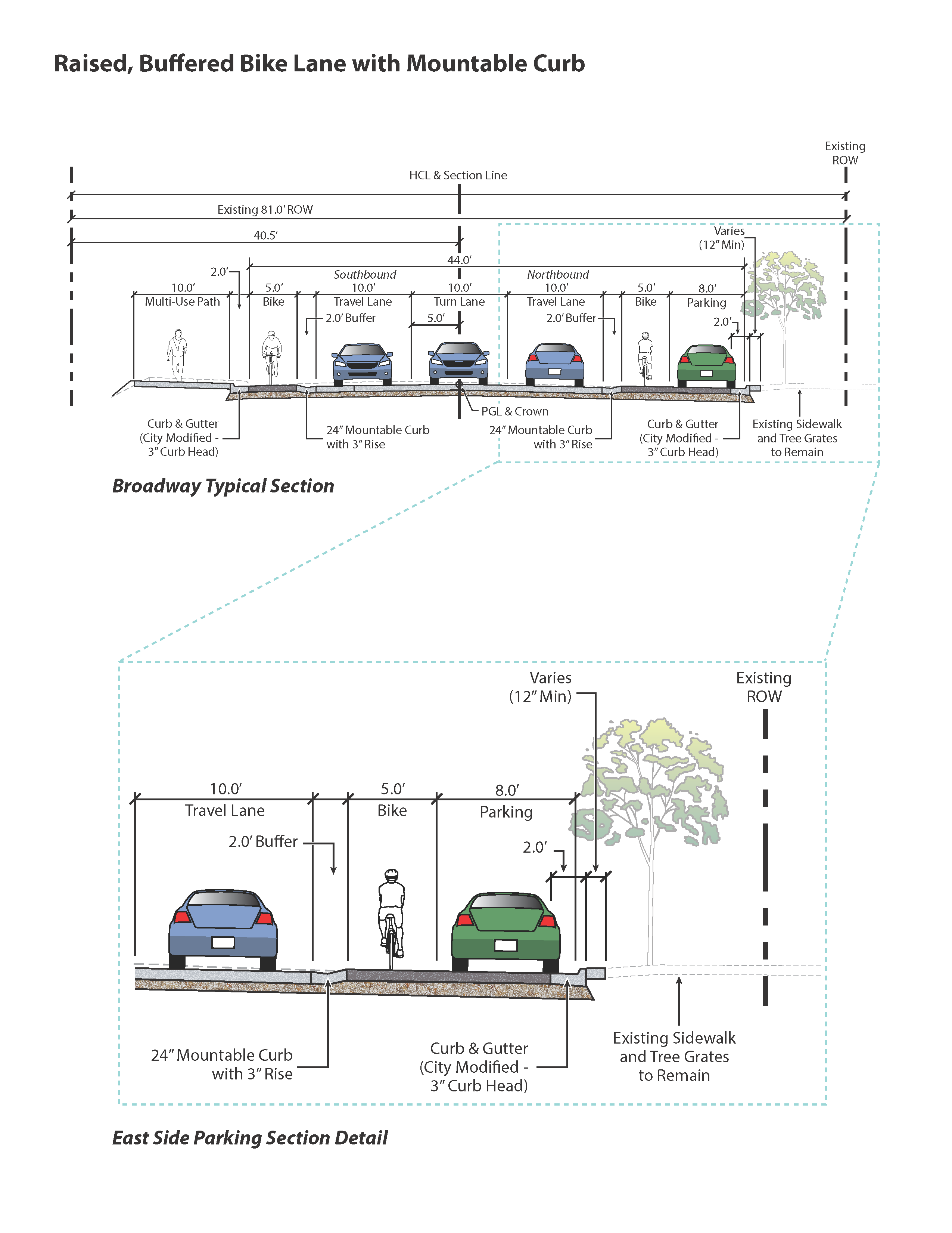 Scope of Improvements
The roadway pavement on North Broadway is in poor condition and requires reconstruction. This project will provide a more durable pavement that does not require as frequent maintenance and provide a safer and better riding experience for drivers, transit riders and on-street bicyclists.
The project applied for and received a federal grant to reconstruct the pavement in concrete as well as retain and possibly enhance or add pedestrian, bicycle and transit stop facilities and improvements. There is also some funding for street lighting, landscaping and public art.
The updated scope includes:
Pavement reconstruction in concrete and new curb and gutter
Improvement to the on-street bicycle facilities
Multi-use path on the west side of Broadway from Violet Avenue to US 36
Installation of a traffic signal at Broadway and Yarmouth Avenue and new or improved traffic signal interconnection and bicycle detection systems
Pedestrian and transit stop upgrades
Construction of a new drainageway underpass for the Fourmile Canyon Creek crossing of Broadway
Reduction of posted speed limits from 35 mph to 30 mph from Violet Ave to south of Lee Hill Drive and from 40 mph to 35 mph from south of Lee Hill Drive to US 36.
Budget
The state funding is $6.2 million with a local City of Boulder match of $1.3 million. The remaining required funds will come from the city.
This supports the budgeting principles and priorities of the Transportation Master Plan, which makes preserving the existing transportation infrastructure and system a high priority.
Community Engagement
2020 Open House
An open house to present the final design, construction timeline and anticipated impacts was held in early 2020.
June 2019 Open House
Please note that the materials provided below do not include the raised, buffered bike lanes recommended at the Transportation Advisory Board meeting on Aug. 13, 2019.
In August 2019, TAB voted to support the updated recommended design for the project, which includes raised/buffered bike lanes on Broadway from Violet Avenue - Lee Hill Drive, buffered bike lanes from Lee Hill Drive to US 36 and an off-street multiuse path along the west side of Broadway.
2016 and 2017 Meetings
A summary of input received is included here.
NoBo Art District First Friday Art Walk, Sept. 1, 2017
On site, Spruce Confections in north Boulder , Aug. 22, 2017
On Site, Amante Coffee in north Boulder, Aug. 23, 2017.
North Boulder Public Works Transportation & Utilities Open House, May 22, 2017.

If you were unable to attend the open house, the meeting materials are available below:

North Broadway Reconstruction and Mobility Hub Open House, October, 17, 2016.

If you were unable to attend the open house, the meeting materials are available below:
Learn more about the North Boulder Mobility Hub.