Community Engagement

Design

Build

Complete
Project Overview
The North Broadway Reconstruction Project will provide long-term pavement maintenance and improve safety and comfort for people using all modes of travel through this section of roadway from Violet Avenue to US 36. Planning and design for the project began in 2016 and continued into 2020. Construction is planned to start in early 2021 and is anticipated to take approximately 18 months to complete.
While not part of this project, Xcel Energy is converting existing overhead distribution lines to new underground distribution lines alongside the North Broadway Reconstruction Project. For information on the Xcel Energy project, please visit their webpage: https://www.xcelenergynorthbroadway.com/
Upcoming Overnight/Weekend Work
Any project upcoming overnight or weekend work with be shared here.
Beginning Thursday, November 11, the North Broadway Reconstruction project contractor will be performing evening saw-cutting activities as part of the new southbound concrete pavement installation. Night work is anticipated each time the contractor installs new concrete pavement (starting at Violet heading north) over the next approximately 2 weeks in this area. While the exact evening work dates and times are unable to be identified at this time (this varies due to how quickly each area of paving can be prepared and how quickly the concrete pavement hardens), the city will update the project webpage daily as to construction work that may occur that evening. When saw-cutting occurs, it is expected to last 3-4 hours. No major changes to the current traffic patterns will occur during this time.
Overnight work is expected on Monday, November 22.
Travel Impacts
Visit Cone Zones for all current construction and traffic impacts.
Vehicles: While the new southbound lane is being constructed, the vehicle travel lanes will shift east to the existing northbound lane.
Parking: All street parking on the east side of Broadway will be removed from April 2021 until the end of construction.
Bicycles: The northbound bicycle lane on the east side of the street will be removed beginning April 2021 until the end of construction. Bicycle and pedestrian construction-free alternative routes can be found west of project site along 9th St and multiuse path and east of the project site along 13th St and 14th St (see image below).
Transit stops: Within the project area, transit stops will remain at Broadway & Front Range, Broadway & Yarmouth and Broadway & Union. Please use these stops.
The map below shows construction-free alternative routes for pedestrians and bicyclists.
Image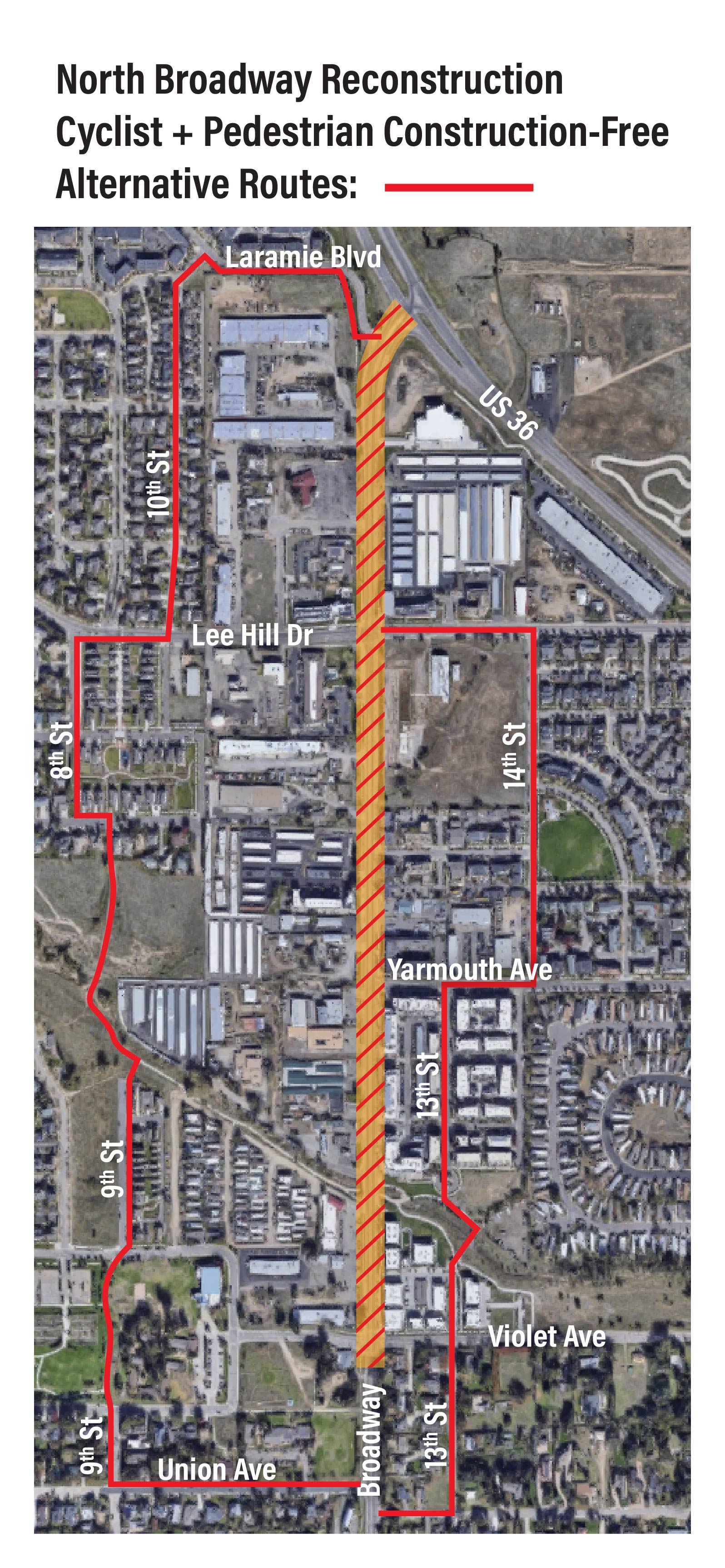 Project Design
Image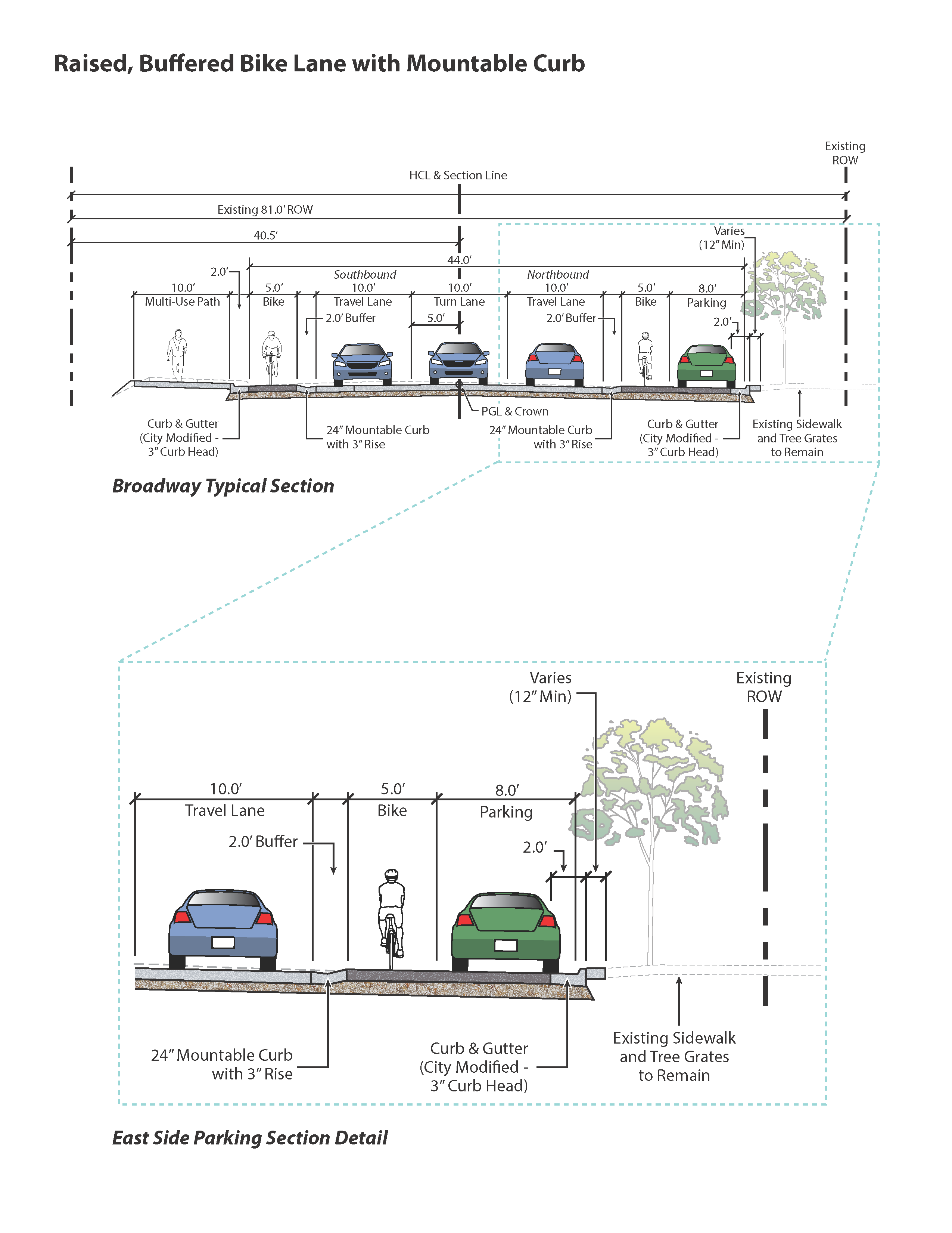 Scope of Improvements
The roadway pavement on North Broadway is in poor condition and requires reconstruction. This project will provide a more durable pavement that does not require as frequent maintenance and provide a safer and better riding experience for drivers, transit riders and on-street bicyclists.
The project applied for and received a federal grant to reconstruct the pavement in concrete as well as retain and possibly enhance or add pedestrian, bicycle and transit stop facilities and improvements. There is also some funding for street lighting, landscaping and public art.
The updated scope includes:
Pavement reconstruction in concrete and new curb and gutter
Improvement to the on-street bicycle facilities
Multi-use path on the west side of Broadway from Violet Avenue to US 36
Installation of a traffic signal at Broadway and Yarmouth Avenue and new or improved traffic signal interconnection and bicycle detection systems
Pedestrian and transit stop upgrades
Construction of a new drainageway underpass for the Fourmile Canyon Creek crossing of Broadway
Reduction of posted speed limits from 35 mph to 30 mph from Violet Ave to south of Lee Hill Drive and from 40 mph to 35 mph from south of Lee Hill Drive to US 36.
Budget
The project budget is $11.3 million, with $6.2 in federal Transportation Improvements Program (TIP) grant funding and $2.1 million in city transportation funds and $3 million in city utilities funds.
This supports the budgeting principles and priorities of the Transportation Master Plan, which makes preserving the existing transportation infrastructure and system a high priority.
Community Engagement
2020 Open House
An open house to present the final design, construction timeline and anticipated impacts was held in early 2020.
June 2019 Open House
Please note that the materials provided below do not include the raised, buffered bike lanes recommended at the Transportation Advisory Board meeting on Aug. 13, 2019.
In August 2019, TAB voted to support the updated recommended design for the project, which includes raised/buffered bike lanes on Broadway from Violet Avenue - Lee Hill Drive, buffered bike lanes from Lee Hill Drive to US 36 and an off-street multiuse path along the west side of Broadway.
2016 and 2017 Meetings
A summary of input received is included here.
NoBo Art District First Friday Art Walk, Sept. 1, 2017
On site, Spruce Confections in north Boulder , Aug. 22, 2017
On Site, Amante Coffee in north Boulder, Aug. 23, 2017.
North Boulder Public Works Transportation & Utilities Open House, May 22, 2017.

If you were unable to attend the open house, the meeting materials are available below:

North Broadway Reconstruction and Mobility Hub Open House, October, 17, 2016.

If you were unable to attend the open house, the meeting materials are available below:
Learn more about the North Boulder Mobility Hub.