| | Cabana Rental | Pool Party |
| --- | --- | --- |
| Shelter size | 10' x 10' | 10' x 20' |
| Pool admissions | Not included | 8 admissions included + $5/guest purchased in advance |
| Seating | 2 lounge chairs + small table | 8 chairs + dining table |
| Group size | 2-3 | Up to 40 |
| Fee (resident/non-resident) | $20/$30 | $200/$250 |
How to make your reservation
Lift off
Read the rental details below to decide which rental will best suit your needs.
Splash down
Count down to your reserved date and have a blast!
Pool Parties: Saturn or Jupiter
Great for birthdays, scouts, sports teams and family reunions
Image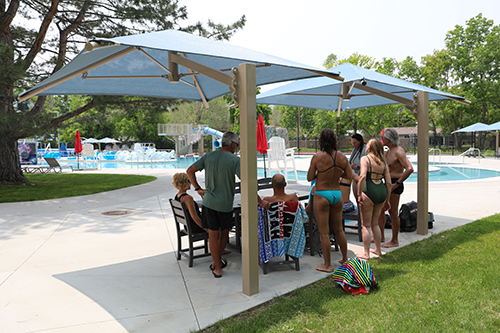 Fee (2 hours)
Resident - $200
Non-Resident - $250
Details
Includes two side-by-side cabana rentals.
Includes 8 daily admissions. During checkout, you may purchase additional entries at a discounted rate of $5/entry, up to a total of 40 participants.
Refunds will not be given for admissions paid for in advance.
Additional admissions may be purchased the day of your visit at our normal daily rate.
All fees must be paid prior to the rental.
Cabana Rentals: Mars or Mercury
Book a shaded reserved spot near the lazy river to enjoy while spending the day at Scott Carpenter Pool.
Image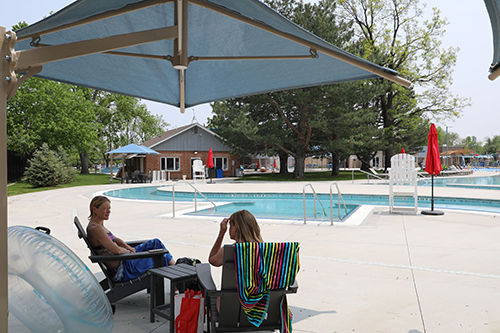 Fee
Resident - $20
Non-Resident - $30
Details
Choose 10 a.m. - 2 p.m. or 3 p.m. - 7 p.m.
Includes a 10x10 canopy, 2 lounge chairs and a small table.
Admission is not included with the rental.
No alcohol, glass containers, confetti, or pinatas
Looking for a group reservation instead?
Groups of 10 or more swimmers (camps, day cares, etc.) require a reservation. Book in advance to guarantee your spot. Receive the group rate of $5 per person. Group reservations do not include cabana access.