In September 2019, City Council unanimously accepted and adopted Open Space and Mountain Park's first Master Plan. The Master Plan sets the course for achieving a vision for integrated and responsible land management over the next decade and beyond. Despite the significant impacts of Covid in 2020, the department accomplished over 100 projects aligned with Master Plan strategies from each of the five focus areas last year.
Read more about Master Plan progress in:
In addition to the progress described in the Annual Report, the information below provides more 2020 highlights as well as inspiring actions and programs to watch for in 2021 relating to three Master Plan focus areas.
Responsible Recreation, Stewardship and Enjoyment: We are united by our connection to and enjoyment of nature and our obligation to protect it.
OSMP is gearing up for a productive 2021 trail project season!
Each year, our Trail Crews, Junior Ranger crews, youth corps crews, volunteers, and contractors work hard to build, repair, and maintain the trails that bring you to the places that you enjoy. The information presented here is to help give you information on upcoming trail projects in 2021! We invite you to explore the online interactive webmap, and click on project locations to learn more about work being done at each site, and how trail projects are prioritized within OSMP's Master Plan and other land management plans.
Image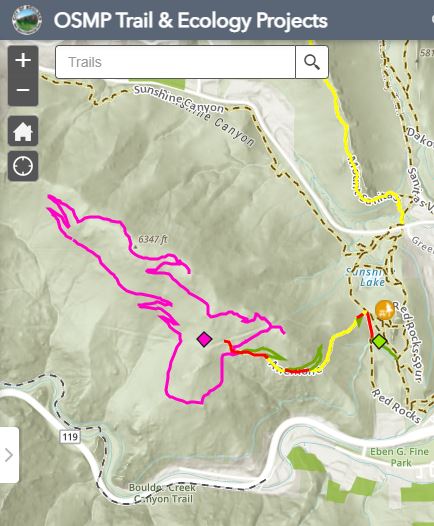 OSMP
What determines which trail projects go into the annual workplan?
Master plan guidance, budget, and workforce capacity are strongly considered when OSMP develops its annual trail work plan. Also, OSMP land management plans (such as Trail Study Area Plans) that describe and outline specific projects of interest to the community and department are considered when developing the workplan. The OSMP Master Plan and area-specific plans have gone through robust public input and are considered by OSMP's Board of Trustees and often, City Council.
Additionally, trail projects prioritized for a given year are identified through the department's comprehensive Trail Condition Monitoring effort that aids in tracking problems caused by high trail use and weathering that need to be addressed in order to keep trails enjoyable and protect the surrounding landscape. Priorities for improving habitat protection may also bring trail projects forward for implementation. In addition to site specific trail construction, re-route, and repair projects, OSMP Trail Crews and Junior Rangers implement annual trail maintenance work to ensure that water drains off of trails, cut back overgrown vegetation, and address fallen trees.
Other links
What can you do?
To help reduce trail maintenance needs, please hike on-trail – even when conditions are not favorable due to mud or trail erosion, staying on the center of the trail helps prevent damage to trailside vegetation, and reduces trail maintenance and repair needs!
Respect trail closures – oftentimes, OSMP closes trails due to muddy conditions, or when trail construction activities may present hazards to the public (due to equipment use, rockfall danger, or the moving of rocks and materials). Trail closures are to keep muddy trails from getting worse, and to keep the public safe.
If you encounter trail workers – ask if it is safe to pass by, and thank them for their work – it's often hot and physically hard work!
Trail Work Photos
Ecosystem Health and Resilience: Using the best available science, we protect healthy ecosystems and mend those we have impaired.
Restoration
Explore 2021 restoration and ecosystem health projects on this online interactive webmap. Staff has a variety of work planned to improve the health and function of grasslands, forests, wetlands, and agricultural areas across the system.
Learning Labs and Research
Doug Goodin
Community Connection, Education and Inclusion: Together we build an inclusive community of stewards and seek to find our place in open space.
The Master Plan has a goal for OSMP to continue to provide inspiring environmental education and physical and mental well-being programming. The department also focuses on promoting equity and inclusion so people feel safe and are able to enjoy the benefits of open space and on engaging youth to be inspired by nature, while making connections to Boulder's past.
2020 Outreach & Volunteer Opportunities