Aquatic Nuisance Species (ANS) at the Boulder Reservoir
The threat of contamination is increasing due to the growing number of contaminated bodies of water in our region. We know that there are New Zealand Mud Snails within walking distance of the Reservoir, and Zebra/Quagga Mussels within driving distance.
Information on this page will be updated as we explore leading practices and options to build on our existing ANS program so that we can continue to protect water quality and recreation access to Boulder Reservoir.
Image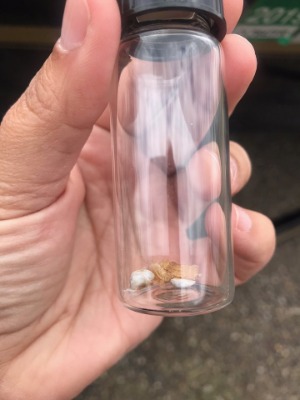 Help Protect Our Water Resources
Please help us protect our water resources from the spread of harmful plants, animals and other organisms by properly cleaning and de-contaminating your boat, trailer and other personal gear prior to arriving at the Boulder Reservoir (and before using your equipment in other waterways).
Invasive, non-native species of aquatic plants, animals and organisms are increasingly being transported between bodies of water in Colorado and across the U.S. by unsuspecting boaters and other waterway users. Many of these "aquatic hitchhikers" cause serious impacts on our fisheries, eco-systems and water supplies.
These aquatic nuisance species can hitch a ride on our clothing, boats and items used in the water. When we go to another lake or stream, the nuisance species can be released. And, if the conditions are right, these introduced species can become established, creating undesirable consequences.
These hitchhikers can reduce game fish populations, ruin boat engines and jam steering equipment, make lakes/rivers unusable by boaters and swimmers, dramatically impact the operations of drinking water plants, power plants and dams and reduce native species, degrade ecosystems, affect human health and reduce property values.
It's essential that everyone who enjoys boating, fishing and other types of water recreation, take proper care in cleaning all equipment and disposing of all live bait and aquatic pets.
Do not release or discard plants, fish or animals into a body of water.
Aquarium and Aquatic Pets: Do not release anything from a personal aquarium (water, plants, fish or animals) into or near any body of water or storm drain . Explain to your children how this could harm streams and lakes around the country and potentially kill other fish and animals that already live in the water.
Live Bait: Whether you have obtained bait at a store or from another body of water, do not release unused bait into any body of water. If you do not plan to use the bait in the future, dump the bait in a trashcan or bury it on land, at least several hundred feet away from any body of water or storm drain. Also, be aware of any bait regulations, because in some waters, it is illegal to use live bait.