Image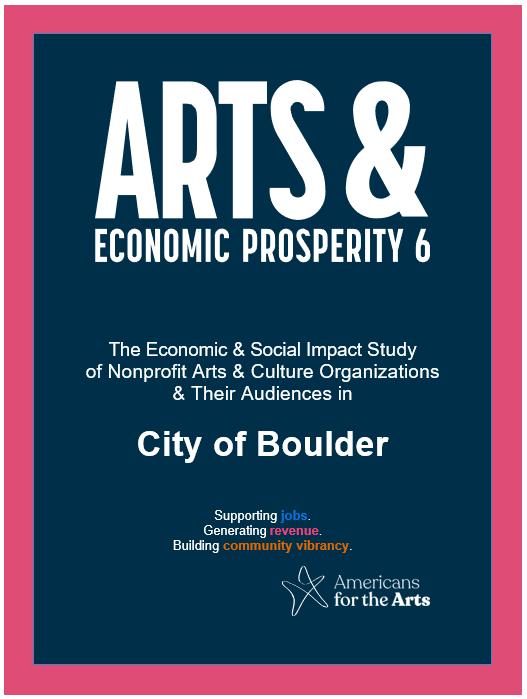 Boulder-based organizations can use this calculator (explanation of the calculator on pages 26 to 28 of the full report) to gauge their organization's impact on the economy.
The nonprofit arts and culture industry generates $115.1 million in annual economic activity in Boulder, Colorado – supporting 2,451 jobs and generating $21.9 million in local, state, and federal government revenues, according to the Arts & Economic Prosperity 6 national economic impact study. Arts & Economic Prosperity 6 (AEP6) was conducted by Americans for the Arts, the nation's leading industry group committed to advancing the arts and arts education. Building on its 30-year legacy as the largest and most inclusive study of its kind, AEP6 uses a rigorous methodology to document the economic and social contributions of the nation's nonprofit arts and culture industry. The study demonstrates that arts and culture are a critical economic driver of vibrant communities locally as well as nationally.
Nationwide, the Arts & Economic Prosperity 6 study reveals that the nonprofit arts industry produces $151.7 billion in economic activity every year, resulting in $29.1 billion in federal, state and local tax revenues (a yield well beyond their collective $5.49 billion spent in arts funding), 2.6 million jobs and $101 billion in personal income. Visit the Americans for the Arts website for national data.