Image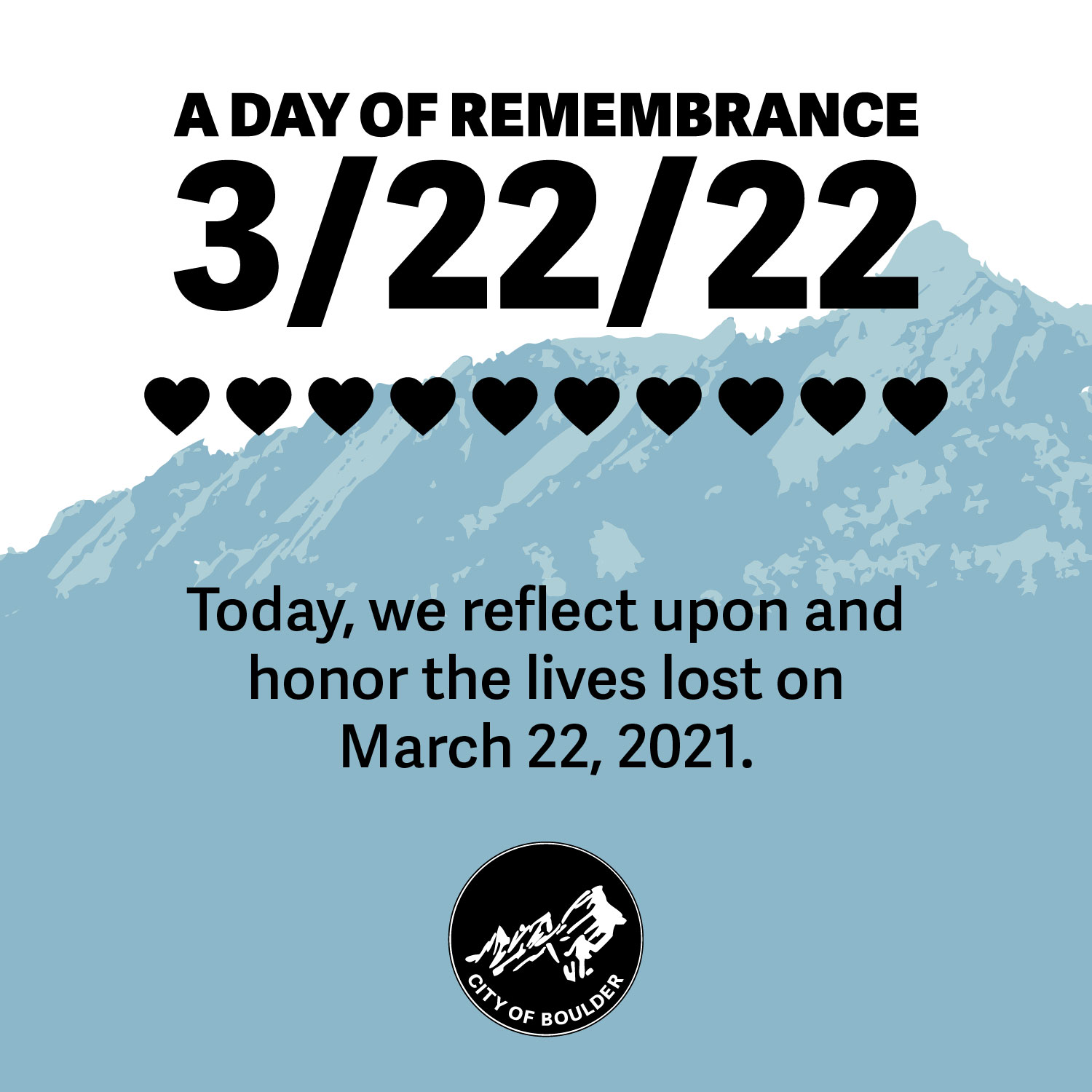 March 22 Day of Remembrance
On March 22, 2021, Boulder lost 10 beloved community members in a mass shooting. Our collective commitment to remember that day, the victims of that day's tragic events, and to remain supportive of their families, our neighbors and each other illustrates the true strength of our community.

On April 6, 2021, Boulder City Council issued a Declaration of Boulder Day of Remembrance to honor the victims of the March 22, 2021 tragedy.
On Tuesday, March 22, the following events took place as part of the Day of Remembrance in Boulder:
A patrol car was parked in front of the Boulder Police Department (1805 33rd St.) for individuals to leave their condolences if they so choose from Friday, March 18, through the evening of Tuesday, March 22. Items left in remembrance were given to the family of Officer Eric Talley and/or saved at the department.

A Line of Duty Death commemoration at the Boulder Police Department at 2 p.m. on March 22.

A moment of silence wherever you are at 2:30 p.m. on March 22. All City of Boulder offices and operations recognized that moment of silence at 2:30 p.m.

Communitywide Day of Remembrance gathering at the Glen Huntington Bandshell from 4:30 to 6 p.m. on March 22.
These events reflected the respected wishes of contacted victim family members who endured the unimaginable events of March 22, 2021.
Boulder Strong Graphics and Downloads 
Collective Moment of Silence to Honor Lives Lost
The community came together at 8 p.m. on Saturday, March 27, 2021, to create an opportunity to safely mourn in a difficult time. Together, we honored those lost and held space for the loved ones they left behind.
On the first night, we stepped outside to take 10 slow breaths, followed by 10 minutes of silence. Each breath and each minute was meant to honor the lives lost in the tragic Boulder shooting. The impact of this tragedy stretched across our community and nation, and all were welcome, whether they personally loved Boulder or just wanted to support us. We invited everyone to continue this practice as able for 10 days and to put a light in their window as a sign of hope and healing.
Video: Community Comes Together