The City of Boulder's brand conveys our purpose, how we serve the community and how we support the city's mission, vision and values. This information is intended to help staff better serve the public through clear, consistent and compelling written and visual communication.
Image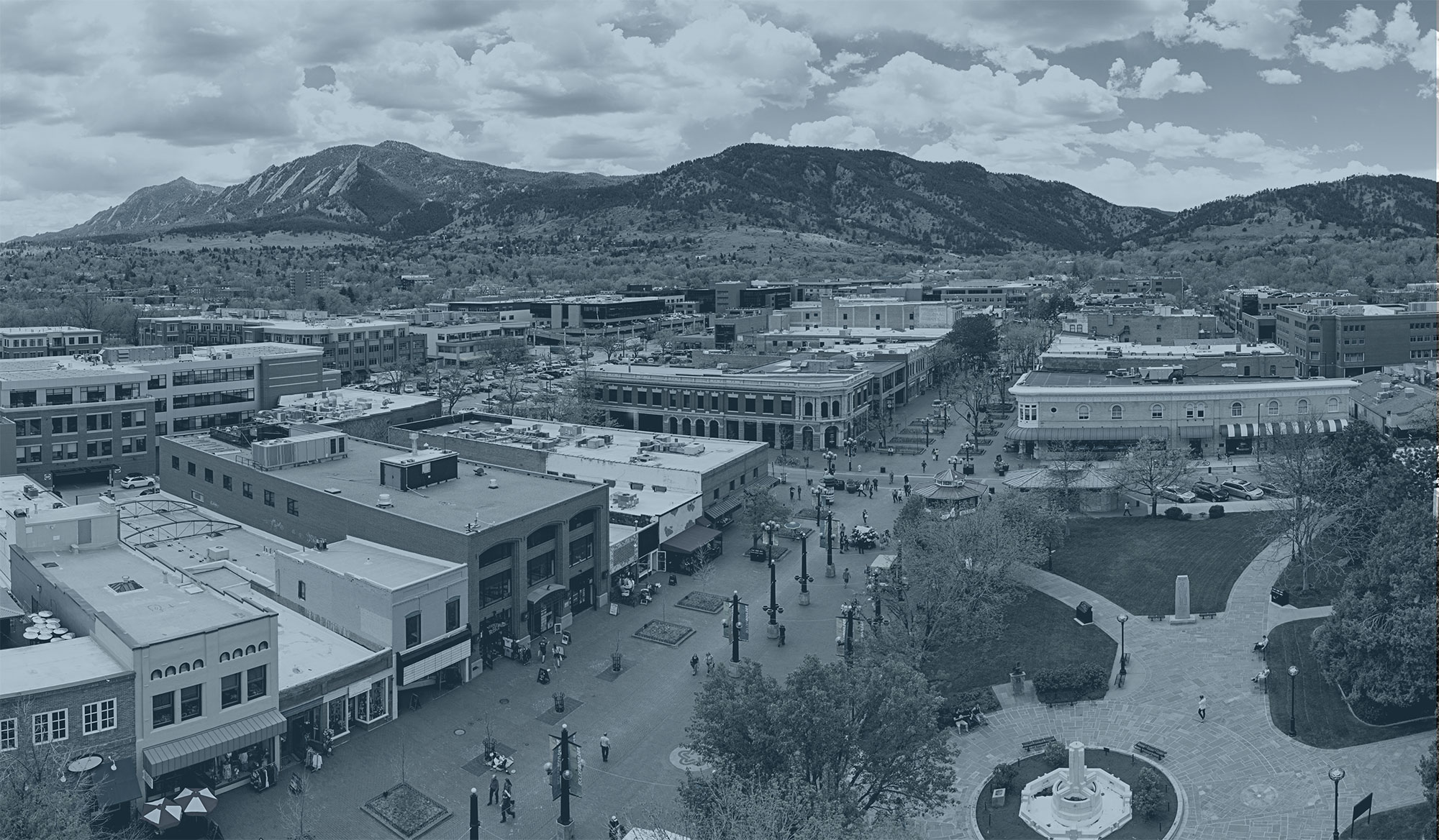 Follow the City of Boulder Brand Standards
Communications from the city organization or city staff that is intended to promote, inform or engage should align with the City of Boulder Brand Standards.
Communication staff may provide guidance to support successful brand-appropriate communications. Outside vendors should follow the official City of Boulder Brand Guidelines.
Brand Quick Start Guide
The City of Boulder audience includes all people who live, work, play and visit in Boulder. As an organization that serves the public, we do our best to consider the needs of everyone.
Local government audience members generally aren't as familiar with the internal organization and processes. To help avoid confusion, we emphasize a One Boulder approach when describing programs and projects. Use the City of Boulder as the subject as often as possible. If you need to be specific, use a complete department name, rather than referring to specific city workgroups (e.g. City of Boulder Communication and Engagement Department).
Some of our audience groups include:
Those who live in Boulder: renters, homeowners, students and people experiencing homelessness
People who work in Boulder
City employees
City leadership
City Council
Boards and commissions
Businesses
Visitors
Prospective residents
Volunteers
Peer cities and partner organizations, such as the University of Colorado Boulder
A brand voice is how we evoke our unique personality as an organization. The City of Boulder brand voice is inspired by the city's vision, values and objectives: We are creative, helpful, welcoming, accessible and knowledgeable.
Several guiding principles define our brand voice and support quality public service. We strive to follow these principles to help support a consistent citywide brand voice.​
Equitable
Basic and pertinent information is available through multiple channels and in multiple languages.​ All Communications:​
Are inclusive, welcoming, compassionate and understanding. ​
Are accessible and support the city's racial equity work. ​
Support the physical and mental well-being of community members. ​
Recognizable
Community members can distinguish our organization's programs, policies and programs from other Boulder entities.​
Consistent
All communications support the City of Boulder Brand Strategy and adhere to the City of Boulder Brand Identity.​
Clear
We avoid jargon or "city speak" so everyone understands. Communications are efficient and concise.​
Informative
We provide background context. We point to resources for more information. ​
Accurate
We check for accuracy and share information that is evidence-based, transparent, correct and truthful. ​
Engaging
Content is compelling, interesting, and holds attention. Communications support informed decision-making for community members. ​
Sustainable
We are mindful of natural resources and use them in a manner that does not deplete them over time. ​
Innovative
Communication tactics and strategies are based on the latest information and best, most effective practices. We continually learn to help improve service to the community. ​
Our communication is easier for people to understand when we write in a simple, clear and consistent style. Here is how we strive to write:
Follow the City of Boulder Writing Style Guide for all internal and external communication.
Follow the City of Boulder Web Content Guide for web content.
Use AP Style with some city-specific exceptions.
Write, design and share based on the needs of community members.
Provide the full story, prioritizing openness and transparency.
Use clear, simple language. Use acronyms sparingly.
Write at an 8th grade reading level so our content is easy to understand.
Use active voice.
Use contractions.
Be conversational yet professional.
Be concise:

Paragraphs should have 2-3 sentences max. Sentences should be less than 10 words with one complete idea. Longer sentences should be broken down into shorter ones.

Link to resources for more details and information.
Use a One Boulder approach, emphasizing the City of Boulder organization first and departments and work groups second, and only when more specifics are needed.
Typography
Use Adelle Sans whenever possible for typography. Since this is an Adobe font, it is not always available. As alternatives, Assistant or Arial can be used as necessary.
Logos
There is one official city logo with different treatment options. The black city logo is preferred but the following treatment options are acceptable.
Image

Colors
Color is our second most important brand element. Pairing our logo with a consistent color palette is the single best way to develop brand awareness for the City of Boulder.
Image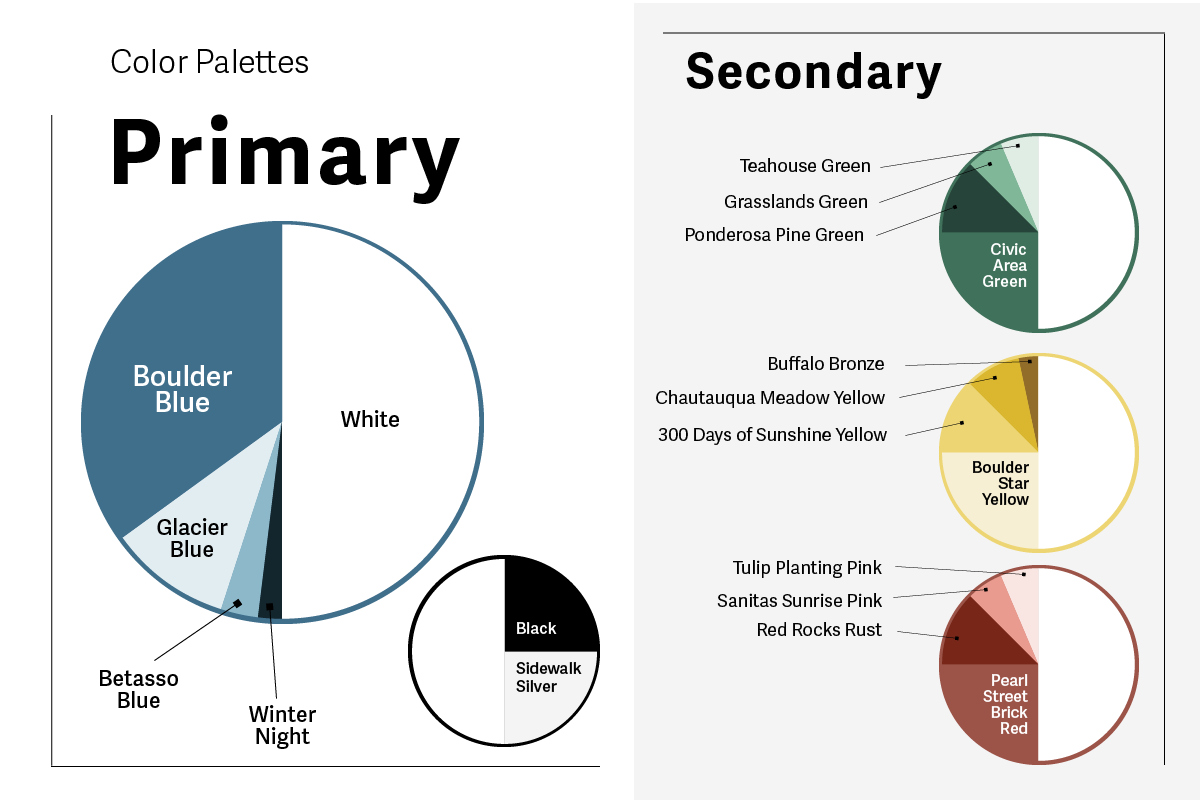 Using the City of Boulder Color Palette
The primary blue palette should always be incorporated into city designs. The secondary palettes are to help bring them to life. View details, including HEX codes, for the complete city color palette.
Primary Palette
Use this palette with all communications to help support brand recognition.
Boulder Blue
This is our hallmark color. The muted, earthy blue symbolizes reliability, professionalism and trust as a city organization and community. The earthy tone reflects our love of the natural places we call home. Use at least some Boulder Blue in all external communications.
| | | |
| --- | --- | --- |
| HEX | RGB | CMYK |
| 406F8C | 64, 111,140 | 80, 50, 31, 7 |
Glacier Blue
Arapaho Glacier is the largest glacier in Colorado and helps provide water for Boulder. The city's Climate Initiatives department is working to address the climate emergency, which would help protect the world's glaciers.​​​​​​
| | | |
| --- | --- | --- |
| HEX | RGB | CMYK |
| E2EDF2 | 226, 237, 242 | 10, 2, 3, 0 |
Betasso Blue
The Betasso Water Treatment Plant, located in the foothills west of Boulder, treats water from North Boulder Creek and Barker Reservoir, which is fed by Middle Boulder Creek.
| | | |
| --- | --- | --- |
| HEX | RGB | CMYK |
| 8CB8CA | 140, 184, 202 | 45, 16, 15, 0 |
Winter Night
Here in Boulder, winter is both a time of play and of restoration. Winter Night is reminiscent of the sky on quiet nights when moonlight bounces off fresh snow.
| | | |
| --- | --- | --- |
| HEX | RGB | CMYK |
| 13252D | 19, 37, 45 | 86, 68, 58, 66 |
Grayscale
This classic palette is helpful for every design. Use white and Sidewalk Silver to create an open feel and black to create dramatic contrast that draws the attention.
| | | | |
| --- | --- | --- | --- |
| Color | HEX | RGB | CMYK |
| Black | 000000 | 0, 0, 0 | 75, 68, 67, 100, |
| Sidewalk Silver | F4F4F4 | 244, 244, 244 | 3, 2, 2, 0 |
| White | FFFFFF | 255, 255, 255 | 0, 0, 0, 0 |