Earth Day 2023
In 1970, when Americans first began to celebrate Earth Day, a new environmental consciousness was emerging. People across the country were fed up with polluted air and water, proliferation of harmful pesticides and wildlife extinction. That year, more than 20 million Americans joined an Earth Day event.
Today, as we face an accelerating climate crisis, poor air quality and species loss, the message of Earth Day is as important as ever. The Boulder community, with our long legacy of environmentalism, is organizing several ways to help sustain our earth.
Here is a round-up of local events and ways to take action:
Get Involved
Cool Boulder
Join in a community effort to implement nature-based climate solutions. Cool Boulder is mobilizing and supporting our community to regenerate our soils, trees and habitats for a resilient climate future. Sign up to join an action team or become a community resource specialist.
Nude Foods Market's Earth Day in Boulder Bash
When:

Saturday, April 22 from noon to 3 p.m.

Where:

Nude Foods Market,

3233 Walnut Street
Celebrate our planet with neighbors, friends and local organizations! There will be free zero waste snacks, live music, plant-based vendors, a hard-to-recycle materials drive and more. Register ahead of time for free.
Get Outside
Every Day is Earth Day: A Biodiversity Hike
When:

Saturday, April 22 at 10 a.m.

Where:

Gregory Canyon Trailhead, Gregory Canyon Road
From shaded creeks to craggy peaks and tiny habitats to the all-encompassing, Boulder is home to an amazingly diverse suite of life. Celebrate Earth Day with your community and city naturalist Jessie on a short hike highlighting the many neighbors with whom we share the planet. Walk away with renewed hope, new friends, and a sense of pride for our part in the stewardship of these lands. Learn more about this and other Open Space and Mountain Parks nature programs at NatureHikes.org.
Jeff and Paige Tulip Fairy Festival: Wake Up the Bear Performance on the Pearl Street Mall
When:

Sunday, April 23 from 1 to 5 p.m.

Where:

Pearl Street Mall, Pearl Street
Join OSMP and Jeff and Paige for our annual Wake up the Bear! This musical education ceremony takes place every year in downtown Boulder at the Tulip Fairy & Elf Festival. Join hundreds of children dressed as fairies and elves as we learn about bears and what to do when you encounter them. Learn more!
A Nature Play Date
When:

Monday, April 24 from 10 a.m. to noon

Where

: Sawhill Ponds, 3400 75th Street
Nature Play Date offers an opportunity for kids and their parents to have unstructured time in nature, full of play and discovery. Spring has brought some changes to Sawhill Ponds - can you find them? Run a dip net through the water. Look for bugs and birds' nests. Search for (or make) tracks in the mud. OSMP staff will be on hand to guide the experience and answer any questions. Learn more!
Get Around
Ride a Boulder BCycle
When: Saturday, April 22
Where: BCycle offers electric bikes at locations throughout Boulder
Download the BCycle app and register a Single Ride pass using promo code 42223 to reduce the cost of the first 30 minutes of any Boulder BCycle trip to $1.
Clean Air Kickoff
When:

Tuesday, April 25 from 4 to 7 p.m.

Where:

Hyatt Place Boulder,

2280 Junction Place
Live or work in Boulder Junction? Come to the Clean Air Kickoff with Boulder Transportation Connections to learn how to get around without a car by using RTD EcoPass, Colorado CarShare and Boulder BCycle. Plus, get an under-the-hood look at an electric HOP bus. Learn More
Get Growing
Resource Central Webinar: Feed the Pollinators, Feed the Earth
When:

Wednesday, April 20 from 6 to 8 p.m.

Where:

Virtual
Tune in and explore the fascinating world of local pollinators! Learn how to plant, maintain and care for their habitat in your own garden. Register online to attend.
Tree Giveaway
Join the Forestry Team, PLAY Boulder and Cool Boulder as they give away approximately 350 tree seedlings
When: April 29 at 8 a.m. (supplies are limited and will be distributed on a first come, first "treed" basis)

Where: McGuckin Hardware,

2525 Arapahoe Ave.
Tree Planting
Every day is Earth Day for the city's forestry team. This spring, the team will plant about 500 trees in city parks and public streets. If you would like a free tree planted next year in a public space near your home, request one via our street tree planting program.
The Forestry team is also working with High Peaks Elementary School to plant 12 trees at Aurora 7 Park on April 28 as part of their Arbor Day events.
Image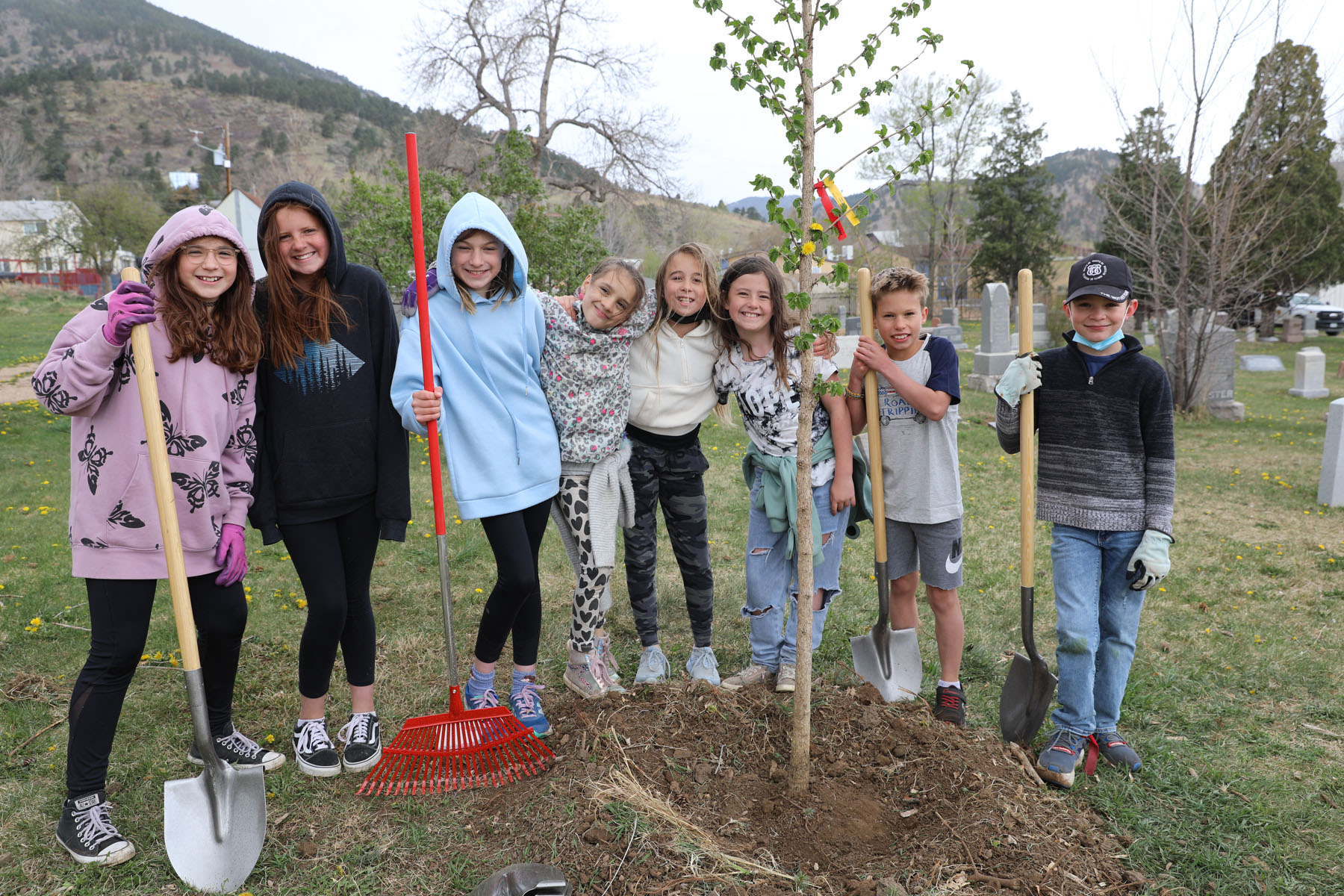 Get Learning
Bears Storytime
The Meadows Branch library is offering a STEAM Storytime, featuring a discussion on bears:
When: April 19 at 10:15 a.m.

Where: Meadows Branch Library,

4800 Baseline Rd.
Earth Day Dance Party Storytime
The Meadows Branch library is offering an Earth Day Dance Party Storytime:
When: April 20 at 10:15 a.m.

Where: Meadows Branch Library,

4800 Baseline Rd.
Plant a Seed at Playtime Storytime
The Meadows Branch library is offering a Plant a Seed at Playtime Storytime. At the storytime, children will be encouraged to plant a seed to take home.
In-Person Movie Matinee at Meadows: Disneynature: Bears
Celebrate Earth Month at this matinee showing of "Disneynature: Bears." All ages welcome. 77 min., rated G. Snacks will be provided. Interested in volunteering at this event? Sign up here (must create an account with Count Me In to register).
When: The movie will start at 2:30 p.m. on April 29

Where: Meadows Branch Library,

4800 Baseline Rd.
When: April 21 at 10:15 a.m.

Where: Meadows Branch Library,

4800 Baseline Rd.
Earth Day and Beyond
Community Calendar
Access the Boulder.Earth community calendar for even more ways to get involved.
Looking for something you can do yourself?
If these events aren't the right fit for you, access the city's guide to climate action. There, you'll find ideas on how to live a more sustainable life and create positive change for our climate.
Happy Earth Day!