Join City of Boulder staff and walking expert Ana Lucaci of Walk2Connect for a guided walking tour of Iris Avenue. Experience the street from the pedestrian perspective and provide your feedback in real time. For questions contact Ericka Amador, Senior Transportation Planner, at amadore@bouldercolorado.gov or 720-968-1500.
Schedule and transit:
We will meet at 5 p.m. on the north side of Iris Avenue and 13th Street near the bus stop. The area is easily accessible by transit: the SKIP and Route 208 both stop nearby.
We will begin walking at 5:05, so please arrive on time.
Be sure to bring water and appropriate footwear. Check the forecast and wear appropriate clothing.
Image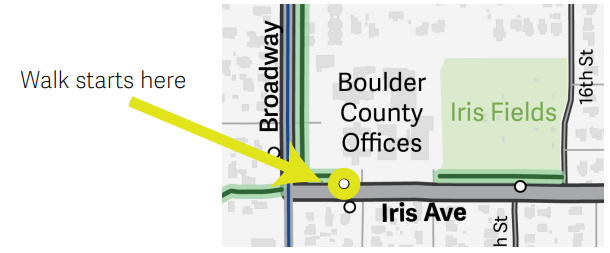 Details:
TYPE: Guided walk tour
PACE: Gentle ~2 mph
TERRAIN: Sidewalks
DISTANCE: ~1 mile, 1.5 hours
Iris Avenue Transportation Improvements Project
This event is part of the Iris Avenue Transportation Improvements Project. The project will identify and implement ways to make Iris Avenue between Broadway and 28th Street safer, more connected and more comfortable.
Related Events
In addition to the guided walk, community members can join these events to share feedback and learn more: