BOULDER, Colo. – Boulder Police detectives are asking for the public's help to identify the women seen in this surveillance video who stole two Rolex watches valued at $42,000.
Just before 1 p.m. on Saturday, Nov. 11, two women entered a jewelry store on Pearl Street and asked to look at some watches. The pair distracted the sales associate and stole two watches before walking out of the store. They were last seen getting into a car driven by an unknown male.
The first watch was a Rolex 18K yellow gold Oyster Quartz President watch valued at $30,000. The second watch was a Rolex two-tone Oyster Quartz watch valued at $12,000.
Both suspects were described as women in their 50s with brown hair and brown eyes. They're thought to be possibly Middle Eastern because of the language they were speaking.
The suspects can be seen in the screenshots here.
Anyone with any information about the identity of these women or this crime is asked to contact Detective Xu at XuZ@bouldercolorado.gov or 303-441-3564 reference case 23-11505.
Image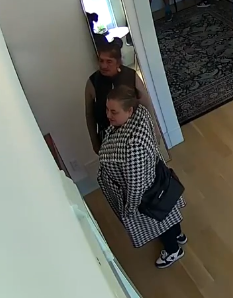 Image