Project Overview
Measuring progress on emissions reductions helps us track our progress and identify new opportunities to lessen our contribution to climate change. It also helps us understand which areas of change are under our control, and which areas require collaboration with others.
Measure Our Present. Design Our Future.
Since 2005, community emissions have been reduced 21%.
Our goal is to reduce overall emissions by 80% by the year 2050 from a 2005 baseline.
2019 Community Greenhouse Gas Inventory
What are GHGs?
Greenhouse gases (GHGs) absorb radiation from the sun and trap heat in the earth's atmosphere. The more GHGs there are, the more heat is trapped in our atmosphere, leading to global warming and climate change. GHGs measured here include carbon dioxide, methane and nitrous oxide.
About this inventory
Since 2005, Boulder has calculated the community greenhouse gas (GHG) inventory to share our community emissions data. Current inventories now include more GHG sources than earlier inventories, giving a more accurate representation of our contribution to climate change. See the city's dashboard Boulder Measures for the community's GHG inventory results over time.
The 2019 Community Greenhouse Gas Inventory was calculated following the Global Protocol for Community-Scale Greenhouse Gas Emission Inventories (GPC), the current recognized standard for GHG emissions reporting. See the GHG Inventory Methodology Reference for more information on the GPC and Boulder's inventory calculations.
In any inventory year, factors such as heating and cooling degree days, economic trends, and significant local developments impact emissions, requiring careful attention to and consideration of these factors in mapping overall emission trajectories to measure progress and inform next steps in policy and action.
Why measure?
Measuring progress on emissions reductions helps us track our progress and identify new opportunities to lessen our contribution to climate change. It also helps us understand which areas of change are under our control, and which areas require collaboration with others.
More than 70% of global carbon emissions come from cities like Boulder. Hundreds of these cities are measuring GHG emissions to track progress and identify new opportunities to lessen negative climate impacts. As part of the Carbon Neutral Cities Alliance, Boulder and 21 leading global cities have committed to reducing their emissions by 80% or more by 2050.
Boulder's Emissions: Present and Future
Image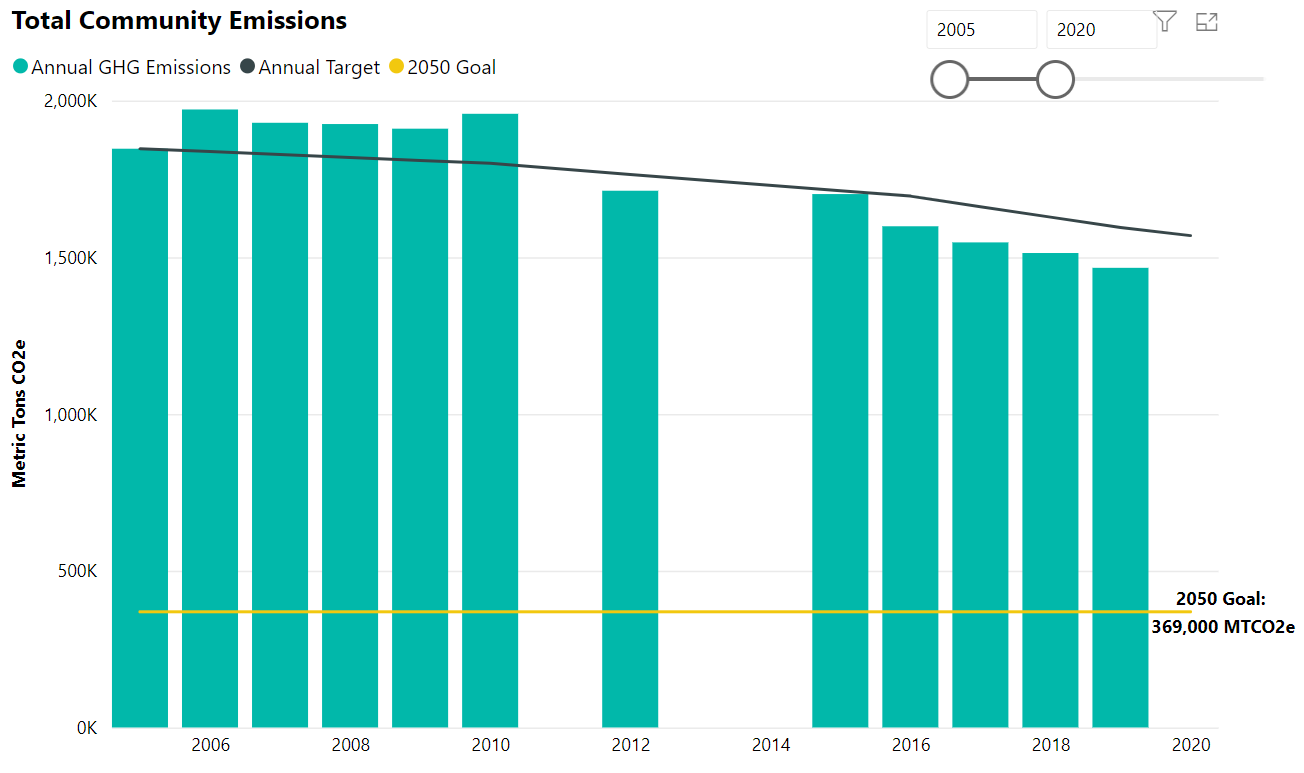 98% of Boulder's emissions come from burning fossil fuels to produce electricity, provide heat and power our transportation system. To reach our climate goals, we need to change how we produce, manage and use energy by creating energy systems that are clean, affordable and reliable.
As of 2019, Boulder emits 1.46 million metric tons of carbon dioxide equivalent into the atmosphere each year. This means that each resident, on average, is responsible for 13.7 metric tons per year. By 2050, Boulder wants to produce less than 400,000 metric tons of GHGs total, or three metric tons per person.
In comparing Boulder to other communities, it's clear that we have an opportunity to reduce our GHG emissions. Transitioning our community to clean, local and reliable energy is key to achieving our climate goal and building community resilience.
Where do Boulder's GHGs come from?
Image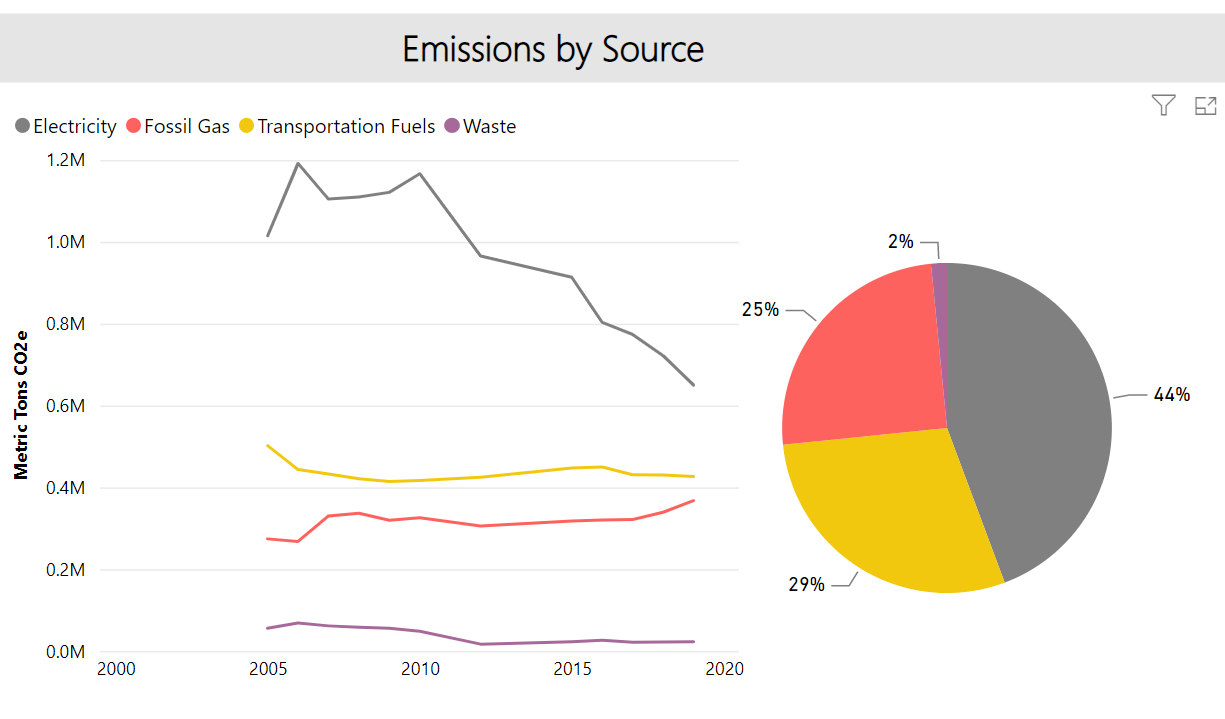 Nearly all (98%) of Boulder's emissions come from fossil fuels such as oil, coal and natural gas. 44% of Boulder's total emissions come from electricity generation for uses such as lighting and cooling buildings. Natural gas, which is used primarily to heat buildings, accounts for an additional 25%. Gasoline, diesel and jet fuels account for 29% of overall emissions.
Who emits GHGs?
Image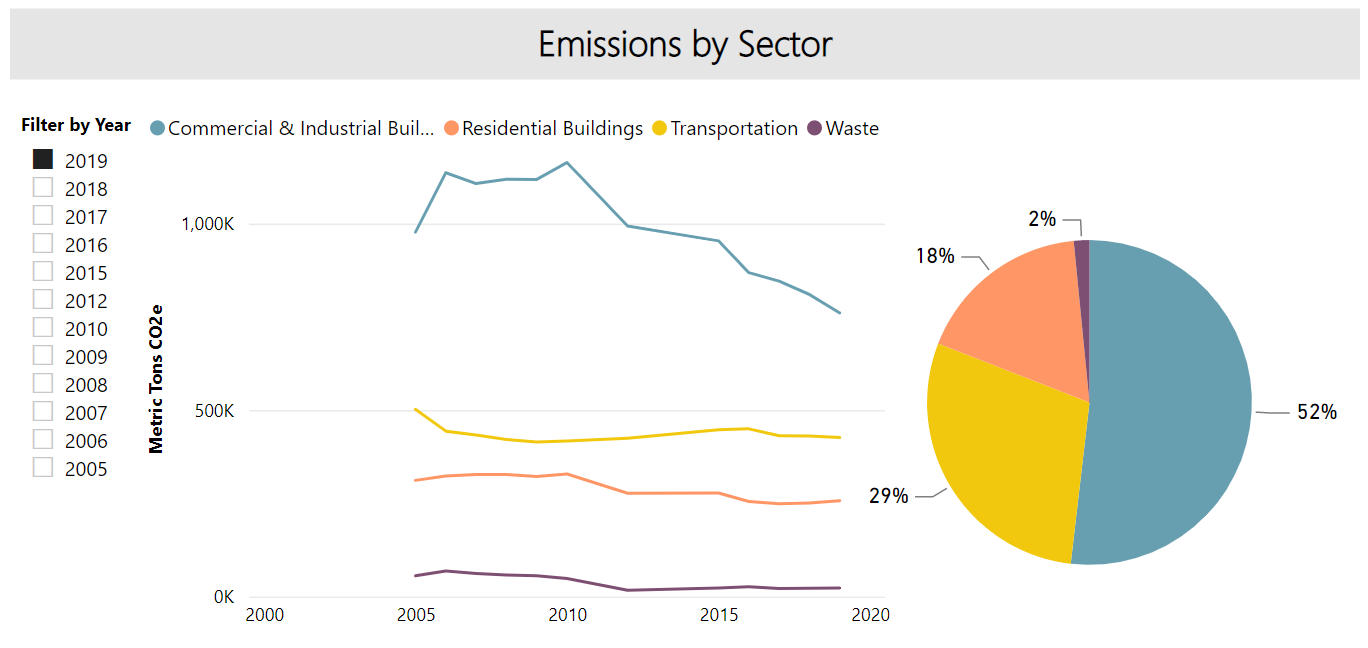 Homes, businesses, factories, schools, and local government buildings account for 70% of Boulder's total community GHG emissions. The commercial and industrial sector (C&I) includes business and industry, and represents the greatest opportunity for reductions. The city has developed several policies and programs for the C&I sector that launched in 2016 and 2017 including rating and reporting, zero waste efforts and net zero energy codes.
Our Electricity Supply-Colorado Xcel Energy
All electric customers in Boulder currently receive their electricity and natural gas from Xcel Energy. The types of energy Xcel incorporates into its electricity resource mix influence the carbon intensity of Boulder's electricity, and therefore the GHG emissions related to energy use in buildings.
With the increase in renewable energy resources mandated by the Colorado Renewable Portfolio Standard, Xcel's use of coal decreased between 2005 and 2019 while use of renewables increased.
This shift reduces Boulder's net emissions: carbon intensity went down despite electricity use going up. It also underscores the great potential of renewable energy to reduce greenhouse gases.
Regulated utilities in Colorado are only required to implement the amount of renewables prescribed by state mandates. Research shows that responsible climate action will require a much faster and more robust transformation than current mandates, and include closing more coal plants than is currently planned.
Taking Climate Action - We Don't Just Measure
Boulder values sustainability, and is currently working on a number of sustainability initiatives.
Boulder's biggest success in reducing emissions has been in the areas of waste, on-road travel and residential energy use—all areas targeted by the city's climate programs and related initiatives between 2005 and 2019.
It's our climate, our community.