The new bouldercolorado.gov is driven by user input with the goal of better serving you. We want to make navigating our website easy, saving you time and making your life easier. Here are nine ways the new website tries to do that:
Find Every City Service in One Place
The new Services page lists every task or service you can access. Services can be filtered, sorted and searched to find what you're looking for. Service pages have a consistent look and feel, including clear how-to steps and contact information.
Quickly Find Services You May be Eligible For
We developed a new tool, called Boulder for Me, with support from Google.org to make it easy for community members to find city services they may be eligible to receive.
Image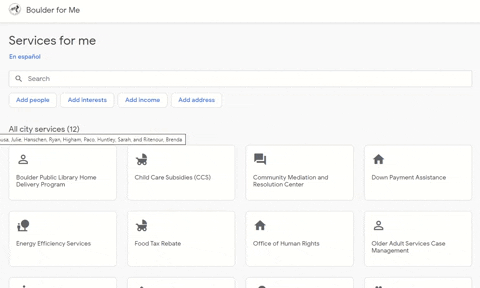 Guides to Popular Topics and Complex Information
Sort Hiking Trails by Length, Difficulty and Other Factors
One of the most requested features from users was the ability to sort, filter and search Boulder's extensive list of trails and trailheads. And now you can. Visit Trails and Trailheads to explore the city's more than 155 miles of hiking trials by length, difficulty and other factors. You can also sort and find Parks and Recreation Facilities.
Image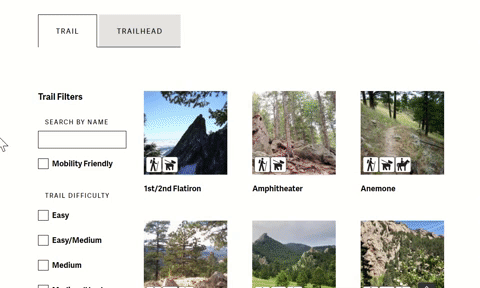 Content Organized by Topics You Helped Define
We solicited feedback from users to figure out a new, more intuitive way of organizing content for this website. We have moved away from grouping content by department and shifted to organizing content by type, creating clear, consistent templates for each category of content.
More Robust, One-stop News Destination
You told us that news and information is one of the No. 1 reasons you visit the city website, so we made our News page more prominent, dynamic and visually engaging. All the latest news can be found there, but news is also pushed out across the website to related projects and departments.
Image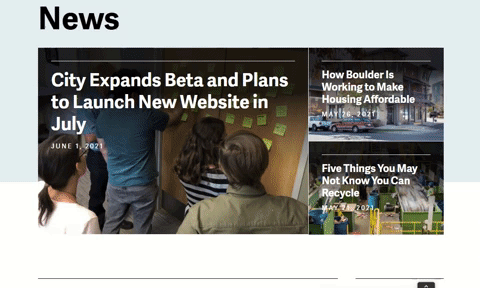 Clear and Consistent Project Information
The new Projects page allows you to see every city initiative at a glance, plus search and sort them. All city projects now follow a consistent template that shows the current status, latest news, related events and project background.
Mobile-first, Fast-loading, Responsive Design
More than half of all traffic to the city website now comes from mobile devices, a figure that grows each year, so our new website is designed to work well on any screen size and load faster. The new city homepage, for example, loads 51% faster than the old one.
Image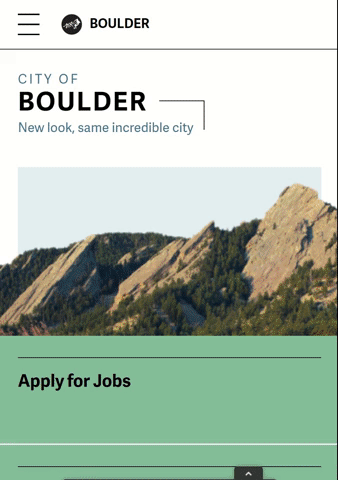 More Focused, Streamlined Content
We audited, consolidated and revised more than 5,500 webpages on the old city website down to 1,000 on this website. We prioritized content you visit and value, overhauling and updating information so it is clear and easy to follow.