A Subcommunity Plan is a tool for residents, land owners, business owners, city officials and city staff that communicates expectations about the future of a subcommunity and guides decision-making about subcommunity resilience and evolution into the future.
Project Overview
The Boulder Valley Comprehensive Plan describes the city's core values, principles and policies to be implemented across Boulder. How these initiatives get applied to areas throughout Boulder is dependent on localized conditions of the built and natural environments as well as the motivations and desires of residents, land and business owners. Dividing the city into subcommunities creates more focused areas of study and provides a framework for managing change and implementing policy.
What is a Subcommunity?
A subcommunity is an area within the service area of the city (Area I and II) that is defined by physical boundaries such as roads, waterways and topography. Each subcommunity is composed of a variety of neighborhoods and has distinct physical and natural characteristics.
Image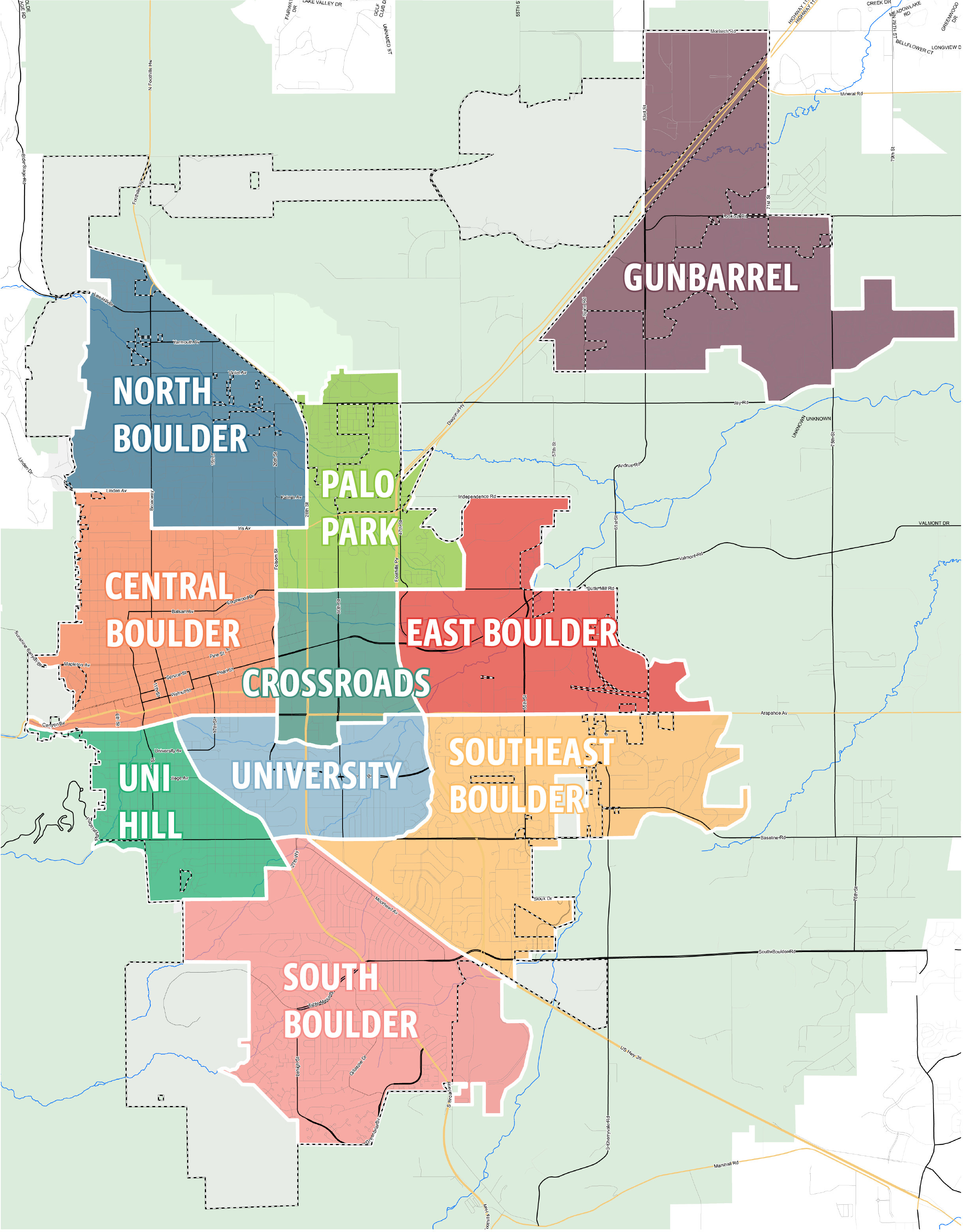 Subcommunity Planning Status
In January 2019, East Boulder was chosen as the next area for subcommunity planning. The first subcommunity plan was done in North Boulder.
History of Subcommunity Planning in Boulder
Subcommunities in Boulder were first identified in the 1970 Comprehensive Plan as an approach to planning that translates large-scale planning ideas to the human scale. The original subcommunities were intended to focus community interests to a neighborhood level and provide residents with access to important community assets and services, such as schools and parks.
In 1989, the city identified a gap between the scale of the comprehensive plan and site-specific plans. Subcommunity planning was recommended as a method to better address issues at this "in-between" scale. The first subcommunity plan to be taken on by residents, council and staff was the North Boulder Subcommunity Plan. The area was identified by council as the first subcommunity for planning because of the presence of vacant, developable land that remained in the area and the need to determine the future of these lands. The planning process began in the fall of 1992 and the final plan was adopted in the summer of 1995 and then amended in both 1996 and 1997. The effort included a collaborative process between the public, city staff, other public agencies, a large steering committee and a team of consultants.