In 2022, OSMP Trail Crews, Junior Ranger crews, youth corps crews, volunteers, and contractors are gearing up to build, repair, and maintain the trails that bring you to the places that you enjoy. At any given time during the peak of the busy trail project season, there may be over 75 people over 10 crews working on OSMP trails!
We invite you to explore the online interactive webmap where you can click on project locations to learn more about each of them.
What projects are prioritized?
OSMP Trail Staff are often asked why certain trail projects are being implemented while other ones aren't yet. OSMP undertakes a thoughtful work planning process annually, which includes:
Anticipated budgets, recognizing that we need to allocate them to the highest needs.

Workforce capacity – not only how many trail workers will be on the ground, but also how many staff we have in support roles, such as ecologists for reviewing and informing project plans, and staff for securing required permits from governing agencies.
OSMP's Master Plan PDF provides broad guidance for project prioritization – for example, it gives significance emphasis to repairing and maintaining existing trails.

OSMP land management plans (such as Trail Study Area Plans) outline specific projects of interest to the community and department to construct, re-route, or repair specific trails in an area.

Trail condition monitoring data identifies trail problems due to weathering or use.

Emergent priorities, such as fires and floods, may also bring trail projects forward for implementation.
Image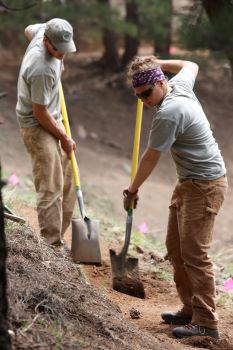 Marshall Fire and NCAR Fire
OSMP is working to repair and replace damaged trail and trailhead infrastructure. The majority of which is planned for reopening in the Spring, if not open already. Ongoing fire recovery work will continue with only minor impacts to the 2022 work plan.
What can you do?
Please hike on-trail – even when conditions are not favorable due to mud or trail erosion, staying on the center of the trail helps prevent vegetation damage to trailside vegetation!
Respect trail closures – when trails are closed, it is to protect ecological resources or to keep the public safe from trail construction related hazards such as equipment use or rockfall.

If you encounter trail workers – ask if it is safe to pass by, and thank them for their work – it's often hot and physically hard work!