2022 Year in Review
A Note from City Manager Nuria Rivera-Vandermyde
One of my favorite things about serving as city manager of Boulder is how passionate our community is about so many of the services we provide, the issues we tackle together, and the importance of being responsive to pressing needs. As I look back on accomplishments of the past year, these themes surface repeatedly.
I'm incredibly proud of the progress made in 2022.
For many years, the city organization has centered an approach called the Sustainability Framework to evaluate workplan items. After the 2013 flood, we recognized resilience as a distinctive focus, so this became the Sustainability and Resilience Framework. Now, with the adoption of our Racial Equity Plan, we have evolved our approach again. We now strive for alignment within a Sustainability, Equity and Resilience Framework, centering equity in all we do.
This means that our work – whether it be delivering core services, operationalizing City Council priorities, choosing new staff, or community-driven initiatives – should be advancing one or more of these core pillars.
Within this framework are several focus areas that allow us to understand the impact we, as local government, have on the key community priorities. Through these, we commit to ensuring that Boulder is livable, economically vital, environmentally sustainable, healthy and socially thriving, safe, accessible and connected, and responsibly governed.
We group accomplishments by these focus areas to get a better sense of the full landscape of our work across departments. A list of 2022 city accomplishments organized by each focus area is available below.
Image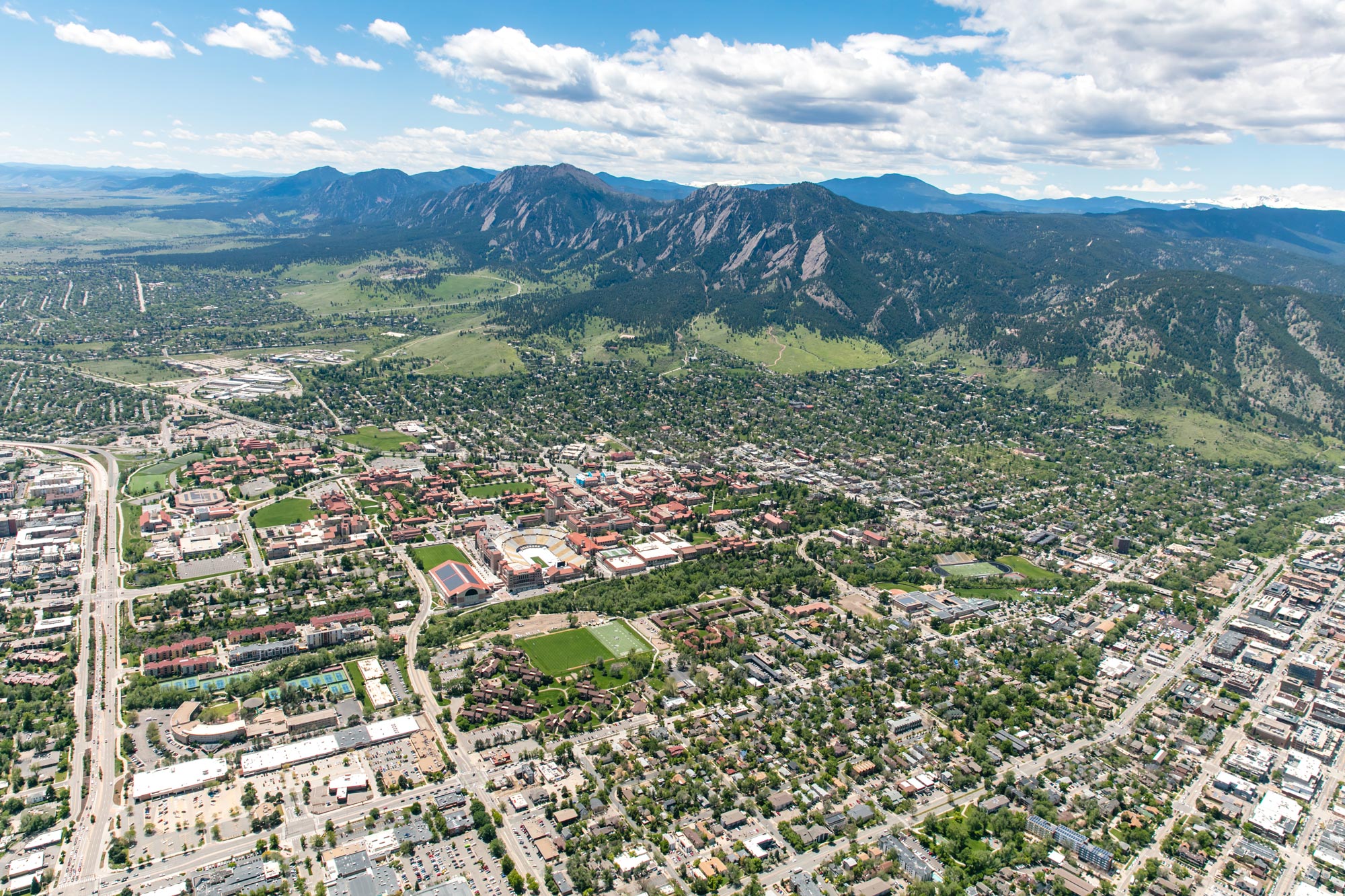 Sustainability, Equity and Resilience Framework
The city's Sustainability, Equity and Resilience framework provides the strategic planning foundation for the policies, programs, and projects of the City of Boulder. It also serves as the organizing tool for the Boulder Valley Comprehensive Plan, annual budget, and organizational planning processes by providing consistent goals and objectives necessary to achieve Boulder's vision of service excellence for an inspired future.
View 2022 City Accomplishments
Explore the 2022 city accomplishments grouped by the Sustainability, Equity and Resilience Framework focus areas: livable, economically vital, environmentally sustainable, healthy and socially thriving, safe, accessible and connected, and responsibly governed.
High-performing, safe, and well-maintained buildings and infrastructure that accommodate a diverse set of community needs for working, learning, playing, and living.
Cultivated art in the community, including two donated artworks in the Civic Area and four Vision Zero murals with work still underway for the NoBo Library, Fire Station 3, the 11th and Spruce Parking Garage, and the Valmont Rain Garden.

Completed interior deconstruction and began exterior deconstruction of the Boulder Community Health Hospital, which is necessary for redevelopment of the Alpine-Balsam site. Design work on housing, the city campus and infrastructure to support the future development is now fully underway.

Completed the design and began construction of several large capital projects including Fire Station #3 and the North Boulder Library. These projects are partly funded by the Community, Culture, Resilience and Safety Tax.

Supported Development of Affordable Housing. Projects this year included Ponderosa Mobile Home Park, Mt. Calvary, 4775 Spine Road, Diagonal Plaza, and acquisition of 2961 30th St.

Mobilized over 70 community members in a NOAA sponsored urban heat mapping event, which resulted in Boulder's first extensive heat map and the establishment of a stationary urban heat sensor network with CU.

In partnership with Boulder County, launched a new program to help community members in manufactured housing communities impacted by the December 2021 severe wind events.

Launched air quality pilot in partnership with Boulder County Public Health and Boulder Housing Partners to determine the effectiveness of air purifier in mitigating the impacts of climate-related air pollution on vulnerable populations.

Completed extensive trail and maintenance projects, including completion of the new Anemone Hill Trail west of Boulder and significant improvements along the Royal Arch Trail.

Enhanced ability for youth to access nature through a citywide collaboration: Boulder Youth Nature Initiative (BYNI) that includes seven city departments. Group developed strategic plan and will advance this work through an upcoming Child Friendly Cities Initiative.

Continued implementation of Access Management and Parking Strategies related to parking pricing, fines, and neighborhood access management.

Adopted East Boulder Subcommunity Plan, enabling the potential reinforcement and expansion of key industries, the creation of a new activity center and the development of up to 5,000 new housing units.

Assisted in the passage of a daytime noise ordinance and continued the work of the nuisance abatement working group with a weeds and trash ordinance expected soon.
A healthy, accessible, resilient, and sustainable economy based on innovation, diversity, and collaboration that benefits all residents, businesses, and visitors.
Collaborated across departments to transition COVID-19-related temporary outdoor dining expansions and related street closures into a long-term Outdoor Dining Pilot Program. City staff developed processes to ensure that businesses participating in this pilot program were able to transition from the temporary expansions granted under emergency orders to the new pilot program without any disruption to liquor licenses or restaurants' ability to provide outdoor dining. Public feedback about street closures resulted in the launch of a Downtown Streets as Public Space process.


Launched Underserved Business Support Program to bolster participation in workforce employment opportunities for minority, women, veterans, LGBTQ, service-disabled veterans, and others. Invested $10.5 million in businesses in these categories.


Collaborated with nonprofit partners to support inclusive economic recovery, providing information and resources to lift industries and economic sectors particularly hard-hit by the pandemic


In collaboration with the Boulder Economic Council and other partners, updated economic and market studies for the Economic Sustainability Strategy Update.


Provided recovery support for artists and performers with funding from the American Rescue Plan Act (ARPA), leveraging this opportunity to foster innovative partnerships and cohesion.


Successfully leased all first-floor retail within the Central Area General Improvement District (CAGID) enhancing district vitality in the downtown area turning around an alarming vacancy trend.


Supported improved governance at the Boulder Municipal Airport with a new hanger lease rental payment enforcement policy and procedure to reduce tenant payment delinquency.


Took significant steps to increase critical staff capacity in Planning & Development Services as the first step toward alleviating increased demand and delays in development-related reviews and other important planning functions that impact the community and economy.
A sustainable, thriving, and equitable community that benefits from and supports clean energy; preserves and responsibly uses the earth's resources; and cares for ecosystems.
Managed a healthy urban tree canopy both proactively with enhanced pruning and planting initiatives and reactively in response to significant weather events.


Purchased multiple all-electric Ford (F-150) Lightning trucks to address a gap in furthering the city's goal of electrifying its fleet.


Continued to champion and represent the city in its climate goals in the context of the Public Utilities Commission regulatory system, providing compelling testimony in key decisions and cases and participating in settlement negotiations, when appropriate.


Launched the "Cool Boulder" campaign and signed up more than 30 community partners to support and participate in efforts to regenerate soils, trees, and habitats for a resilient community, climate, and future.


Expanded a program that brings reusable takeout containers and options to more than 16 restaurants in Boulder.


Completed an inventory of greenhouse gas emissions related to Open Space and Mountain Parks operations, specifically fleet and building use.
All Boulder community members are able to meet their critical needs, enjoy high levels of social, physical, and mental well-being, and have access to abundant recreational, cultural and educational opportunities in an environment that respects and celebrates human rights.
Adopted the 2022 Parks and Recreation Plan, approved unanimously by City Council and Planning Board, to guide decisions and investments for the next five to seven years.


Provided financial aid to support 100% free access to city recreation centers for those who qualified. In 2022, the program served more than 5,400 participants, who accessed centers nearly 25,000 times, accounting for 14% of all visitations.


Restored many recreation services that were impacted by COVID-19, with a focus on building community, relationships, and youth engagement. Achieved growth between 2019 and 2022 in the following areas: 28% in gymnastics; 38% in visitation at Flatirons Golf Course; 51% in Gonzo tennis and pickleball programming; and 223% in drop-in and registrations to fitness programs and classes. Logged more than 61,000 visits to the remodeled Scott Carpenter Pool and re-introduced free nature play by Boulder Creek.


Maintained and scaled-up services for low-income older adults and families in need, providing more than $76,000 to 104 older adults living with lower incomes for basic needs like medical, housing supports, transportation, dental, food insecurity, and other essentials. Partially re-opened the East Age Well Center giving older adults in the community access health and wellness, lifelong learning, fitness and other programs and services at two locations.


Provided approximately $155,000 in financial assistance and support services for essential needs. including childcare subsidies, housing supports, physical, mental and dental health, transportation, and food, to 84 families living with lower incomes.


Re-launched the Youth Opportunities Advisory Board (YOAB), a diverse group of teen leaders from across Boulder, supported by a restored Youth Opportunities Project position.


Helped keep Boulder community members housed, through services to avoid evictions. The Eviction Prevention and Rental Assistance System (EPRAS) program served more than 400 clients. Data through spring 2022 indicates that 92% of clients served through EPRAS avoided eviction through prevention services.


Secured 183 affordable housing units for city residents, including for community members who have experienced homelessness.


As part of a countywide homelessness strategy, enabled 145 community members (including in but not limited to Boulder) experiencing homelessness to transition to housing. An additional 55 community members were assisted with reunification with family or other social support networks, and two people were connected to other long-term programming such as treatment for substance use disorders.


Provided roughly $7 million in annual grants through the Health Equity Fund, Human Services Fund and Substance Education and Awareness Fund to community-based projects serving low-income community members. Grants helped to provide healthy food, economic support, health services, childcare, academic support, substance use prevention, and other needs.

Allocated federal COVID-19 relief funds (American Rescue Plan Act, or ARPA) to provide direct cash assistance to low-income community members with reduced work hours due to COVID, who are not eligible for unemployment benefits. Also used ARPA funds to begin designing a Guaranteed Income pilot project, to provide direct cash assistance with no strings attached, to selected low-income community members.

Resumed library services, programs and events suspended during the pandemic, including the re-opening of the NoBo Corner Library and the George Reynolds Branch Library to full service. Re-launched several popular in-person programs and events, resulting in more than 2 million minutes of community reading time and more than 16,000 learning activities during the Summer of Discovery program. Celebrated the first in-person Jaipur Literature Festival after two years of online-only offerings. Brought art exhibitions back to the Main Library Canyon Gallery and the Meadows Branch Library.

Conducted a successful Request for Proposal process to re-activate the café on the bridge of the Main Library, resulting in the selection of Cynthia Diaz, owner of Tonantzin Casa de Café, as the new operator.

Provided intervention for community members experiencing mental and behavioral health crisis, diverting individuals to mental health support and away from the criminal justice system. The Crisis Intervention Response Team's (CIRT) mental health professionals made more than 1300 responses, with police officers, to 620 unduplicated community members experiencing mental health crisis. The number of responses from January - October 2022 is higher than the total number of responses over the first six months CIRT was available in 2021.

Integrated the Office of Arts + Culture and formally created the Office of Special Events within the Community Vitality Department to allow for greater collaboration and strategic planning in support of cultural vibrancy and economic vitality.

Awarded 118 cultural grants, distributing $925,000 in the Cultural Grants Program to artists, nonprofits, teachers, and businesses. Funding will sustain 37 arts organizations.

Launched scoping for a day services center and completed engagement with service providers about the functions and needs such a center would fulfill.
A welcoming and inclusive community that fosters positive neighborhood and community relations and ensures that all residents are secure and cared for during emergencies and natural disasters. Public infrastructure is well-maintained and reliable, and natural resources like water, air, and land are protected.
Improved city's ability to provide effective and timely communications to the community in critical and emergency situations through a team restructure, a new after-hours rotation system, clarity of functions in the Emergency Operations Center, and continued evolution of the award-winning Emergency Response Connectors program.


Stood up an Urban Ranger Program to increase presence and support at a variety of city parks and outdoor spaces. Rangers more generally conducted approximately 300 patrols, resulting in more than 500 non-enforcement interactions and about 280 enforcement actions.


Continued to provide exemplary service by filling vacancies in more traditional ranger positions with active patrols, educational interactions, and enforcement action, when necessary.


Expanded the Community Court, a problem-solving approach that addresses the needs of individuals who are experiencing homelessness and assists them in moving toward permanent housing. Experimented with bringing court to various field locations, including the Feet Forward event at Central Park, and contracted with a mental health/substance user provider to immediately assist with any client needs.


Implemented a "Stratified Policing" Model that prioritizes community-based, problem-solving so that crime can be prevented. All sworn department personnel were trained in this model, and a policy was developed and issued to codify the model and provide an organization-wide accountability structure. Property-related crimes decreased significantly in areas that were identified as test cases for this new approach.


Developed and launched a police data portal, providing nearly real-time access to essential crime-related information for department personnel and the public. This enhancement increases transparency and allows for improved management, monitoring, tracking, and accountability of assigned cases.


Created a digital crime blotter, in conjunction with portal, to enhance public safety and increase government transparency. This program ensures the public receives timely information about crime in their neighborhoods while protecting victim privacy.


Trained 226 police officers and other department employees in best practices to address bias and micro-aggression and implemented a train-the-trainer model to facilitate the continuation of learning for new hires.


Focused diligently on the recruitment, as well as the revitalization and retention of quality staff, for the Police Department amid a national staffing crisis. Revamped promotional materials and approaches, resulting in 23 new employees – 52 percent who identify as woman and 43% as people of color. The department anticipates hiring more than 20 additional police officer candidates by the end of 2022.


Fostered intensive community engagement to Reimagine Policing, resulting in a draft of a department plan as well as a proposed budget to support it. Engagement will continue into 2023 with a goal of a council vote in April 2023.ary feedback.


Conducted a robust analysis of patrol staffing that identified a significant change in workload from 2013 to 2020. The study will guide the department in hiring and assignment decisions with an understanding that while incidents have decreased, the complexity of the incidents and time required to address them have increased. The analysis concluded that the department should add between eight and 14 officers.


Adopted a Comprehensive Flood and Stormwater (CFS) Master Plan to improve the management of stormwater and help protect people, places, property and ecosystems in the City of Boulder. Informed by significant community engagement, the plan builds resilience, centers equity, and aligns with community values.


Completed a Drought Plan Update based on recent water supply and demand projections. The updated plan created guidelines for recognizing and responding if a drought affects the municipal water supply. Response measures were informed by the city's racial equity instrument.


Implemented a Safe and Managed Public Spaces approach to address considerable and ongoing stressors, including unsanctioned camping along waterways, near schools, and in critical community gathering spaces. Implementation included the development of a balanced approach that strives to connect vulnerable individuals with housing and support services while also enforcing no-camping policies to minimize risks to health, safety, and the environment. A second team will be added in 2023.


Completed the Foothills and Baseline Sanitary Sewer Improvement project, replacing 7,300 linear feet of sanitary sewer piping to increase capacity in wastewater collection system and address aging infrastructure. This project will help prevent sewer back-ups like those seen during the September 2013 flood event.


Enhanced wildland fire mitigation efforts, especially in the mountain backdrop area and on properties managed by Open Space and Mountain Parks. Presented an optional taxing structure to voters to allow for greater coordination across departments in recognition of increased climate-related dangers and devastation.


Pursued and received grant awards from FEMA's Assistance to Firefighters program and from Firehouse Subs to purchase critical technical rescue equipment.


Implemented Nurse Navigator program to assist 911 callers in receiving the right level of care, while creating efficiencies and saving patients money.


Extinguished significant wildfire near NCAR with no loss of structures or lives; this fire also marked the first time the city used Wireless Emergency Alerts to attempt to reach people who had not opted into other alerts systems.


Adopted the Police Oversight Panel Guiding Principles and Bylaws, increased the panel to 11 members is slated to complete their second recruitment cycle for panel members before the end of the year.
A safe, accessible, and sustainable multimodal transportation system that connects people with each other and where they want to go. Open access to information is provided both physically and digitally to foster connectivity and promote community engagement.
Built out five of seven "backbone rings" in a new fiber network to deliver enhanced Internet connectivity for use by public safety organizations and traffic signal infrastructure. Developed a multi-year 'smart city' plan that outlines how connected devices could further council priorities and department master plans. Prepared for a 2023 conversation with council and the community around potential community uses and benefits of city-owned fiber assets.


In conjunction with the fiber backbone development, secured approvals for installation in more than 100 ditch crossings through extensive and complex negotiations with property owners.


Increased unique collection offerings, including Chromebooks, cultural passes; character-themed phonics kids for young readers, and digitization of historic Daily Camera content, within the library system.


Achieved 3.24 percent audience growth, or 20,000 new subscribers, to the city's suite of on-demand digital newsletters, demonstrating that the community values the information.


Increased local government knowledge and capacity for participation within historically excluded communities through successful "Building Power & Raising Voices "training, created and led by Community Connectors-In-Residence.


Formalized connection between City Council and community connectors with two updates presented in 2022: one offered through live testimony and the other through a written status report.


Supported meaningful and inclusive participation by community connectors in shaping of four significant city planning efforts: the Parks and Recreation Master Plan, the Comprehensive Flood & Stormwater, the East Boulder Subcommunity Plan, and ongoing Reimagine Policing work.


Adopted and began implementing citywide Language Access Plan, which provides guidance on the city's translation and interpretation requirements as well as vision for enhancing accessibility to information in Spanish and other languages.


Continued enhancement of permitting and processing services. While still leaning into online offerings created during the pandemic, the city launched a new Service Hub, which provides an in-person space to route and explain processes for community members who may not have access to or feel comfortable navigating our online tools. The hub also provides a welcoming space for community members to meet with Housing and Human Services staff.


In partnership with the Boulder Valley School District, completed the Lehigh Safe Routes to School Improvements to make streets and sidewalks safer for walking and biking for all, with a particular focus on safe routes to and from school.


Completed the 2022 Safe Streets Report, which measured traffic crash data in Boulder, and began an update to the Vision Zero Action Plan, which identifies additional strategies the city can take to reduce fatal and severe crashes.


Initiated one of City Council's top priorities: the Core Arterial Network (CAN), which focuses investments and resources to design and construct improvements on 13 individual corridors over the next several years. Design and community engagement was started on six of the 13 CAN corridors, with construction anticipated to start between 2023 and 2024.


Worked to update Transportation Design and Construction Standards to better align with current best practices and the city's vision for a multimodal, connected transportation system.


Completed an unprecedented and complex transition from all-virtual to hybrid City Council meetings, providing technical expertise and a new workflow to support inclusive and meaningful participation in person and online. Made significant progress toward boards and commissions transitioning to hybrid (virtual and in person) meetings, expected in early 2023.
A local government that provides an excellent customer experience, responsibly manages the city's assets, and makes data-driven decisions informed by community engagement inclusive of those who have been historically excluded from government programs and services. The city organization exemplifies an employer of choice with policies and programs to support employee inclusion and well-being.
Designed, developed, tested and implemented a new Human Resources Information System, called Workday, to centralize and modernize functionality, streamline access for employees, and ensure adherence to best practices and legal standards related to compensation, time off, hiring, and employee performance evaluations.

Resumed pre-pandemic processes for collecting I-9 documentation for employees, ensuring the city remained in compliance with legal requirements and implemented a change in the city's Employer-Sponsored Health Savings Account vendor, making it easier for employees to establish and contribute to their HSAs.

Conducted a comprehensive update of how positions are classified and compensated, with a goal of ensuring equity, encouraging retention of quality employees, and aligning to market competitiveness. This work included the creation of a citywide job description library.

Enhanced the city's Employee Assistance Program to meet emerging and pressing support and mental health needs through the selection of new provider. This change will take effect on Jan. 1, 2023.

Launched a timely and innovative Good Jobs & Equity Project to evaluate and better define what makes an employer attractive to candidates and its current workforce. The project is focused on leveraging evidence-based and equity-informed practices and policies to help the city and other employers in Boulder create high-quality jobs. This work has already resulted in relationships with Workforce Boulder County, the State of Colorado, NAACP Boulder County, and more than 15 other jurisdictions across the nation, as well as a wealth of resources, and future access to funding and training opportunities.

Provided sound stewardship and enhanced transparency through improvements to the annual budget process, including the implementation of a new software tool and steps to better align funding decisions with intended outcomes and performance indicators. In addition, the city conducted enhanced training and compliance activities. This work was recognized when Boulder was named a triple crown award winner from the Government Finance Officers Association for Excellence in Budgeting, Financial Reporting.

Adopted a balanced 2023 budget that centers equity, provides enhanced support to people and recognizes pressing challenges in the community while continuing to address core service needs, advance capital improvement goals and maintain emergency reserves.

Participated with eight other court systems in a nationwide study of the public's perceptions of courts, resulting in a series of improvement recommendations and critical learnings surrounding customer service, ease of access, judicial fairness, and overall experience.

Advanced critical cybersecurity work, including completing a robust cybersecurity assessment and addressing high-risk items to protect the city's business and financial assets.

Launched an internal service request platform, Service Depot, to provide a central hub for all employee needs related to technology, HR, communications, and facilities, The system supports improved internal efficiency, allowing public-facing departments to focus on their core missions in service to the community.

Began development of a land management plan for the city's Fort Chambers-Poor Farm property along 63rd Street near Valmont Road with invaluable guidance being provided by representatives from the Cheyenne and Arapaho Tribes of Oklahoma, the Northern Arapaho and the Northern Cheyenne.

Implemented the 2022 Regional, State and Federal 2023 Policy Statement, contributing to the passage of meaningful aspects of council's state policy priorities (mental/behavioral health, funding for SOS to implement ranked choice voting, GHG pollution standards for transportation sector, building energy codes and air pollution) and federal policy priorities (earmarks for city projects, funding for urban forestry).

Adopted the 2023 Regional, State and Federal Policy Statement to guide legislative work at multiple levels of government in the upcoming year.

Facilitated an organization-wide transition to hybrid work, which included policy development, building and office reconfigurations, intensive employee engagement and exploration of best practices in a post-COVID world.

Increased participation in citywide racial equity workshops: 56% of city employees have completed Advancing Racial Equity: The Role of Government; 48% have completed Bias and Microaggressions workshops; and 13% have been trained in the use of the city's Racial Equity Instrument (REI).

Developed a Justice, Equity, Diversity and Inclusion (JEDI) Teams Toolkit and created five new departmental JEDI teams.

Tailored department-based trainings to support the use of the Racial Equity Instrument on several high-priority city projects, including Reimagine Policing, Vision Zero, the East Boulder Subcommunity Plan, the Parks and Recreation Master Plan, and the Comprehensive Flood and Stormwater Master Plan.

Reached a halfway completion milestone for the rehabilitation of the Barker Gravity Pipeline, which is a critical part of the city's water portfolio. This pipeline is instrumental to accessing source water and maintaining the high integrity of Boulder's water system.

Developed a new technology support model between Boulder Police and Innovation and Technology to eliminate single points of failure in business-critical systems, ensure around-the-clock attention to systems, and increase security of hardware and software technologies used by the public safety agencies at the city.

Secured $6.4 million in DRCOG Subregional TIP funds to further implementation of the Core Arterial Network.

Continued to pursue non-traditional funding sources, including donations, sponsorships, foundation support, and philanthropy, to supplement Parks and Recreation's costs and operations. The effort resulted in more than $467,000 in grant revenue across nine grants and over $53,000 in donations revenue for three projects, for a total of $520,000 in non-traditional funding.

Centralized the management and quality control duties of custodial services across the city organization, creating efficiencies and allowing for more rigorous oversight and consistency in standards.

Moved wastewater system maintenance in-house to allow for greater cost savings and increased flexibility.