The Open Space and Mountain Parks (OSMP) Department Funds Scientific Inquiry on OSMP Lands on an Annual Cycle.
Front Range Open Space Research Symposium
Update:
The 2023 symposium was a success! Unfortunately, due to technical difficulties, we were not able to capture a recording of the event. However, if you are interested in a specific research topic that was presented and would like to see the slide deck and/or the audio recording, please reach out directly to Alycia Alexander, alexanderA@bouldercolorado.gov
WHAT:
OSMP is hosting the 2023 Front Range Open Space Research Symposium in partnership with Boulder County Parks and Open Space, City of Longmont, and Jefferson County Open Space. As with previous years, the intent of the symposium is to help inspire and increase coordination, collaboration, and partnership among scientists, staff, and the community. During this event, attendees will hear presentations by six scientists who have conducted research across the Jefferson County, Boulder County, and City of Boulder open space systems on important land management topics.
Food: Light Refreshments Provided (snacks, tea, coffee)
HOW:
Registration is required to attend. This in-person event is free.
WHEN:
Friday, April 14 2023
Morning half-day event, 8:30am – 12:30pm
WHERE:
CU Boulder SEEC Lecture Room (East Campus)
Sustainability, Energy and Environment Community
4001 Discovery Drive | 608 UCB, Boulder CO
ADA compliant entrance, restrooms and specific parking spaces
Parking: Details on parking passes will be shared with those registered
WHO:
Attendees will be in-person and typically are open space employees, volunteers, stakeholder organizations, consultants, university staff and students, and interested members of the community. Note: We plan to post a recording of the symposium here, at the very least it will be the presentation slides and researcher audio.
Research Presenters and Topics (Subject to change - Final version updated here)
Image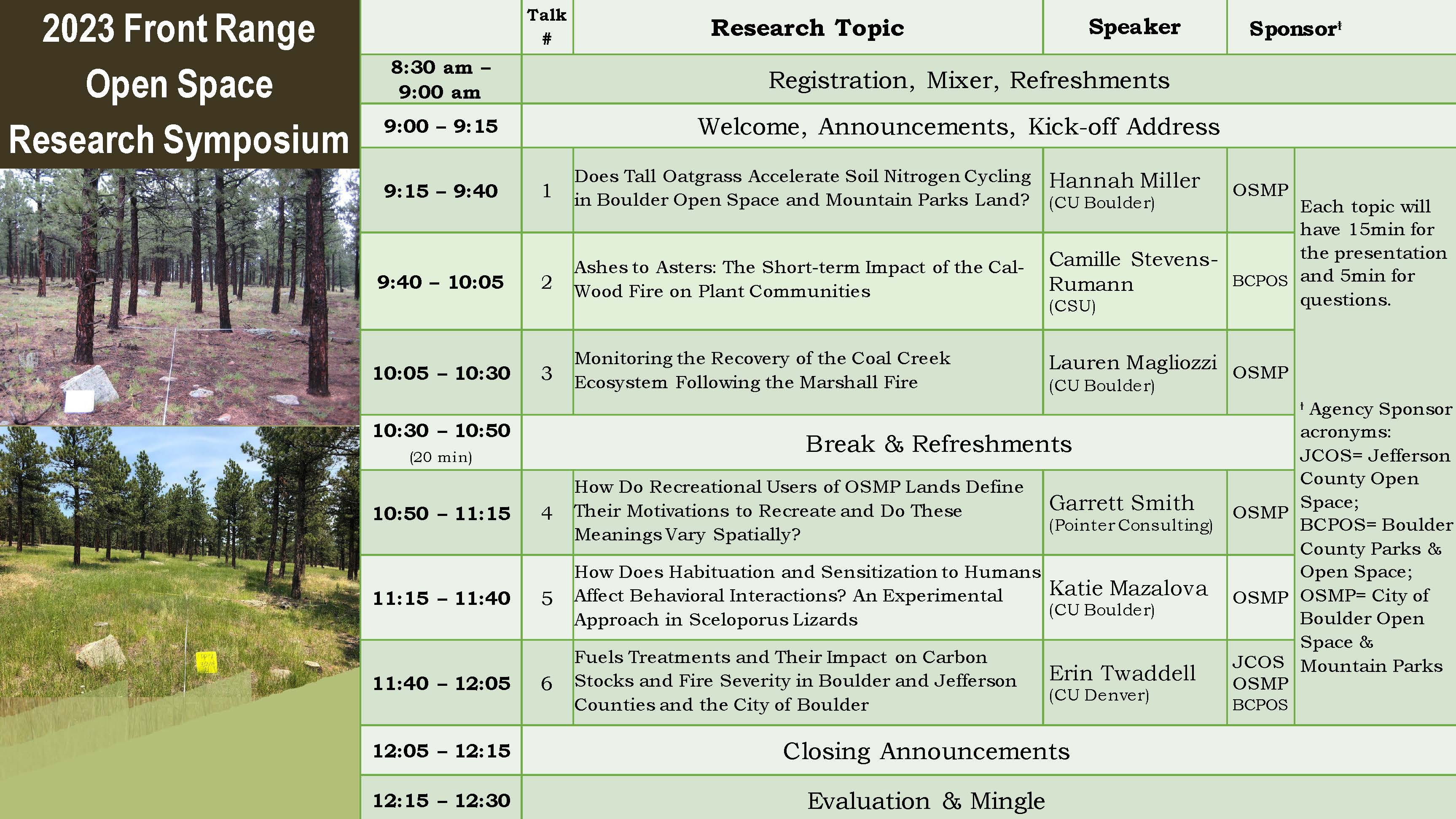 Symposium Contact: Alycia Alexander, AlexanderA@bouldercolorado.gov
Important Information Regarding Grant Applications
Dates

Request for proposals issued: Nov 7, 2022
Proposal deadline: Jan 13, 2023
Award notifications: Feb 21, 2023
Draft report submission: Nov 1, 2023
Final report submission: Dec 29, 2023

Priority Topics: Proposals will be reviewed on a competitive basis, with preference given to proposals that address Priority Project Topics. However, all proposals will be considered based on their merits.
Budget: The maximum award amount is capped at $10,000. Details on allowable expenses can be found in the budget worksheet. Overhead costs should not exceed 15 percent of the total grant award except in rare circumstances. Funding commitments are limited to an annual basis, but multi-year projects are encouraged, especially for studies in which year-to-year variation may influence results.
Proposal Format: Proposals must follow the format guidelines exactly.
On-going Projects: Project extensions will be considered, but the proposal must be for work that is above and beyond the scope of previously funded work (i.e., not just a proposal to complete the uncompleted work scoped previously).
Multiple Proposals: A single PI may submit multiple proposals.
Information Sharing: OSMP reserves the right to acquire and share with other researchers any grant-related intellectual property/work products, such as datasets, field protocols/manuals, and reports. Proposals received may be shared on our webpage, whether they are funded or not.
Where to Submit: Submit proposals to osmpfrp@bouldercolorado.gov.
Unfunded Research: Proposals that do not require OSMP funding may be submitted through our unfunded research program.
Interagency Grants: OSMP, Boulder County Parks and Open Space (BCPOS) and the City of Longmont will consider proposals for research that cross their land boundaries. See our interagency proposal instructions for more information.
Flyer. Printer-friendly announcement for this RFP is available here: 2023 Funded Research Program Flyer.