Parks and Recreation Rangers work to protect more than 100 city parks and properties in Boulder.
Bringing back the Ranger Program
Boulder Parks and Recreation has employed rangers to protect park land for more than 100 years. In 2002, the City of Boulder's Open Space Department merged with Mountain Parks to form the Open Space and Mountain Parks (OSMP) Department and most of Boulder's park rangers joined OSMP.
The few remaining Parks and Recreation rangers retired, and Parks and Recreation didn't have a ranger program for about 10 years. Recently, there's been an effort to bring back the ranger program to Parks and Recreation to address ongoing, evolving and emerging park issues. In the summer of 2022, the department hired Lead Ranger Aaren Morrell, and three rangers to assist her.
Please welcome our new crew as they protect our parks and educate our residents and visitors on park safety, etiquette, wildlife, and conservation.
What do Parks and Recreation Rangers Do?
Code Enforcement
Parks and Recreation rangers patrol parks for dog violations, wildlife protection, vandalism, permit compliance, bicycle and vehicle regulation, and other threats to safety and maintenance in our parks.
Image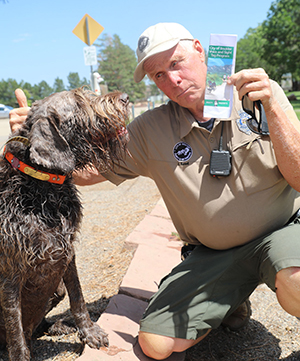 Education
Rangers work with the public to teach them how to interact with our parks, wildlife, and natural resources sustainably.
Image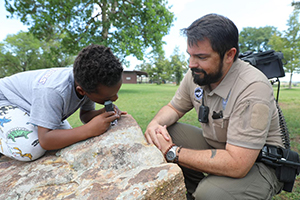 Contacting a Ranger
We appreciate the community's help to safeguard our parks and promote safe use and visitation!
FOR EMERGENCIES DIAL 911
Is there graffiti in a park? Report it through Inquire Boulder.
Make sure you're contacting the right agency. Nearby agencies include:
Contact Parks and Recreation rangers about increased patrols, complaints or concerns, questions, and to report non-emergency offenses.
Please keep in mind, ranger schedules and staffing vary, so inquiries may not receive immediate replies.
Call the Boulder Police Department non-emergency line at 303-441-3333 for park issues that require a timelier response.