Resetting our Climate Ambition
The undeniable reality is that climate change is not just happening — but also accelerating and intensifying.
All ten of the hottest years on record have occurred since 2005, and one does not have to look far to see these catastrophic impacts play out in Boulder in real time — whether it was the 2013 floods or the 2020 Calwood Fire.
Recognizing the urgency of the threat at hand, the City of Boulder declared a climate emergency in July 2019, triggering the development of several targets to guide city action.
The threat of climate change extends beyond Boulder's property lines and into the systemic — and so, too, must the city's climate work.
Image
Lex Telischek
Learn more about the city's approach to climate action
Society is approaching a critical juncture in confronting the climate crisis, and the Boulder community has an important role to play. Building on the community's history of environmental action and on the lessons learned in more than 20 years of climate work, now is the moment to ensure that the city's climate action efforts amplify the global effort.
The Climate Targets Behind the Plan
Image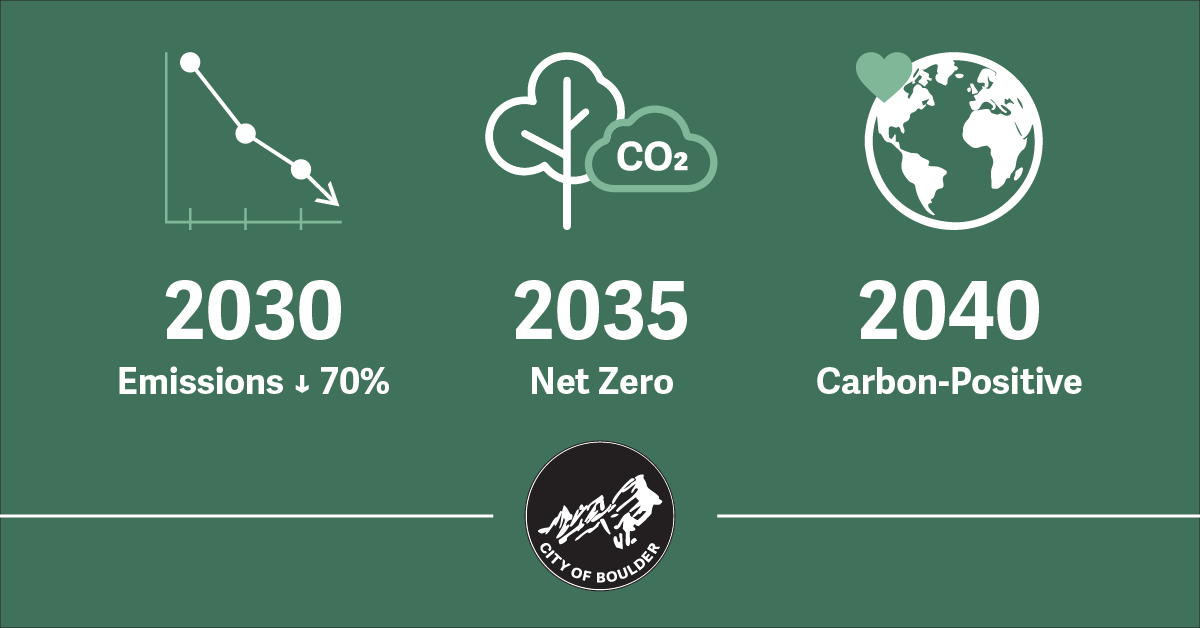 Elements of the New Plan
Act beyond boundaries
Collaborate with partners, other cities and government agencies to achieve impact at larger scale, on topics within the city's sphere of influence
Achieve regional and national climate targets
Reduce emissions 70% by 2030 against a 2018 baseline
Become a net-zero city by 2035
Become a carbon-positive city by 2040
Center Equity
Allocate necessary time and resources to address the impacts of climate change in an equitable manner
Build Resilience
Strengthen community capacity to survive and thrive
Count all the emissions
Account for the full scope of emissions in our community, including emissions associated with the creation and purchase of goods and food
Expand our focus
Address new focus areas for climate action including land use and financial/economic systems
Work with community
Bring the community together with renewed urgency to address the climate emergency and achieve clarity on the required next steps
Community Audio Collage
The city invites community members to imagine a more climate-resilient Boulder – a city that's taken bold action so that human and natural communities stand strong in the face of climate change.
Add your voice to our community's shared story of hope.
Call 303-818-4678 and leave a voicemail sharing your vision for a climate-resilient Boulder.
This project aims to inspire hope, creativity and courage in our community, and to capture the ongoing climate resilience conversation in Boulder. Your recording may be edited for use in our audio collage. Recordings will be accepted throughout the year.
Listen to the first collage, Sounds of Hope. Read the text version.
Climate Action: We're in this togethor