Reduce, reuse, recycle.
This mantra has been repeated by environmentally-concerned people since the 1970s.
While recycling is a critical part of our journey to become a zero waste city, it is only one piece of the waste diversion puzzle. Reducing our consumption and extending the life of our belongings through reuse are equally important strategies to reach our community's zero waste goals.
Reuse is a particularly powerful tool to shrink our collective environmental impact, while supporting a more circular economy.
Giving a new life to used clothing, glass jars, sports equipment, art supplies and other reusable items saves energy, natural resources and money.
Reuse also reduces our community's greenhouse gas emissions and contribution to the landfill – helping us achieve our goals of 85% waste diversion by 2025 and carbon neutrality by 2035.
Everything we buy contains embodied emissions, the greenhouse gas emissions that are produced by the creation and shipment of goods. The city's Circular Economy report shows that embodied emissions in Boulder are greater than the total of all of Boulder's other local emissions put together (electricity, transportation and natural gas).
Even a small reduction in the number of new products we purchase can have a big impact.
Read How to Live a More Circular Lifestyle for everyday reuse tips.
Thrifting can save you money while shrinking your carbon footprint.
Thrifting, the buying and selling used items, is a fun way to practice reuse. Instead of buying brand new silverware, shoes and kitchen appliances, try searching for them at a local thrift store.
Donating used items is another way to reduce your waste.
You can donate working electronics, building materials, toys and more to thrift stores, flea markets and nonprofits across the city and county.
For example, used bicycles and bike parts can be donated to Community Cycles. The nonprofit also offers bike repair workshops, used bikes and bike accessories for purchase, and access to repair tools in their DIY Bike Shop.
Cleaning out your closet?
Donate your gently-used clothes and shoes to a thrift store, bring them to a donation drop-box or sell them to a consignment shop.
Clothing can be difficult to recycle when it reaches the end of its lifecycle. To help prevent clothing from ending up in the landfill, conserve what you have and only buy what you need.
Check out Eco-Cycle's A-Z Recycling Guide to learn more about recycling and donating many common materials.
Shifting to Circularity
Our community is working to build a circular economy, a more sustainable system that rethinks how materials are produced, used and discarded. Circularity reduces our reliance on landfills and recycling by building systems that do not create waste in the first place.
Explore Circular Boulder to learn more about circularity in our city.
Image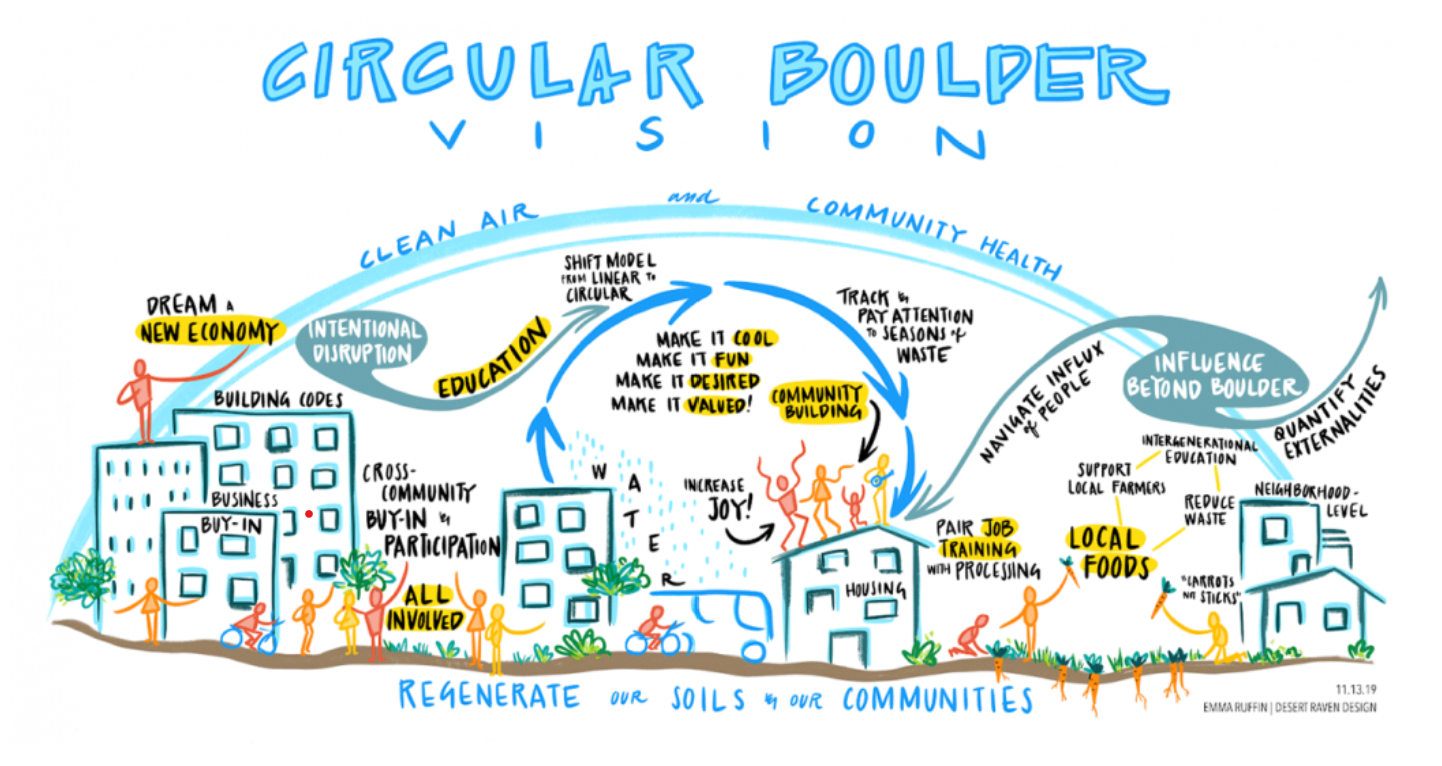 Emma Ruffin