Sachs identified city-led investments and university partnerships as key to climate action
The time for inspired climate action is now — but you don't have to tell Jeff Sachs that.
For years, the globally recognized economist and leader in sustainable development has been sounding the alarm on climate. On May 27, Sachs brought his message to the more than 200 participants in the first installment of the Boulder Forum on Economy, Climate and Community.
Coalescing more than 70 local government representatives hailing from more than 25 municipalities, the inaugural event of the Boulder Forum zeroed in on the city-led economic and policy levers for climate action.
Boulder Mayor Sam Weaver delivered the opening address and Dr. Sachs was welcomed to the stage by Michael Shank from the Carbon Neutral Cities Alliance.
The Forum event came on the heels of three historic rulings that delivered devastating blows to the oil industry.
"Today's a good day to celebrate these issues…it was a three-to-nothing knockout for Exxon Mobil, Chevron and Shell," said Sachs.
"These are three foot-draggers in our efforts to save the climate and save the world…[and] yesterday, they lost big battles."
"Every year now is among the hottest on record"
While Sachs took several moments to celebrate these wins effectuated by shareholder activism and a landmark ruling by the Dutch government, he lamented the scale and scope of climate action to date.
In Sachs' estimation, we are neither doing enough — nor moving quickly enough — to achieve the net zero targets crucial to ensuring the safety of the planet.
"Earth's temperature now is higher than at any sustained period since the birth of civilization itself 10,000 years ago," said Sachs. "We're outside of the boundaries of civilization already — that's not about the future, that's now."
He warned that within a decade, we could reach the 1.5-degree Celsius upper limit set by the parties to the Paris Agreement and to which the Intergovernmental Panel on Climate Change has indicated would be the limit for preventing massive climate shocks and feedback effects.
While sea level rise might not be on Boulder's radar, joked Sachs, he said that for someone who "lives on a small island economy" — Manhattan — several feet of sea level rise is beyond imagination.
An economical, financeable pathway to zero
Though the stakes are high and the window for action is narrowing, the conversation with Dr. Sachs was not all doom and gloom.
"We're finally beating back big oil…we also have a roadmap that makes sense — that is economical, that is financeable," said Sachs. "We should be moving to zero carbon energy on a mass scale, for the whole economy."
Despite the materialization of a clear path forward, roadblocks remain.
In Sachs' view, political will and timing are our two greatest challenges hindering the achievement of zero carbon emissions and, ultimately, climate stabilization.
"We've absolutely run out of time for talking, because we just spent 30 years after signing the UN Framework Convention on Climate Change in 1992," he said. "We're reaching the 30th anniversary next year…without action."
"You use every tool that you can"
The Q&A session that followed highlighted several of the complexities and nuances of effective and just climate action.
Fielding a question comparing the effectiveness of divestment strategies to shareholder activism, Sachs underscored the importance of leveraging either or both, explaining that "When you're in a battle like this, you use every tool that you can."
Sachs also spoke to the importance of city-led action and implored cities to make the necessary investments to drive transformation.
He recommended that municipalities first turn their attention to the transportation sector, followed by the buildings and retrofit sector, and then examining from where cities and regions derive their electricity.
Particularly relevant for a university town, such as Boulder, Sachs pointed out the immense potential in cities forging strong relationships with universities.
Characterizing universities as breeding grounds for "interesting startups" and "incubators of new kinds of businesses in the new green and digital economy," he offered the recent successes of the Marshall Plan for Middle America as an example of promising multi-sectoral collaboration.
Sachs also spoke to climate injustice, explaining that environmental wreckage and environmental injustice have operated hand in hand.
Referring to the "direct racial injustice of how zoning, redlining, racial discrimination put people of color directly into the toxic zones," Sachs suggested that opportunities for social justice exist within the efforts to clean up dirty fossil fuels, and that tackling inequality will be key.
"The social justice agenda is a broader agenda for our country because we have reached all-time highs of income and wealth inequality," said Sachs.
Carrying the message forward
The Boulder Forum was organized to be more than just a speaker series.
As Mayor Weaver noted in his opening remarks, "Our hope is that, today, we initiate the conversation, and that the many folks joining us from outside of Boulder will carry the message forward."
Image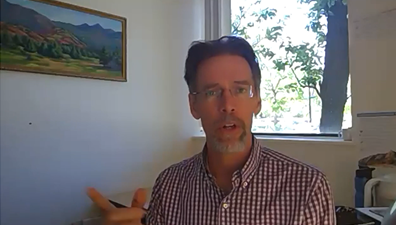 City of Boulder Senior Sustainability and Resilience Policy Analyst Brett KenCairn echoed the message.
"Our aspiration is that we are enabling others to start this conversation about how we address the role of the economy, not only in climate change, but also on other concerns such as biodiversity, toxics and inequity," he said.
"We believe that you all can have conversations just like we're going to have."
Watch the full video, and learn more about the Boulder Forum.