How much the community invests in climate action may change.
The Climate Action Plan (CAP) Tax is set to expire in March 2023. The city is conducting community engagement around a proposal that would increase the community's investment in climate action and resilience.
Plan

Feb. 22 City Council

Community Engagement

Implement

Ballot Item Finalization

Complete

November Election
Current Phase
Community Engagement
Project Overview
The Climate Action Plan (CAP) Tax, which provides $1.8 million in funding for our community's climate work is set to expire in March 2023.
To close this funding gap, the city is proposing a new Climate Tax that would combine and replace the CAP and Utility Occupation taxes. The new Climate Tax, as proposed, would raise $6.5M per year to fund city-level climate and resilience efforts. Like all taxes, the proposed climate tax would require City Council and voter approval before going into effect.
Background
CAP Tax Overview
The CAP Tax provides critical funding for our community's climate work. It is a tax on electricity use and is collected on Xcel Energy bills. It generates about $1.8 million per year to fund some of the city's climate work.
CAP Tax Funding Supports Several City Climate Efforts
Since its inception in 2007, the CAP Tax has provided over $22M in critical funding for Boulder residents and businesses through efforts like:
Direct cash assistance to homeowners, landlords and businesses to fund energy efficiency upgrades.

Development of local solar energy projects.

Expansion of city transportation electrification projects and city-owned electric vehicle charging stations.

Regulation and building codes.

Policy and regulatory reform.

Partnership and international collaboration.
For more on how CAP Tax dollars have been invested and specific accomplishments, visit the city newsroom.
City of Boulder Climate Funding
There are two taxes currently collected that provide funding dedicated to the city's climate efforts:
Climate Action Plan (CAP) Tax: A 2006 voter-approved tax on electricity consumption. This generates approximately $1.8 million per year and funds the city's climate and energy efforts and will expire in March 2023.
Average Annual CAP Tax Rates

Residential Customers: $27 per household

Commercial Customers: $86 per customer

Industrial Customers: $128 per customer
Utility Occupation Tax (UOT): In 2020, voters approved an extension of the UOT through 2025 at a level of just over $2 million per year to fund the city's partnership with Xcel Energy.
Average Annual UOT Tax Rates

Residential Customers: $16 per household

Commercial Customers: $155 per customer

Industrial Customers: $577 per customer
Funding Proposal
New Climate Tax
By creating a new climate tax, the city can simplify climate investments, better align with the scale of investment necessary and address inequities created by the current tax.
New Climate Tax through 2040
Replace CAP Tax and UOT
Raise revenues to $6.5 million per year
Change rates for customer classes
Proposed Changes to Average Annual Costs, By Customer Type
| | | |
| --- | --- | --- |
| Customer Type | Current Annual Cost (CAP + UOT) | Proposed Annual Cost (Climate Tax) |
| Residential | $42.95 | $49.66 |
| Commercial | $292.42 | $487.37 |
| Industrial | $1,084.11 | $1,806.85 |
| Total Revenue for Climate Efforts | $3.9 million | $6.5 million |
Climate Tax Investments
If approved, revenues from this tax would support ongoing and new climate and resilience projects. Those could include:
Direct cash assistance to homeowners, landlords and businesses to fund energy efficiency upgrades.

Projects such as microgrids and energy storage to support resilience and renewable energy development.

Residential and commercial building electrification.

Expansion of transportation electrification projects and electric vehicle charging stations.

Advancement of natural climate solutions.
Wildfire resilience projects could include:
Funding for a dedicated fire risk assessment team.

Grants to support residential wildfire risk prevention measures like vegetation management, fence reconstruction and roofing/siding replacement.

Strategic undergrounding of power lines.

Ecosystem restoration.
Community Feedback and Engagement
Community Survey Results
Image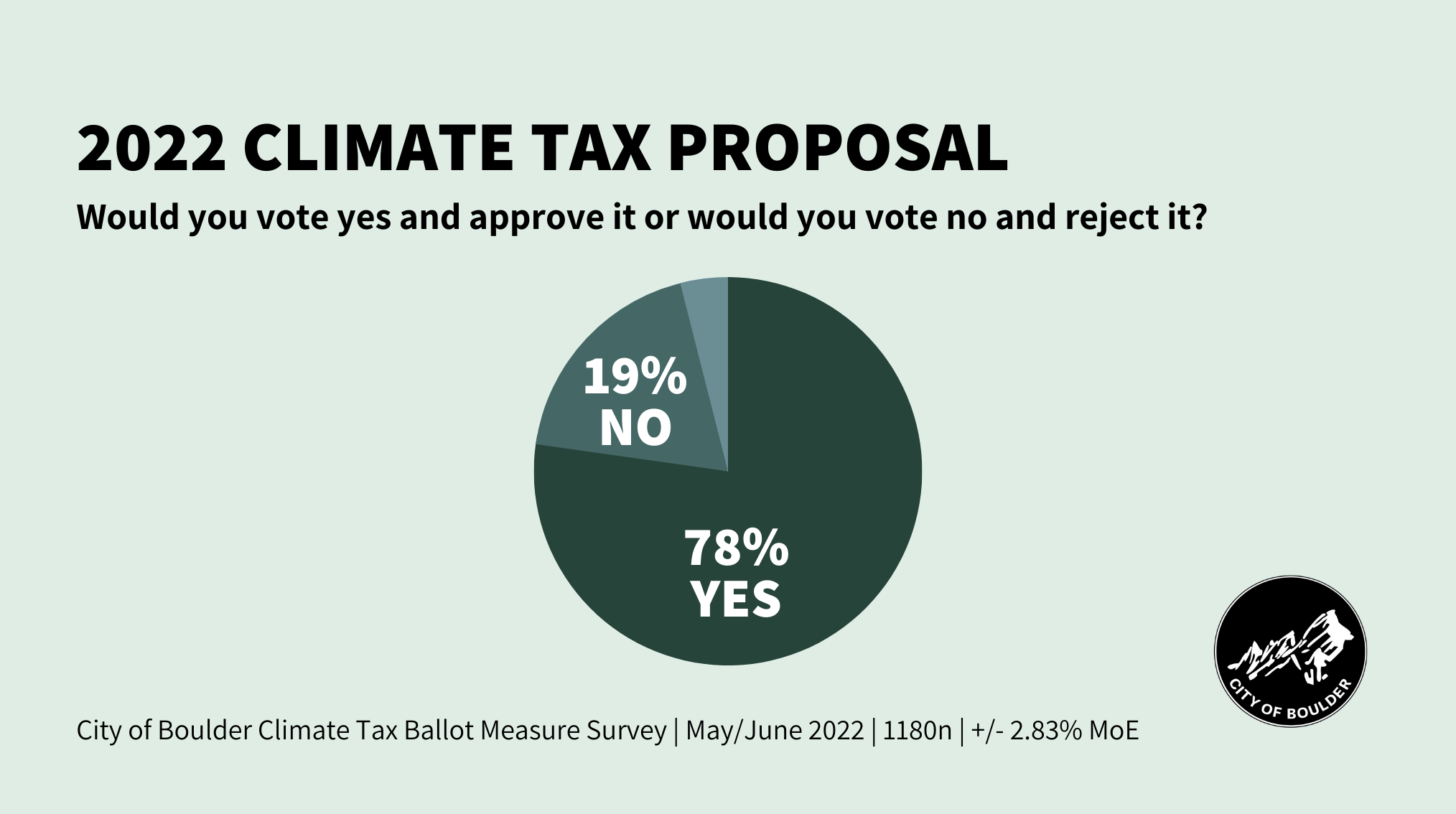 In May and June 2022, the city conducted a statistically valid survey to collect feedback on the tax proposal.
Broadly, the results confirm that the community is deeply concerned about the climate crisis and is largely supportive of the city's tax proposal.
Key findings include:
More than three-in-four respondents (78%) say they would vote yes on the city's proposed climate tax.

Respondents are concerned about climate change and global warming. More than half of voters (58%) are "extremely worried," while another 20% say they are "very worried."

A plurality of respondents (36%) ranked "addressing the impacts of climate change" as the most important issue facing the city.
There were 1,180 responses to the survey from City of Boulder residents ages 18 and older. The survey was conducted online and via telephone May 19 through June 2 by polling firm Magellan Strategies. The poll has a margin of error of +/-2.83%. A summary of the results is available online.
The survey is not the only way the city plans to collect feedback on the ballot measure and climate projects. A separate survey for local businesses will be available later this month.
Engagement Opportunities
The city will also conduct several focus groups designed to gather input from community groups, target communities and businesses throughout the summer.
You can also share your ideas and feedback online. Use the city's Be Heard Boulder platform to share your perspective.
City Council Process
Before the proposed Climate Tax is added to the general election ballot, an associated ordinance must be published and passed by City Council. Council's meeting on July 21 included the introduction and first reading of the ordinance. Council unanimously moved the ordinance forward by consent, which means it's now scheduled for public hearing on Aug. 11. Read the memo.
Council also discussed the tax on Feb. 22.
Council will consider ballot item language later this summer.