What is Boulder's Access Management and Parking Strategy?
The Access Management and Parking Strategy (AMPS) was developed as a guide through which city staff, leadership, boards, commissions and the community at large could work toward improving Boulder's approach to multimodal access and parking management across the city and within special districts. This guide was designed as one "lens" through which existing and future access management policies and practices could be evaluated to develop contextappropriate strategies, using Boulder's existing districts as models for other emerging districts within the community. As with all adopted documents, AMPS is complementary to and reflective of numerous adopted plans and policies such as the Sustainability Framework, the Boulder Valley Comprehensive Plan, the Transportation Master Plan, the Economic Sustainability Strategy and the Climate Commitment.
Image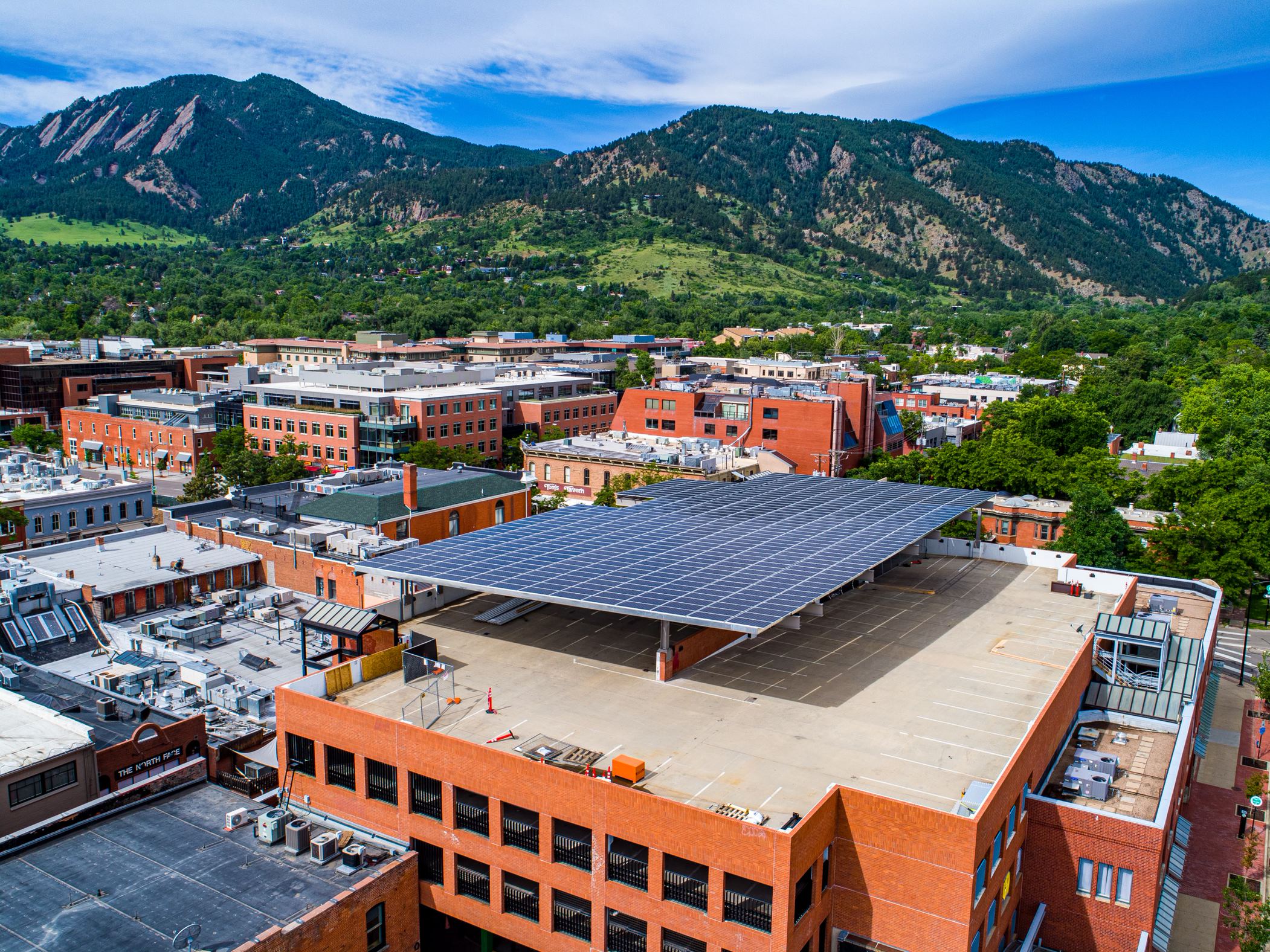 Continuously Improving Boulder's Approach to Multimodal Access and Parking Management
Boulder is a recognized national leader in providing a variety of options for access, parking, and transportation. To support the community's social, economic, and environmental goals, Boulder acknowledges the need to continuously innovate and prepare for a world that is rapidly changing.
Revitalized Parking & Transportation Access projects happening in 2022
We've got a lot on the docket for the coming year!
In 2022, the Curbside Management Project will collect existing inventory of the curb, identify best practices from around North America, will develop policy guidance, and develop a draft program guidebook for implementation, engaging with stakeholders and members of the public through the process. Learn more about the project at access4boulder.com.

Over the next year we are updating our approach to neighborhoods parking management by evaluating zones and neighborhood based on a key metrics, such as parking occupancy, trip generation and access to other modes of transportation, to determine an appropriate neighborhood parking management and permitting strategy. While no new zone applications will be considered in 2022, parking behavior data will be collected to inform eligibility and prioritization for consideration of new or modified management zones

In 2022 we will be evaluating on street parking occupancy and behavior. In future years, on-street pricing will vary based on demand and activity levels for a given area, with higher pricing for the areas where parking is most in demand and lower pricing for the areas where parking is least in demand. Crucially, off-street pricing will remain lower than on-street pricing to incentivize usage of off-street parking. This strategy will position the pricing of parking so that it encourages turnover, recognizes the value of the right of-way, responses to user behaviors and the diversity of needs for different user groups, generates revenue and achieves cost recovery, promotes effective parking management and customer compliance and advances climate and sustainability goals.
Revitalized Parking & Transportation Access projects completed to date
Starting January 1st of 2022, the City of Boulder made updates to our parking program to provide expanded options and better access to Boulder's special districts.
Implemented 15 minutes free with the start of a parking session for on-street and garage parking for customers running quick errands.

Created the Mobile Vendor Permit to support businesses that provide frequent services in Neighborhood Permit Program (NPP) zones.

Adjusted parking pricing for on-street ($1.50/hr) and downtown garages ($1.25/hr with a flat rate of $15 after 6 hours) to support the community's social, economic, and environmental goals.

Updated the fine schedule for citations to keep streets safe.
Additionally, our Chataqua Access Management Plan (CAMP) will enter it's 6th year as a pilot that combines managed on-site and neighborhood parking, employer TDM programs, and a free shuttle from remote lots to manage demand at Chautauqua.
Revitalized Parking & Transportation Access Guiding Principles
Provide for All Transportation Modes
Support a balance of all modes of access for a safe transportation system. Modes include pedestrian, bicycle, transit, and multiple forms of motorized vehicles—with pedestrians at the center.
Customize Tools by Area
Use a toolbox with a variety of programs, policies, and initiatives customized for the unique needs and character of Boulder's diverse neighborhoods, both residential and commercial.
Support a Diversity of People
Address the transportation needs of different people at all ages, stages of life, and mobility levels—residents, employees, employers, seniors, business owners, students, and visitors.
Seek Solutions With Co-benefits
Find common ground and address trade offs between community character, economic vitality, and community well-being. Seek elegant solutions—those that achieve multiple objectives and have co-benefits.
Plan For the Present and Future
While focusing on today's needs, develop solutions that address future demographic, economic, travel, and community design needs. Align with Boulder's master plans, including the updated Transportation Master Plan, the Climate Commitment and Sustainability Framework.
Cultivate Partnerships
Be open to collaboration and public private partnerships to achieve desired outcomes.