Oxford economist shares how cities can reshape their economy in service of equity and sustainability
Forget the sprinkles, glaze and frosting: the only doughnuts that are good for us are the conceptual ones, according to Kate Raworth.
Raworth, the famed "renegade" Oxford economist and author of "Doughnut Economics: seven ways to think like a 21st century economist," captivated the audience at the third segment of the Boulder Forum on Economy, Climate and Community.
The six-part webinar series explores the role of the economy in driving climate change, as well as its potential role in climate stabilization — and Raworth's presentation was a timely one for the city.
Jamie Harkins, mainstage moderator and Interim Manager of the City of Boulder's Zero Waste Team, framed the event in the context of the circular economy.
Harkins explained that while Boulder has a long history of cutting-edge zero waste efforts, in recent years it has become increasingly obvious that "we can't just recycle or compost our way out of the problems we see in the world."
In the coming months, Boulder will be drilling down on how we can broaden our approach to climate action to ignite systemic change — and shaking up the system is undoubtedly Raworth's area of expertise.
"A direction that no nation has been before"
The 21st century began with unmistakable warning shots — the concurrent crises of financial meltdown, climate breakdown and COVID lockdown.
All three crises have arisen from systems we created, "systems based on the presumption of endless growth," said Raworth.
As we begin to rethink our economic and social models, Raworth suggested we do away with the familiar labels.
"There is no 'developed' nation here: we are all on unprecedented paths of transformation," she said. "Every nation needs to go in a direction that no nation's been before — toward the doughnut."
Image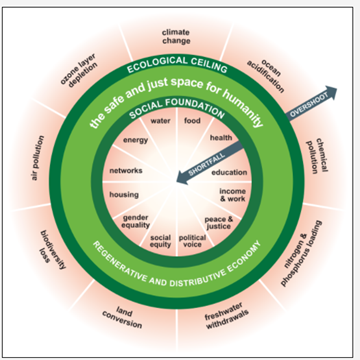 Credit: Doughnut Economics Action Lab
In simple terms: We must redefine and align our economic boundaries with our planetary boundaries.
To do that requires a conscious shift away from today's "take, make, use, and throw it away" economy and toward a circular, regenerative economy, in which resources are not used up, but rather are used again and again.
So, how do we bring about this evolution in thinking and action?
It begins with "The City Doughnut."
Raworth's city doughnut framework comprises four lenses that allow cities to evaluate their opportunities holistically.
Every city must ask itself: How can our city become a home to thriving people, in a thriving place, while respecting the wellbeing of all people and the health of the whole planet?
The end goal is to both meet the basic needs of the city residents, while being mindful of the impacts of our choices on the world around us.
"We need our own ideas"
Sourcing local solutions is central to the city doughnut approach.
"The answer…lies with the people of a place, with their knowledge, experience, their understanding and their co-creation," said Raworth.
As Boulder and other cities begin to reevaluate their economic approach in service of equity and sustainability, Raworth offered some sage starting points and words of advice:
Leverage institutions and their purchasing power to build community wealth: Raworth recommended that cities look to the procurement processes of hospitals, museums and universities to "buy small, buy local, buy from employee-owned businesses."
Move away from the repair café: Reuse should not be relegated to one-off repair workshops, but rather should be a deeply ingrained societal value. "Regenerative design should be the thriving heart of our economies," said Raworth.
Courageous cities can lead the way: Nations don't have the courage that many cities have, said Raworth. Smaller towns, cities and states can model the path for nations to follow.
Invest in women: According to Raworth, it's not population growth but rather economic growth that keeps her up at night. She suggested that instead of fixating on population growth, that we focus on stabilization of the population through investment in child health, women's health and reproductive rights, and girls' education.
Good governance is crucial: "How we govern the village well determines whether everyone can drink from it, or the water is muddied and nobody can," said Raworth. "How we govern our climate determines how many people can live on the planet within a stable atmosphere."
Recalibrate aspirations: Raworth gave the example of what was considered ideal housing in the Victorian era, when "every man had a house with a terrace…" and compared it to modern Barcelona and Paris, so called "15-minute cities," where the essentials are but a short walk from home. Raworth suggested we reevaluate our norms and ask ourselves, "What constitutes good housing?" What is the ideal for our city?
Ultimately, local introspection and community-led action will win the day.
"If we're going to solve this, if we're going to turn this story around, we need to bring economic ideas and theories and governmental policies and business models and community action of our own. We need our own ideas."
Learn more about the Boulder Forum and the Doughnut Economics Action Lab.