Learn About Accessory Dwelling Units in Boulder
Information about Accessory Dwelling Units (ADUs) in Boulder, including types of ADUs and how to apply for a permit.
Overview
An ADU is an additional dwelling unit that has separate kitchen, sleeping, and bathroom facilities, attached or detached from the principal dwelling unit on a single-family lot. An accessory dwelling unit is permitted only if it meets the requirements of Section 9.6.4(a) of the land use code. The owner must reside in one of the dwelling units.​
Apply for an ADU Permit
Complete the Forms
If you have been issued a stop work order or have received a code compliance notification, or if you have purchased a property that you suspect may be non-compliant, see How To Become Code Compliant
Submit the Forms
Email your properly formatted files to PDSskipatrip@bouldercolorado.gov.
A confirmation email will come from a noreply email address, please check your spam/junk box if you do not receive an email within the processing time frame.
An invoice for applicable fees due will be available on the Customer Self-Service Portal. Payment is required in order for the permit process to proceed.
Benefits of ADUs
Homeowners can either use the ADU for themselves, rent it, or move into it to free up their principal home for others. Benefits include:
Income: Ability to grow equity by investing in income generating space and flexible housing options.

Family Support: Ability to house multi-generational families and extended family for aging-in-place. This supports familial strength, savings on senior-living and/or childcare costs, and long-term household stability.

Neighborhood Strength: Neighborhood stability is strengthened for homeowners and renters. Homeowners can gain income or services from their rental units and renters gain access to housing options that often have lower rents, more rental options, and housing choices across multiple neighborhoods.​
Types of ADUs
ADUs are smaller than existing single-family houses and can be either attached to or detached from the principal home. Below are the two types:
Attached ADU
An attached ADU is a unit functionally separate, but physically attached to the principal home. They are commonly built in basements or upper stories (see image A), or as adjoining wings/additions to principal homes (see image B):
Detached ADU
A detached ADU is a unit both functionally and physically separate from the principal home. Detached ADUs typically are one story at ground level or above a garage or carport (see image C).
Image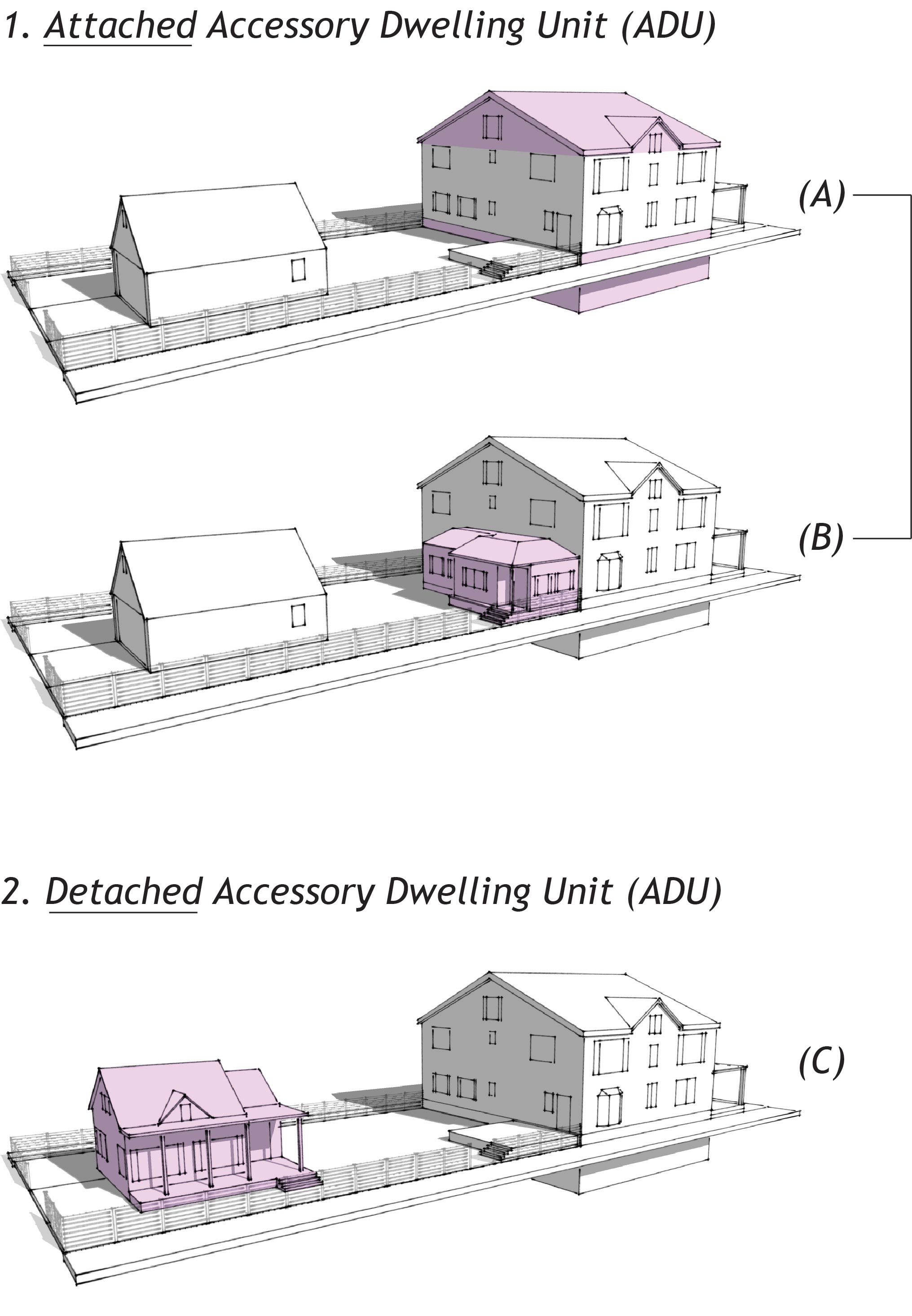 Frequently Asked Questions
Attached and Detached ADUs are allowed, with approval through an administrative review application, in the following zoning districts: Residential - Low 1 (RL-1), Residential - Low 2 (RL-2), Residential - Estate (RE), Residential - Rural 1 (RR-1), Residential - Rural 2 (RR-2), Residential - Mixed 1 (RMX-1), Residential - Mixed 2 (RMX-2), Agricultural (A), or Public (P). To learn what zoning district you live in, visit city's Map of Zoning Districts and enter your address. While checking on the zoning, also check to make sure the lot size meets the minimum of 5,000 square feet.
If you receive notification that your existing ADU has not been legally established through permitting, follow the application process below.
Your review process will determine what permits are required to establish your unit.
YES. Even if modifications to establish the accessory unit are located within previously permitted structures (studio, finished basement, etc.) a "change of use" permit is necessary for the following purposes:
(1) To demonstrate that life safety standards (egress, minimum light, ventilation, smoke/carbon monoxide detectors, head height requirements, etc.) are met for the proposed dwelling unit and bedroom/sleeping areas, and that features like egress doors/windows, fixtures, etc. were permitted and meet code standards;
(2) To formally establish the conditional use (ADU) in the city's records. Pursuant to Section 9-2-2(d)(5), B.R.C. 1981, conditional uses not established within one year of its approval shall expire. Thus, accessory dwelling units shall be constructed within one year of the approval date listed on the notice of disposition will expire. This has been interpreted to mean that a building permit has been issued for the necessary work to establish the ADU and the work has been substantially completed. This could include something as minor as the addition of the stove, microwave, refrigerator, or a side-hinged door; and
(3) To demonstrate that existing meters and services are adequate for the proposed use.
If you have been directed to apply for a "change of use permit" in the formal review of your ADU application please complete the Residential – Building Permit Application and include the request for a "change of use" in the permit description. Required application materials are (1) a floor plan specifying the use of the rooms; and (2) an accurate proposed plumbing fixture count form. Other application materials listed are not required at the time of application. Additional materials may be requested if it is determined that adequate permits have not been secured for existing improvements.
An Affordable ADU means a unit for which the rents meet the city's affordability standard. An Affordable ADU can be either attached or detached. In exchange for agreeing to limit rents to 75% of the area median income, a homeowner may build a larger ADU (800 square feet for a detached ADU and 1,000 square feet or one half the size of the principal home (whichever is less) for an attached ADU) and is not required to provide an additional parking space.
An Attached or Detached ADU that is located in a structure that is designated as an individual landmark, or recognized as contributing to a designated historic district, has a higher saturation limitation in the RL zoning districts (30% instead of 20%), can be larger than a standard ADU (1,000 square feet for a detached ADU and 1,000 square feet or one half the size of the principal home (whichever is less) for an attached ADU) and is not required to provide an additional parking space. Contact a Historic Preservation Planner at 303-441-1994 or historic@bouldercolorado.gov if you would like to pursue an ADU on a historic property. Additional documentation will be necessary from Historic Preservation staff at time of application to utilize these additional allowances.
Pursuant to Section 9-6-2(c) of the land use code, a conditional use must be established within one year of its approval. Therefore, building permits must be issued and construction commenced to establish the accessory unit within one year of approval. If not established within that time frame, the administrative approval will expire and you will need to reapply for an ADU.
The ADU standards require that accessory units are associated with a lot or parcel with an existing single-family dwelling unit. It is possible to submit an administrative review application for an accessory unit before a permit is issued for the principal unit. However, staff is unable to approve the ADU application until a permit is issued for the construction of a new home. The permit plans for the new home cannot show the proposed accessory unit. You will be required to submit approved administrative review plans with any permit submittals required to establish the ADU. If the accessory unit is proposed within a new home it may be possible to revise the scope of work for the active permit issued for the construction of a single family home to include the elements of the ADU.
The number of ADUs allowed is limited in the Residential Low (RL-1 and RL-2) zoning districts. Specifically, no more than 20% of the parcels within 300 feet of the property may have an ADU. In addition to ADUs, cooperative housing units and non-conforming structures count in the saturation limit.
A 300-foot buffer is created around the property with the proposed ADU. The saturation is the percentage of the number of parcels within an RL zoning districts that contain an ADU, cooperative housing unit, or non-conforming use divided by the total number of parcels. A project specialist in the City's Development Services Center can calculate the saturation limit for your parcel in order to determine if you are eligible for an ADU.
At least one owner of record of the lot or parcel is required to occupy either the ADU or the principal home. This means that the owner must reside in either the ADU or the principal home for more than one-half of the year and such unit is not eligible to rent. The definitions in Section 9-16-1 , B.R.C. 1981 are below for your reference:
Owner-occupied means a dwelling unit or accessory unit that is the principal residence of at least one owner of record of the lot or parcel upon which the dwelling unit or accessory unit is located, who possesses at least an estate for life or a fifty percent fee simple ownership interest or is the trustor of a revocable living trust.
Principal residence means the dwelling unit in which a person resides for more than one-half of the year. However, if (1) the person owns another dwelling unit that is not licensed for long term rental; (2) the person's spouse or domestic partner has a different principal residence; (3) the person's driver's license, voter registration or any dependent's school registration shows a different residence address; or (4) the Boulder County Assessor lists a mailing address different from the dwelling unit address, it shall be presumed that the dwelling unit in question is not a principal residence. Provided, however, no presumption shall apply in any criminal proceeding.
No, the requirement for 25% of new development in the city to be permanently affordable to low- to middle-income households does NOT apply to ADUs. If a new principal dwelling is proposed, then Inclusionary Housing will apply
Yes, a public notice is sent to adjacent property owners a minimum of 10 days before final action by the city. A public hearing before Planning Board or City Council is not required for ADU applications. The Planning Department will review the application based on the criteria set forth in Section 9-6-3(a), B.R.C. 1981. The purpose of the public comment is for neighbors to learn about your proposal and raise any potential concerns prior to permitting. Although neighbors cannot stop you from creating an ADU, it allows you the opportunity to address any valid neighbor concerns.
The principal dwelling unit and accessory unit together are considered one dwelling unit for the purposes of determining occupancy requirements. Therefore, the total occupancy of both units shall not exceed the standards set forth in Section 9-8-5, "Occupancy of Dwelling Units," B.R.C. 1981 , for one dwelling unit. For the purposes of ADUs, any occupant and their dependents shall be counted as one person. For example, a family may live in the principal home and two unrelated persons may reside in the accessory unit (three unrelated persons in the RMX zoning districts). As mentioned above, any occupant and their dependents are considered one person. Therefore, in the example above, a parent with dependent children may occupy the accessory unit plus one unrelated person (two in the RMX zoning districts).
There are a number of single-family homes in Boulder that have illegal units. The ADU Update of 2018 was intended, in part, to encourage homeowners to comply with the ADU regulations. Many illegal units were created legally as additional space for living or an office. Over the years, these spaces may have been modified to create separate cooking/sleeping areas and rented not knowing that this was not allowed by city regulations. The city encourages homeowners with illegal units to connect with staff in the City's Planning & Development Services Center to review regulations and better understand if their unit may be eligible.
Any modification to a legally established accessory unit that results in one or more of the following must be reviewed by the city and requires a new application to be filed with a Project Specialist at the Planning and Development Services Center:
Change in the location of an attached ADU within the principal structure;
Change from an Attached ADU to a Detached ADU, and vice versa;
Change in affordability status;
Change in total square footage of the accessory unit;
Reduction in total square footage of the principal structure which contains an Attached ADU
If you are proposing the construction of a building addition or a new building, and the property is located in the RR-1, RR-2, RE, RL-1, or RMX-1 zoning district, the following standards may apply. Some standards also apply to properties in RL-2 district within the boundaries of the Table Mesa 4 Planned Unit Development.
Compatible development is a set of four regulations that work in tandem to limit the scale and bulk of new construction in single family neighborhoods. The intent of these regulations is to protect the character of established single-family neighborhoods by assuring that new construction and additions are compatible in scale and bulk with the character of the neighborhood. More information can be found in the links below.
Properties with approved accessory dwelling units shall maintain a single physical address with separate unit numbers associated with each of the units. At the time of administrative approval, new unit addresses will be assigned and established on the property. The principal structure will be Unit A and the accessory dwelling unit will be Unit B regardless of which unit the property owner occupies. A Notice of Address Assignment shall be sent to utility companies, USPS, emergency services, the County Assessor for review and approval.
The city code was amended in 2020 to expressly allow both an ADU and co-op on the same lot or parcel, subject to specific standards. The ADU must be established via the standard administrative application process required by Section 9-6-4(a)(1)(B), B.R.C. 1981 and meet all standards set forth in Section 9-6-4(a), B.R.C. 1981, including but not limited to size limitations and design standards. The ADU must be included in the cooperative organization, whereby residents share expenses, ownership or labor. The occupants of the ADU must be members of the cooperative. A property with a licensed cooperative unit and an ADU is not required to be owner-occupied, as would otherwise be required per the accessory dwelling unit regulations. Allowed occupancy of the cooperative unit includes the occupants of the ADU, i.e. occupancy allowances are not increased beyond what is allowed per the occupancy limitations in Section 9-8-5, "Occupancy of Dwelling Units," B.R.C. 1981. The code limits the amount of ADUs in the Residential Low Density zones to no more than twenty percent of the lots or parcels within a given neighborhood area, as defined in Section 9-6-4, "Accessory Units", B.R.C. 1981. For the purposes of calculating this twenty percent limit, an ADU and co-op on the same property are only counted once.
Yes, detached ADUs are required to have automatic sprinkler systems for fire suppression. The City Design and Construction Standards require sprinkler systems be connected to a dedicated sprinkler water service line that is connected to the City water system through a bypass water meter. Until implementation of the 2018 International Residential Code (IRC) on July, 1, 2020, detached ADUs proposed on a lot with fire access frontage on two streets may be able to apply the sprinkler exceptions to the 2012 International Fire Code section 903.2.8 (Section 10-8-2(b)(33), B.R.C. 1981).
Yes, "mist type" fire suppression systems may be approved as alternate sprinkler designs when the systems can be demonstrated to be equivalent to recognized standards such as the National Fire Protection Association (NFPA) 13D system (IFC sec. 904). For example, the Plumis mist system was previously proposed and approved as an alternate type of fire extinguishing system for a detached ADU. This example is not meant to endorse a proprietary system and is provided as an example of how the process of gaining approval of an alternate equivalent fire extinguishing system by Boulder Fire-Rescue can be attained. When mist type fire suppression systems have been demonstrated equivalent to sprinkler standards that require installation by approved contractors, then approved contractors are also required to install the "mist type" system proposed.
In addition to the regulations described above, additional regulations may prohibit or restrict ADU construction, including but not limited to the following:
Deed Restrictions and Home Owner Associations
If there is a deed restriction on the home for permanent affordability, it is not eligible for an ADU. Also, some homeowners' associations (HOAs) prohibit ADU construction or use. The city has no authority to overrule an HOA since it is a contractual agreement between the homeowner and the HOA.
Permitting Requirements
Your property may be subject to additional development standards related to a zoning overlay, historic landmark designation, historic district, flood plain, or other special design standards or guidelines. In this case, your project will need to meet additional standards beyond the typical building, fire, and zoning codes. Zoning, historic, and flood information specific to your property can be found on the city's online mapping site. Please see a project specialist in the City's Development Services Center with questions about possible additional permitted requirements.
Building and Fire Codes
All ADUs must meet with city's building code to insure the structure is safe and habitable. In addition, a detached ADU must follow additional fire code requirements (i.e., sprinkler system). Visit the Codes and Regulations web page for information on the required building and fire codes that regulate the construction of an ADU.
Additional resources are available regarding recent ordinance changes in the Related Documents section at the bottom of this page.
Connect With Us