Plan

Community Engagement

Build

Complete
Completion Date
Summer 2023
Project Overview
The 30th & Colorado Bike and Pedestrian Underpass project will provide important safety, accessibility, mobility and drainage improvements to the intersection of 30th Street and Colorado Avenue.
This intersection is one of the busiest in the city and connects the University of Colorado Boulder main and east campuses.
Project Improvements
The project will:
Construct two pedestrian and bicycle underpasses
Construct a protected intersection
Connect infrastructure to nearby sidewalks, bike lanes and multi-use paths
Reconstruct/relocate existing transit stop
Install lighting, landscaping, art and other urban design features
Construction-Free Routes
Bicyclists and pedestrians are encouraged to use the routes outlined in this map to avoid the construction area.
Image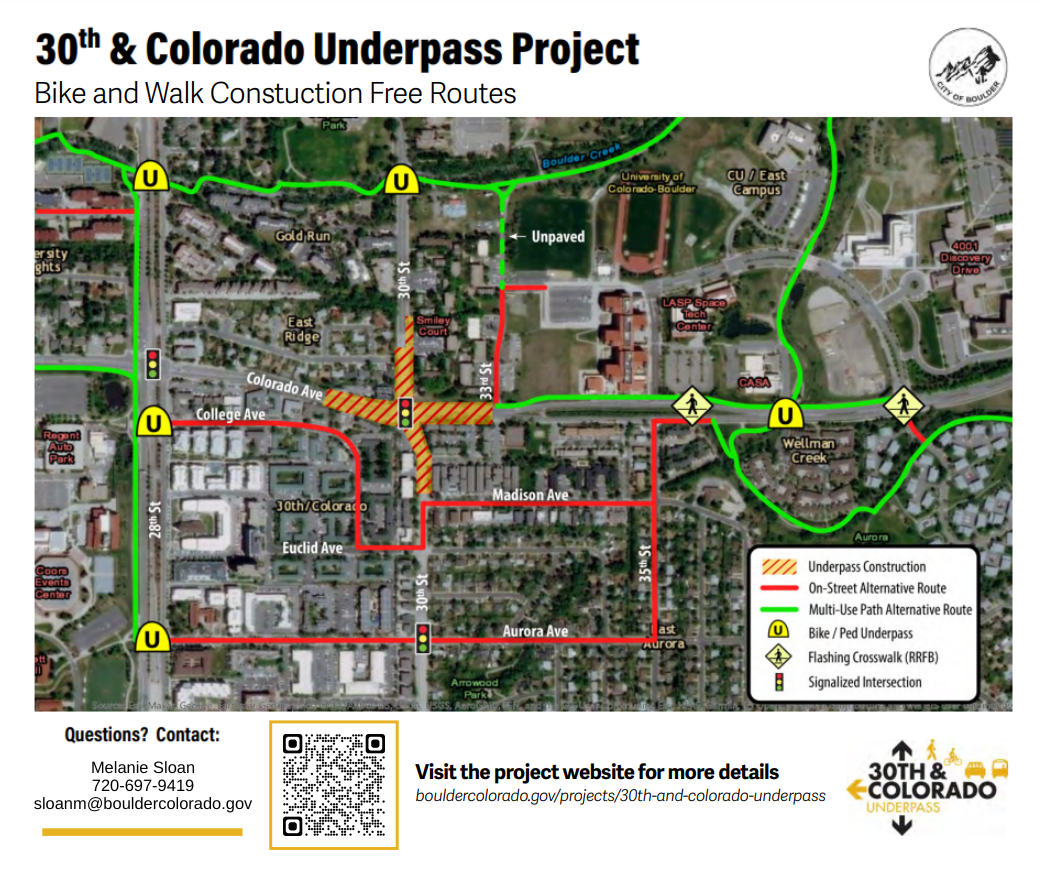 What is a protected intersection?
Protected intersections have an innovative design that makes intersection crossings safer and more predictable for everyone.
They include:
Separated crossing movements for bicyclists - bicyclists do not merge with other crossing traffic
Bicycle-friendly signal timing
Corner refuge islands and stop bars to shorter crossing distances for pedestrians and bicyclists and improve their visibility to drivers
Design of a protected intersection
Project Background
The project area is an important travel corridor for the Boulder community and the University of Colorado Boulder:
30,000 cars and 1,500 bicyclists and pedestrians travel through the intersection in a typical day
1,300 people board and exit RTD and CU buses using the four stops at this interesction
The intersection is a top collision location in the city:
86 collisions took place between 2012-2016, 18 of those involving bicyclists
The existing on-street bicycle facilities create a high level of stress for many bicyclists. This leads some bicyclists to ride on the sidewalk instead, which is a common cause of crashes in Boulder.
The project area is growing:
The Boulder Valley Comprehensive Plan and the University of Colorado East Campus Master Plan forecast growth in the project area, which will result in more people traveling through this intersection.
Funding
The total project cost is estimated at $15.9 million, with $11.15 million to be secured through a combination of city and University of Colorado Boulder funds and $4.75 million in federal Transportation Improvements Program funds approved by the Denver Regional Council of Governments and administered by the Colorado Department of Transportation.