Biking on Boulder's Extensive Trail System
About 54 miles of trails on Open Space and Mountain Parks are designated for use by bicyclists. Please remember that bikes may only be ridden on trails that are posted with the international bicycle symbol.
Bike Loop Map
The OSMP Southern Bike Loop Map PDF shows three bike loops in the southern part of the OSMP system. They are called the Super Loop, the Dirty Bismark and the Doudy Draw Double Lollipop Loop, and they range from 10 - 22 miles. While the Doudy Draw Double Lollipop Loop exclusively follows the OSMP trail system, the Super Loop and the Dirty Bismark incorporate both OSMP and Boulder County trails.
Trail Rules & Etiquette
Do not ride on trails that are posted as "no bikes" or that do not have a sign indicating bikes are allowed; bikes are not allowed to ride off-trail. Rangers will issue a summons to bikers caught riding off-trail, or on trails where biking is prohibited.
We all enjoy OSMP in different ways. Expect to encounter other visitors on trails. Be courteous and share the trail so that everyone can have an enjoyable experience. Watch this Trail Etiquette Video from Boulder Mountainbike Alliance and follow the tips below.
When biking on OSMP:
Yield the right-of-way to all other trail users and cyclists traveling uphill.
Anticipate other trail users around corners and blind spots; be prepared to stop.
Pass with care and alert others in advance of your approach.
Control your speed at all times. Safe speeds vary with trail conditions and the business of the trail.
Practice minimum impact cycling: avoid muddy trails, skidding, hard braking and shortcutting. Riding on wet or muddy trails causes serious trail erosion and may result in a temporary trail closure.
Ride only on paved roads and designated bike trails.
Don't bring dogs along for the ride.
Please check for temporary trail closures before your visit.
Join Boulder Mountain Bike Patrol
The Boulder Mountain Bike Patrol is a multi-agency program with the City of Boulder Open Space and Mountain Parks (OSMP), Boulder County Parks and Open Space (BCPOS), U.S. Forest Service (USFS), and Boulder Mountain Bike Association (BMA). Patrollers ride trails, assisting and educating mountain bikers and other park users. The goal is to promote a positive recreational experience on the trails.
Image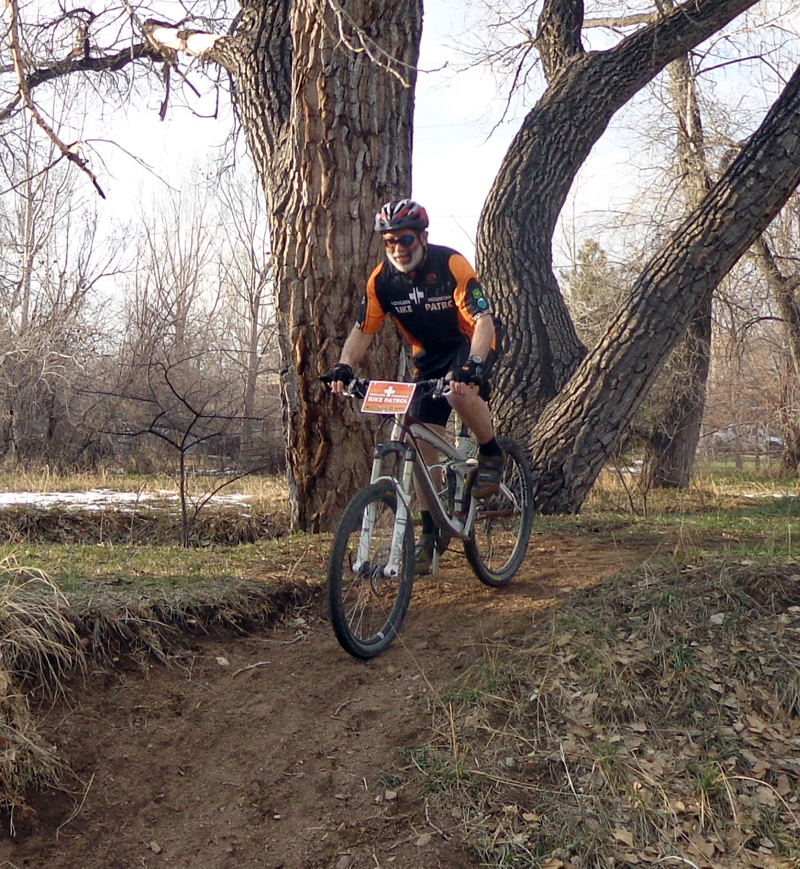 OSMP
E-Bikes FAQs
Recognizing community interest in e-bikes, the Boulder City Council approved an ordinance (7941) in November 2013 that established a pilot program to allow e-bikes on designated multi-use paths within the City of Boulder. That ordinance, however, specifically excluded Open Space and Mountain Parks land. In November 2014, the City Council passed another ordinance (8007) that indefinitely extended the e-bike pilot program but also kept the prohibition of e-bikes on open space lands in place.