Supporting community health
The Health Equity Fund provides grant funding to community organizations and agencies promoting health equity for Boulder community members experiencing health disparities.
Background
The City of Boulder's Health Equity Fund (HEF) provides grant funding to community organizations and agencies promoting health equity for Boulder residents. Funding investments are awarded through an annual competitive process based on alignment with the intent and language of the Sugar-Sweetened Beverage Product Distribution Tax, a ballot measure which was approved in November 2016.
The Sugar Sweetened Beverage Product Distribution Tax (SSBPDT) is an excise tax of up to two cents per ounce on the first distributor in any chain of distribution of drinks with added sugar, and sweeteners used to produce such drinks. Revenue collected, minus the cost of tax collection and fund administration, is awarded to qualifying nonprofit agencies and organizations, educational or governmental entities – public or private – that propose to serve city residents.
The HEF aims to reduce disparities and to improve health equity among our at-risk population. Examples of HEF-supported programs include those that prevent diseases (e.g., obesity, diabetes, heart disease, oral diseases) linked to consumption of sugary beverages; increase access to healthy food and clean water; expand health services and wellness programs; and more. Since the tax went into effect on July 1, 2017, the city has awarded grants or allocated roughly $21 million for health equity programs.
Health Equity Fund Application Process
Does your organization or institution work to address health disparities in the City of Boulder? If so, your program may be eligible for funding through the Health Equity Fund (HEF). The HEF accepts applications from eligible organizations, institutions and agencies, for its annual competitive funding cycle. Requests for Proposals (RFPs) are typically issued in the summer, with applications due in late summer/early fall with the goal of funding decisions by the end of the calendar year. Funding recommendations are made by city staff and the Health Equity Advisory Committee (HEAC), comprised of nine community volunteers with diverse perspectives and expertise on health disparities and health equity.
Health Equity Fund 2023 Funding Allocations
2020 Health Equity Fund Report
The annual report outlines key community impacts that resulted from Health Equity Fund (HEF)-funded programs. Thousands of Boulder community members have directly benefitted from these programs and are reporting increased food security, increased physical activity, reduced consumption of sugary drinks and greater access to holistic health care for people of all ages. HEF grantees also helped determine programmatic community-wide health equity goals, such as fewer barriers to health services, reduced disparities in chronic disease rates and increasing use of health equity policies and practices.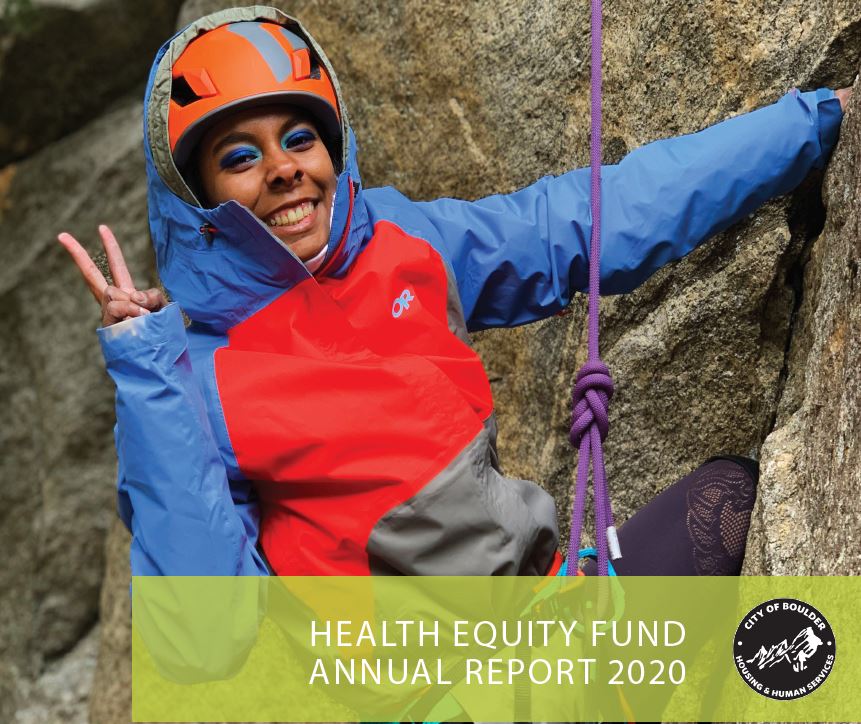 More Information
Guide to Community Funding and Grants
Stay Connected