OSMP Trails Challenge
You love hiking. You love OSMP. You love the trails. Have you experienced them all?
Tools to Get You Started
OSMP has designed a program to help visitors challenge themselves to hike all OSMP trails. Systematically exploring them all is not as straightforward as it sounds. This page contains tools to help locate and track trails for your own personalized challenge.
Your most important tool is the OSMP interactive trail map. This map will allow you to plan each hike, determine mileage and help you track which trails you have completed. It has both satellite and map views, as well as a zoom feature. Most importantly, the map is updated to include new trails when they are added or rerouted, as well as closures for construction, wildlife, mud and emergencies such as wildfire.
Additionally we have included a link to the Checklist of the Official Trails PDF so you can get that dopamine rush when you cross them off. The web version of the list has a handy feature- If you click on the trail name, it takes you to the correct section of the map, making it easy to locate each trail section!
We also have a Printer Friendly One Page Checklist PDF. This is perfect for hanging on your fridge and watching your progress fill up as you go!
Defining Your Personal Challenge
Some people will choose to hike all of the designated trails. Period. But it's a free country darn it, and you have choices. Here are some possible challenges that have been suggested to us:
Challenge Options
Hike 'em All
Hike all of the designated OSMP trails (about 155 miles) within a calendar year.
Mileage Goal
Pick a number- 100, 200, 300, 500? Set a trail mileage goal and hike whatever trail feels right.
Hike a Week
Get in a hike every single week. Put all 52 of them on your calendar.
Mountain Backdrop
Hike all of the trails on the OSMP Mountain Backdrop brochure PDF. It is also available at the Chautauqua Ranger Cottage and the OSMP booth at the Farmer's Market. This has recently been called the "Greatest Hits" challenge.
Prairie Challenge
Explore all of OSMP's trails that are not on the Mountain Backdrop map mentioned above.
Rite of Passage
Hike all the trails with your child. A great way to spend quality time together and to better know your community.
Valentine Challenge
Create a challenge with that special someone.
Ranger Paula
Ranger Paula Passport to Wild Adventures. (See Ranger Paula below.)
Completion of Your Challenge
Congratulations! Aside from bragging rights and that sense of accomplishment, stop by the Chautauqua Ranger Cottage and claim your prize. It's just a little memento to remember your experience. Please think of it as a small thank you from OSMP. Thanks for getting out there and enjoying the trails.
Image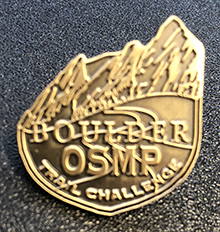 OSMP
For the purpose of the Boulder Trail Challenge, we are going to ask that people exclude some trails.
Exclusions
Hazards
You may encounter a variety of very real dangers while hiking, such as washed out or damaged trails, unexpected weather conditions, a lion napping in the trail -all kinds of things. Use common sense. Turn back if you need to. No challenge is worth injury.
Private Property
Some trails end (or begin) on private property. Please respect private property rights.
Trails Not Managed by OSMP
There are several trails that begin (or end) on property that is managed by another land management agency. For example, the Rattlesnake Gulch Trail begins and ends in Eldorado Canyon State Park (ECSP). There are two short sections where the trail dips into OSMP property. ECSP manages and maintains the trail. The Rattlesnake Gulch Trail does not appear on the official OSMP challenge list. It is a lovely trail, by the way. The first few hundred yards of the Arapaho Pass Trail at the 4 th of July Trailhead are not on the Trail Challenge list. Again the majority of the trail is on US Forest Service property and they manage and maintain the trail. Another example is the Eldorado Canyon Trail. The trailhead for this trail is in the state park and continues through OSMP lands and then on through Boulder County Parks and Open Space lands, around Gross Reservoir. This trail is on the OSMP Challenge list, as the majority of the trail is on OSMP.
Non-Designated Trails
There are a lot of them. Sometimes they cause erosion, damage to plants and habitat fragmentation for critters. Unlike designated trails, they are not designed well and/or maintained. Some non-designated trails have signs. The way to tell if a trail is a designated trail is to check the map.
Trail Closures
OSMP sometimes closes trails, even designated trails, for a number of reasons. Sometimes trails are closed for wildlife issues, such as bear feeding on chokecherries and plums. Sometimes trails are closed for construction, for muddy conditions, and for hazards such as falling rocks or trees that are poised to come down. Wildfire is also a concern. OSMP will occasionally close trails and areas due to wildfire operations. The same goes for flooding.
Area Closures
Sometimes entire areas are closed and climbing access trails are closed for portions of the year while the eagles and falcons hatch their eggs and teach their babies how to fly. See the section on Climbing Accesses below.
Climbing Accesses
We are not including trails to climbing areas. Many of these are poorly defined.
Others are just short tangents off of more significant trails. Many of these access trails are found off trails such as Mallory Cave, Shadow Canyon or the Flagstaff Trail. Some are well defined but perhaps steeper and not maintained to the same standards of our more popular trails. Many of the climbing access trails are closed for portions of the year while the eagles and falcons hatch their eggs and teach their babies how to fly.
All that being said, many of them offer solitude and splendid views. If you were just going to hike three, we would suggest Mickey Mouse Wall access, the 3rd Flatiron access and Seal Rock access. The best maps and closure information can be found here: Climbing access/closures.
Ranger Paula Passport to Wild Adventures in Boulder's Nature
We should point out that OSMP already has a Trails Challenge. It is one we designed for children, but several adults have completed the challenge and earned their patch. We are talking of course about the Ranger Paula Passport to Wild Adventures in Boulder's Nature PDF lo cual se puede descargar también en español Pasaporte para las Aventuras de la Guardebosques Paula PDF.
Participants are asked to go on four hikes, two free educational nature programs, eat some locally grown food and sit quietly on a rock until you hear a wild critter. The booklets can be found at the Chautauqua Ranger Cottage or at the OSMP booth at the Boulder County Farmer's Market. Once completed, they can be redeemed for a stylish Ranger Paula patch. Ranger Paula and Coyote Bob are the OSMP mascots. It's a whole thing… Learn more about OSMP Mascots PDF.
Image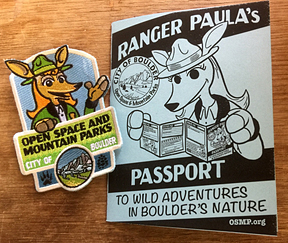 OSMP
#BoulderTrailChallenge
Some community members have asked if OSMP could create a Facebook page to so that participants could share stories, advice and connect with each other. We suggest that participants share information via #BoulderTrailChallenge.