Comprehensive, inclusive classes and training options are available to help you achieve your optimal health and wellbeing.
NEW for January 2022!
NEW Drop-in Classes
Pilates Mat with Joan Tomek, Tuesdays 4:30-5:30pm at North Boulder Rec Center
Gentle Yoga with Jeanne-Marie Alexander Monday/Thursday 9:00am at South Boulder Rec Center
Yoga Flow with Jeanne-Marie Alexander Fridays at 9:00am at South Boulder Rec Center
DanceFit with Jeanne-Marie Alexander Fridays 10:15am at South Boulder Rec Center
NEW Virtual Registered Classes
Virtual Registered Classes use ZOOM. SilverSneakers Members will receive a discount on class registration. Space still available! Contact Kate at houlikk@bouldercolorado.gov for prorated registration details.
Yoga Sculpt with Nonie Rand, Tuesday/Thursday 10:30-11:30am
Gentle Nia with Leslie Dunlap, Wednesdays 1:30-2:30pm
Call 303-413-7200 (press 1, then 1 for program registration) for registration.
Program Updates
Classes Relocated due to SBRC Flood Closure
Total Body Fitness and The Ride Indoor Cycling have been relocated to East Boulder Community Center until repairs are complete in the South Boulder Rec Center gym. Please see the Drop-in schedule for class details. Classes will remain at EBCC until repairs are completed and classes are able to return to SBRC.
All Pilates Reformer Classes have been cancelled. Pilates Chair classes are currently running at NBRC, see Fitness and Mind Body Registered classes below for details.
Personal Training Services Operating on 6-12 week Waitlist
Due to high service demand and a staffing shortage, we are currently experiencing a 6-12 week waitlist* for all new private session requests including Personal Training (adult and youth), Semi-Private Training and Weight Room Orientations (adult and youth). We apologize for this inconvenience. If you are interested in joining our waitlist, please complete the session request form on the Private Session Information and Sign-up page and we will contact you as soon as a trainer is available.
*Waitlist could extend beyond the estimated range provided depending on staff availability
Classes & Programs
Private Sessions
We are currently offering private and semi-private Pilates, personal training and nutrition coaching sessions at our recreation centers. Personal training and nutrition coaching are available at North Boulder Recreation Center, East Boulder Community Center and South Boulder Recreation Center. Pilates sessions are offered at the South Boulder Recreation Center and include exclusive access to the Pilates room.
Health and Wellness Internships
Make an effective transition from the classroom to the professional world. We've designed our internship program to give students the opportunity to gain practical experience under professional leadership.
Parks & Recreation Master Plan Update
Image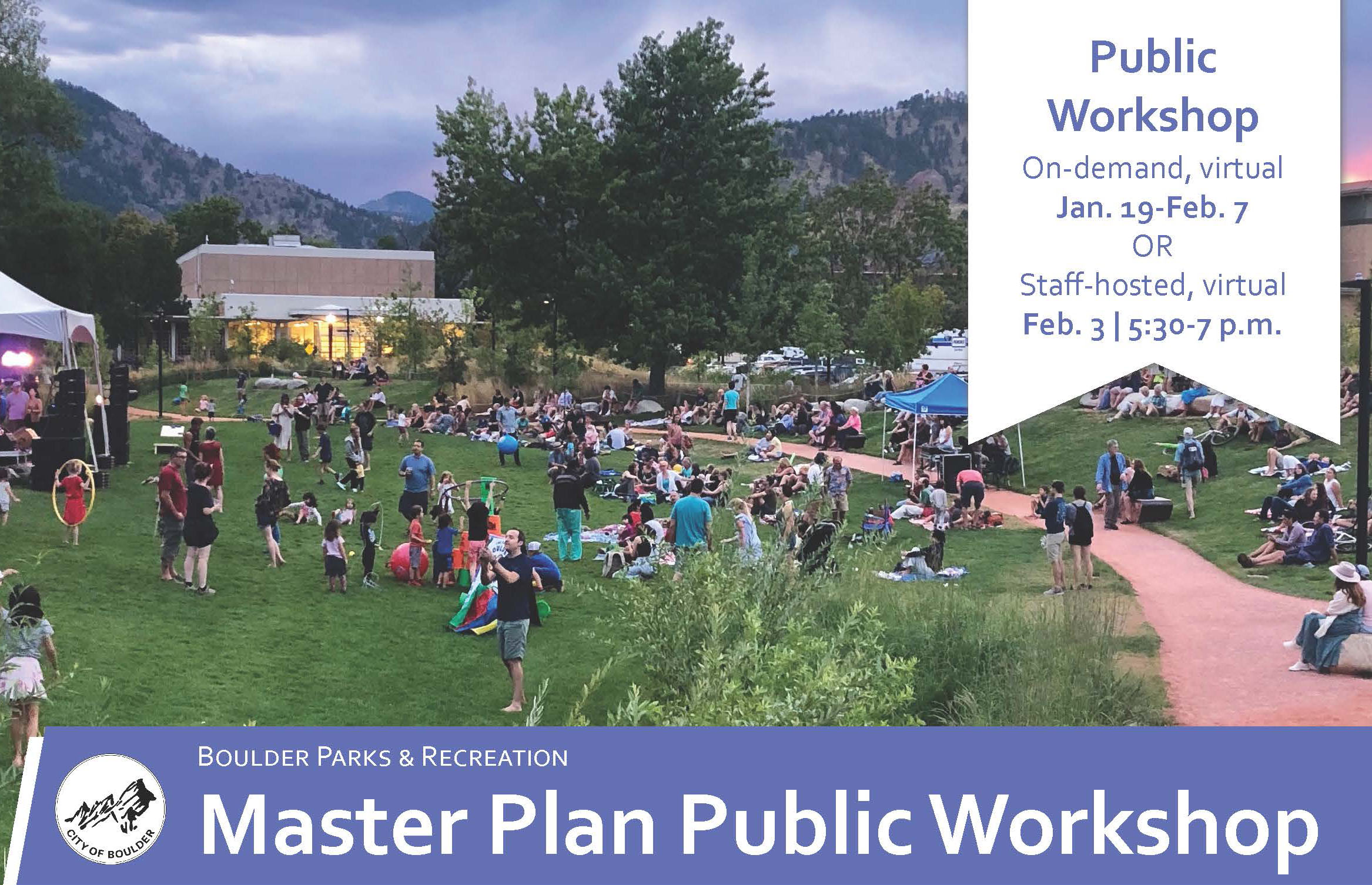 Help shape the future of Parks and Recreation in the city! Tell us how to focus our time and resources over the next 5-7 years as we get ready to implement our Master Plan Update.